Solved: iPhone Attempting Data Recovery Failed after Update
I was upgrading my iPhone's iOS version to iOS 15 and after reboot the iPhone says press home to recover. I have no idea what that means and how to fix this. Please help.
Are you having a similar problem after you tried to upgrade the iOS version of your iPhone? Many users have recently reported that their iPhone says attempting data recovery error. Users are stuck in this loop and most of them have no idea what is going on with their device. So, in this article, we are going to learn how to get rid of this error completely.
Part 1. What Does Attempting Data Recovery Mean?
If you are confused why your iPhone is attempting data recovery after update, then take a look at this section. Users get this error when they try to update their device to the latest version. People recently have experienced this issue while trying to update to iOS 15 via iTunes. Generally, the recovery attempt will not take a long time to perform data recovery and finishes automatically and the iPhone starts working normally. Apple Inc hasn't provided any explanation why this error arises in some cases. But it can be said for sure that it is related to the update.
However, in some cases, the attempt is interrupted due to some unknown reason and it leads to this error. When you see this message, you need to be patient. There are simple fixes to resolve this error. But you have to be careful otherwise you will end up losing important media files, contacts, or backup of your device.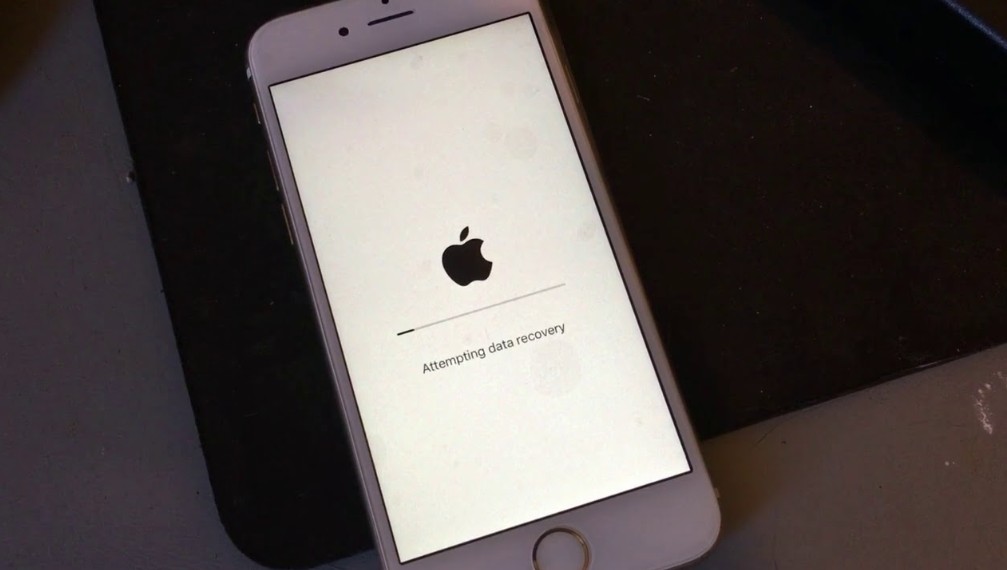 Part 2. How Do I Fix iPhone Attempting Data Recovery
Here are 4 methods to fix iPhone stuck on attempting data recovery screen. They are the most feasible methods to resolve this issue.
Method 1. Press Home Button
You might feel like freaking out when you get this message, but stay relaxed. Wait as the device attempts to recover data. All you need to do is to press the home button to recover iPhone. Usually, it takes time to finish the recovery and update. As soon as the update finishes, you will have access to your device once more.
But this method is not applicable for the iPhone models without the home button. So, they have to try the other methods.
Method 2. Force Restart Your iPhone
It is one of the best ways to fix all kinds of working issues with iPhone. If the press home to recover method didn't work, then a force restart is likely to do the trick. As different iPhone models have different steps, follow them accordingly.
For iPhone 6 and earlier:
Press the home button and the power button simultaneously and hold them for a few seconds. Release the buttons when the Apple logo appears on the screen and restart your iPhone.
For iPhone 7 and 7 Plus:
Use the Volume down button and Power button. Press the buttons and hold them for a few seconds until the Apple logo pops up on the screen. Then let go of the buttons and restart the iPhone.
For iPhone 8 and later:
At first, press and quickly release the volume up button. Then repeat the same with Volume down button. Press the power button and hold it until the Apple logo appears on the screen.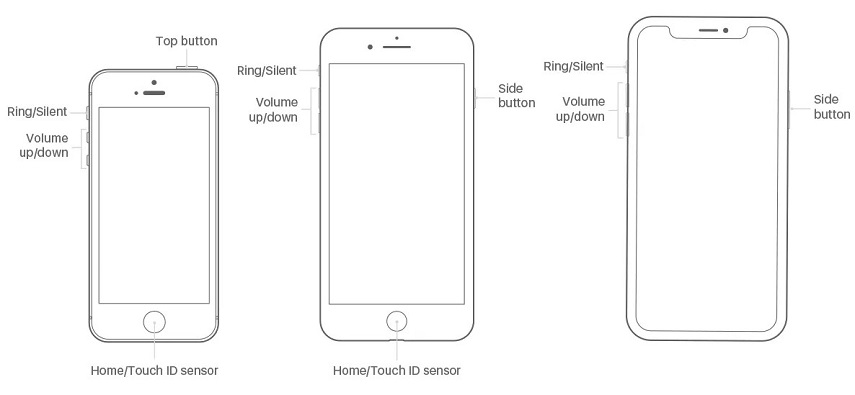 In most cases, force restart is capable of fixing common errors. But when you try force restart during attempting data recovery, it can lead to data loss. Therefore, you will need a smart tool that can resolve this problem without data loss.
Method 3. The Ultimate Solution to Fix iPhone Attempting Data Recovery Loop (100% Work)
Luckily, even when iPhone X attempting data recovery, there is an ultimate solution. Using UltFone iOS System Repair is the best choice you have. The software is capable of fixing more than 150 types of iPhone software issues including attempting data recovery loop, recovery mode loop, downgrade stuck, a frozen screen, app crashing, and many more.
The special features of this software include:
Exit and Enter recovery mode with just one click.
Capable of fixing more than 150 different kinds of iOS issues.
No data loss during or after the repair.
Standard and advanced mode to improve your device performance.
It can even resolve Apple TV problems.
Compatible with all iPhone models, including the latest iPhone 13 series.
You need to download this software from the official website. Once it is installed, follow the steps below to fix the error:
Step 1 Run the program and connect your iPhone with it. Click Start button on the main interface, then select the Standard Repair mode and click on the Start Standard Repair button.

Step 2 The software will prompt you to download the firmware package suitable for your device. Make sure that you are downloading the right package before you start the repair sequence.

Step 3 Once the firmware download finishes, tap on the Repair Now button and the process will initiate. It will take a while to fix the issue and your device will reboot.
The software will ensure that the device data is intact. But if there were some files missing prior to the repair, then you need further help from data recovery tools.
Method 4. Restore iPhone in iTunes to Fix iPhone Stuck On Attempting Data Recovery Loop
The users can also consider taking help from iTunes when the iPhone attempting data recovery failed abruptly. A full factory reset of the iPhone will fix the error and the device will be updated to the latest iOS version as well. To do this, follow the steps below:
Step 1: Launch iTunes on your computer and make sure that you have the latest version. Connect your iPhone with the system and put iPhone in recovery mode.

Step 2: The iPhone will be detected by iTunes in recovery mode and you will get a pop up asking to restore the device. Confirm the restore and update and wait as iTunes finish the task.
Now, you will have a normal functioning iPhone but you have to set it up again to retrieve the old data and settings.
Part 3. A Useful Tip: How to Recover iPhone Data That Lost Due To "Attempting Data Recovery" Error
As we mentioned above, data loss is a very common problem when users try to resolve iPhone attempting data recovery failed loop error. If you have an iTunes or iCloud backup, then you can restore the data and settings. But there is a better option for data recovery, using iPhone Data Recovery software.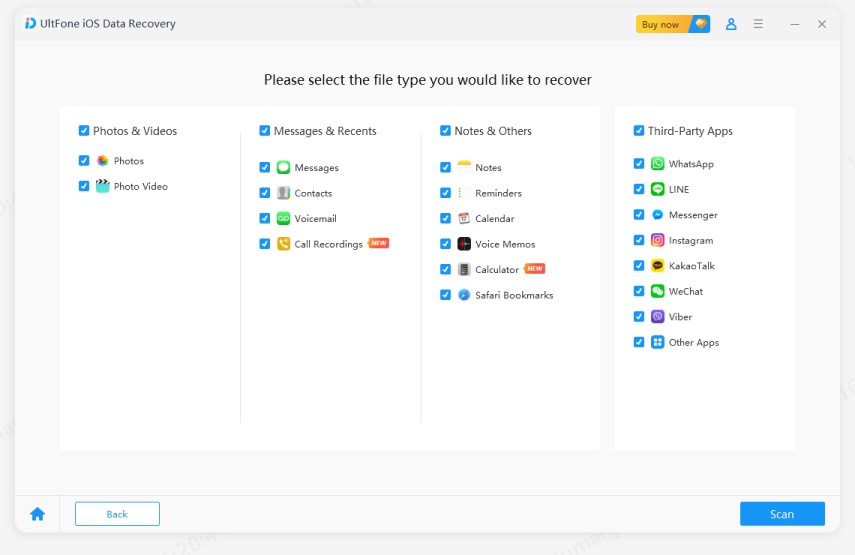 The main features of this iPhone Data Recovery are:
Recover data from iOS device and iTunesin one place.
Recovery of more than 30 types of data including messages, photos, documents, etc.
Extract files from old backups.
Selective backup and preview options.
Data recovery from all data loss scenarios including factory reset, downgrade/upgrade, system failure, or virus attack.
No matter what the situation is, the software will help you to get back all the deleted or lost files from your iPhone.
Related Read:
Wrap It Up
After reading this, hopefully, you know how to fix the iPhone stuck on attempting data recovery issue. There are many tools on the internet that can help you to fix this error. So, the next time you try to update your iPhone to latest iOS version, it is suggested to keep UltFone iOS System Repair and iPhone Data Recovery tools handy.