9 Ways to Fix Snapchat Keep Crashing on iPhone
If you're experiencing Snapchat crashes or some other issue with the app, it might not be just your device that's having problems. A quick search online will reveal that many users are reporting issues why does my Snapchat keep crashing 2023. While there is no one-size-fits-all solution, we've put together a few tips to help you troubleshoot and hopefully fix the problem. Keep reading for more info!
If Snapchat keep crashing on your iPhone, don't worry - you're not alone. Many people have been experiencing this issue, but luckily there are a few ways to fix it. In this blog post, we'll outline nine methods that have been proven to work for most people. So if Snapchat is giving you trouble, give one of these fixes a try and see if it helps!
Part 1: Why does Snapchat Keep Crashing?
Several things could be causing Snapchat to crash on your iPhone. It could be due to a software issue, a problem with your iPhone's hardware, or even a problem with Snapchat itself.
So, if your Snapchat is often crashing and you have tried all the basic solutions, it might be a good idea to dig deeper. There could well be an underlying problem causing the app to malfunction on your iPhone. And don't forget to check if there are any updates for Snapchat as they might contain a fix for the crashing issue.
Part 2: Snapchat Keep Crashing? Snapchat Issues [5 Ways]
Way 1: Close and Reopen Snapchat
Sometimes corrupted data is causing the issues. If you find that why does my Snapchat keep closing every time I open it, you should first force quit the app and then reopen it.
Step 1: To force quit an app on your iPhone, double-click the Home button to bring up the multitasking screen.
Step 2: Then, find Snapchat in the list of apps and swipe up on its preview to close it.
Step 3: Once Snapchat is closed, tap the app icon to launch it again.
Way 2: Update to the Latest Snapchat
If you're still having trouble with Snapchat crashing, make sure you have the latest version of the app installed. You can do this by going to the App Store.
If you're using an older version of Snapchat on iOS 13, update it by following the steps in the diagram below.
Step 1: Open your App Store app and log in using your Apple ID and password.
Step 2: Click on the Profile icon located on the right upper side of the screen.
Step 3: Scroll until you find the Snapchat icon in the Update section.

Step 4: Click the Update button and wait for it to finish before launching Snapchat directly from the App Store.
Follow these steps to update Snapchat on an iPhone (6 or later) running iOS 12 or earlier. 
Step 1: Go to the Home Screen on your phone, and find the Spotlight Search. Type in "App Store" to open the App Store app. Scroll down to the Update tab on the right-hand side of the screen. 
Step 2: You'll see Snapchat listed. Click on the Update tab for Snapchat. You can wait for the update to finish - you'll see a button called Open - or you can launch Snapchat directly from the App Store. Try the next solution if the latest update still doesn't fix the problem.
Way 3: Reinstall Snapchat 
If Snapchat keep crashing iPhone , the next thing you can try is deleting the app and then reinstalling it. This will often fix minor software issues that may be causing the problem.
For iOS 12 or earlier versions
To delete Snapchat, press and hold on to the app icon until itstarts wiggling. Then, tap on the "x" that appears. Confirm that youwant to delete the app by tapping on "Delete".
For iOS 13 and later versions
Snapchat in iOS 13 and later versions can be deleted by following these steps: 
Step 1: Locate Snapchat on the Home screen. 
Step 2: Press and hold on to the icon until a popup appears with the option to delete, share, edit the Home Screen, or add friends. 
Step 3: Press on the option to delete the app.
Once the app is deleted, open the App Store and search for"Snapchat". Tap on "Get" to download and install the app again.
Way 4: Delete Snapchat History 
If you're still having trouble with Snapchat crashing, you may want to try clearing your app's history.
Step 1: To do this, open the app and tap on the gear setting icon in the top-right corner.  

Step 2: Now Account Actions section appears. Then, tap on "Clear Cache" and confirm that you want to delete your history.
Way 5: Check Snapchat Server Works or not 
If you are among those facing constant crashing issues with the app, it's better to check Snapchat server status. Often, the servers go down due to high traffic, which can be one of the reasons for the app to keep crashing on your iPhone. 
You can use the DownDetector service to check if the servers are up and running or not. Just go to  Downdetector.com and enter Snapchat in the search field. The status will upload. If the servers are down, all you can do is wait for them to come back up. There is no other way to fix this problem.
Part 3: Snapchat Keep Crashing? iPhone Issues [4 Ways]
Way 1: Hard Reset iPhone
One way to fix Snapchat crashing is to reset your iPhone hard. This will essentially restart your device and can often fix software issues. To do this, follow steps according to the model.
For iPhone 8 and Later
Press and quickly release the volume up volume down button, respectively. Now keep the power button pressed. Then Apple logo will appear on the screen.
For iPhone 7 and 7 Plus
If you are an iPhone 7 and 7 Plus user, just press volume down and side buttons simultaneously. Keep hold until you see the Apple logo on the screen.
For iPhone 6s/6s Plus, iPhone SE 1st-Gen
If you are iPhone 6s/6s Plus, iPhone SE 1st-Gen user, don't worry. The solution is to press the home button and the side top button simultaneously. You will see the Apple logo on the screen after a time.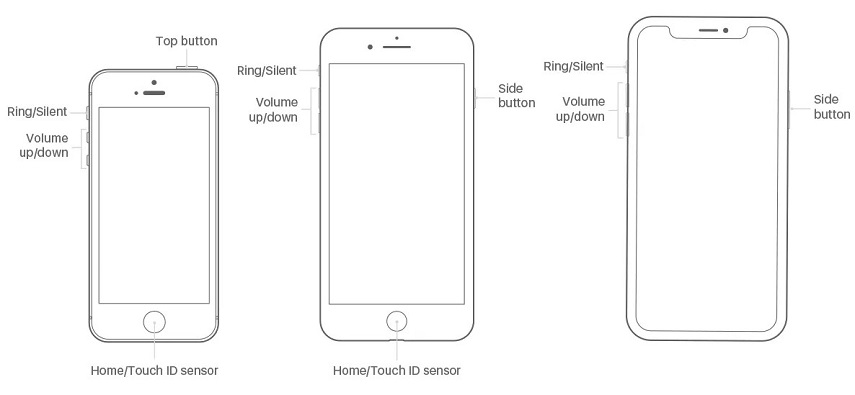 Way 2: Toggle on Background App Refresh for Snapchat
With background app refresh enabled, your apps will be able to have the latest information in the background. This saves you time and helps your phone run more smoothly. Just do it by following these steps.
Step 1: In the Settings app, go to General and then find Background App Refresh. Snapchat should be on the list.

Step 2: Toggle the switch next to it to turn on background app refresh for Snapchat.
Way 3: Turn off VPN on iPhone
Do you use a VPN on your iPhone? If yes, try turning it off and see if Snapchat can connect.
Step 1: First, open the Settings app. Next, navigate to General, then move to VPN & Device Management.

Step 2: You will see VPN. Now, disable the VPN service. When you're done. Open Snapchat and make sure it isn't crashing.
Way 4: Fix iOS Problems
UltFone iOS System Repair is the first of its kind tool in the market, which helps you repair your Apple device very easily. It is a reliable tool that will help you fix all your iOS issues, including boot loop issues, black screen issues, etc.
Features:
Easy and quick operation system
Reset device without losing data
Remove bugs and increase device speed
Fix App issues and run smoothly
Solve iPhone/iPad stuck in recovery mode/white screen/black screen/Apple logo
If the above methods do not work, just try this easy step.
Step 1First, download and install the UltFoneiOS System program on your PC or Mac. After connecting your device with the computer, run it by clicking on "Start".

Step 2After this, a new screen appears. You will see the "Standard Repair" option. Click on it and continue. 

Step 3 Now download the firmware package to your device by selecting location manually via the browsing option.

For those who have already installed the firmware package need to import by clicking on "local import firmware".

As it is of 2.5GB file size, make sure good internet connection to download it speedily. 

Step 4 Next step is to choose the "Start Standard Repair" option. 

Step 5 Now things go smoothly. Just wait to complete repair iOS system.

Step 6 The last step is automated. After system repair, the device will reboot automatically, and things are normal now. It will solve your Snapchat issue.
Part 4: Why Snapchat Lags?
Many different obstacles can make Snapchat lag. First, check your internet connection to make sure it's stable. An unstable connection might result if it gets a little too far away from the computer. Moreover, clearing your conversations can help with laggy app problems.
Go to Settings and find Account Actions. Finally, delete the conversation of your choice, and it should solve the app-related lag.
Final Words
Snapchat has experienced some serious problems with iPhone and Android devices. Users have reported crashes, bugs, and issues with browsing their stories. If you're having the same problems Snapchat keep crashing some quick solutions can help. Try UltFone iOS System Repair to fix that is the best solution without losing data. It is a fast and easy solution to solve any problem with your iPhone.