iPhone Camera Won't Work iOS 16/15? 7 Best Tips You Need to Fix It
My iPhone camera is not working after updating to iOS 16/15. It's just a black screen, and it will freeze if I hit any selection. The flashlight on the quick launch won't work and is grayed out.
Taking beautiful photos with iPhone camera is agreeable, but in many cases, your iPhone camera won't work - the camera app won't open, the rear camera is unresponsive, the main camera freezes, it can't reverse (like it can't switch from rear camera to front camera), it is black screen of death, the front-facing camera is excessively blurry, or iPhone won't take pictures no matter how you try.
iPhone camera not working could happen after getting wet, after water damage, iOS 16/15 software update. This issue could be down to an app or it could be a hardware failure. Here we sum up the top 7 tips that you can try to successfully fix camera not working on iPhone 13/12/11/XR/XS/X. If you have other workable methods, share with us in your comment.
How to Fix iPhone Main/Rear/Front Camera Not Working iOS 16/15
1. Relaunch the Camera Application
Close the camera app and then relaunch it. Double clicking Home button and swipe up Camera app to quit it. We found that 90% of the time this cleared things up, and it works for some. However, it doesn't mean that the issue won't return.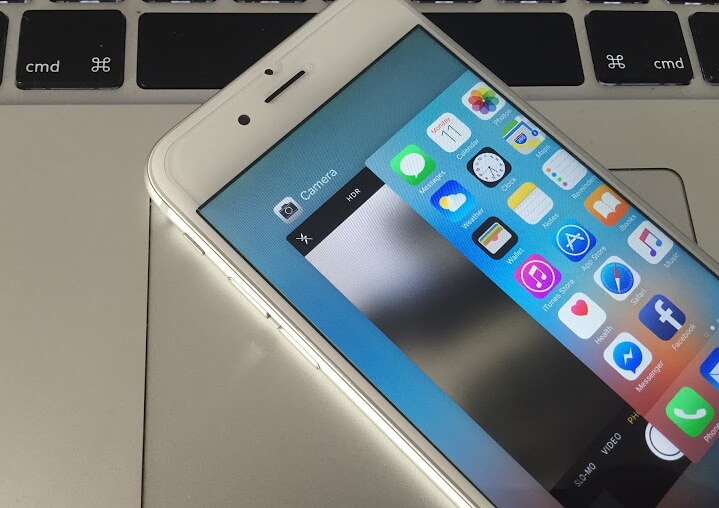 2. Close or even Remove Third-party Apps
If you're multitasking and you have a bunch of apps open that use a lot of memory (games, usually), or if an app is causing the problem, then you should close the app, or even remove it. It might fix your camera.
3. Reboot Your iPhone
Sometimes iPhone camera stops working only because a minor glitch, thus you can always try to restart your iPhone and then launch the app to check if it works.
iPhone 8 or later: Press and quickly release the Volume Up button. Press and quickly release the Volume Down button. Press and hold the Side button until you see the Apple logo.
iPhone 7 and iPhone 7 Plus: Press and hold both the Side (or Top) button and the Volume Down button until you see the Apple logo.
iPhone 6s or earlier: Press and hold both the Side (or Top) button and the Home button until you see the Apple logo.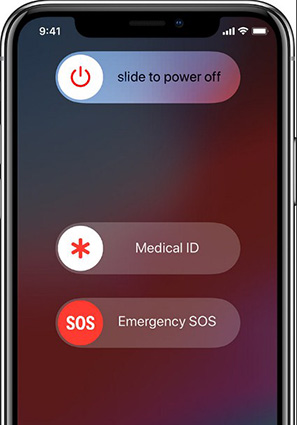 4. Make Camera On
On your iPhone, go to Settings > General > Restrictions and make sure Allow: Camera is on. Some of you may forget to turn on this setting and hence your camera won't open, or can't take pictures.
5. Restore iPhone to Factory Settings
Original factory settings restore (also called hard reset) will help to solve almost all the iPhone issues. You can have a try when your iPhone camera works improperly. Please note that factory setting reset will definitely delete all your iPhone data, so backup your iPhone before you do a factory reset.
6. Try Using Your Camera in Locked Mode
Some iPhone user posted the locked mode method and said it helped to fix this issue. You can have a try. Here is what he said.
"I believe the problem arises from a bug when the camera is used in lock mode, try restarting your iPhone and then open your camera in locked mode. Set the flash to auto. Maybe take a few pictures, switch the camera back and forth, turn HDR on and off, but make sure the flash is set to auto before you unlock the iPhone. After I did this in locked mode to my surprise my camera and flashlight are now fully functional."
7. Reset All Settings in your Device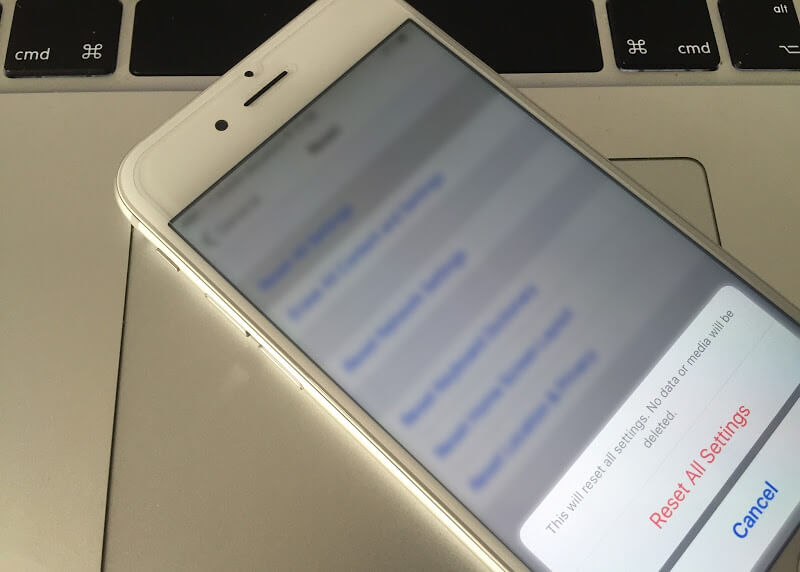 Another way to fix the camera black or abnormity is to reset all settings on your iPhone. Resetting all settings will not delete photos, messages, contacts, and other data in your iPhone, but only remove all your iPhone settings.
Head to Settings -> General -> Reset -> Reset All Settings. The iPhone returns to default settings. Open Camera again to check whether you can take photos now.
8. Fix Camera Not Working without Data Loss No Matter It Is iOS 16/15
If you tried all the above methods but the camera still not working on your iPhone, you can resort to some profrssional help. UltFone iOS System Repair is such an effective program in iOS system repairng and can help you to fix this problem easily. It also helps to resuse you from many other situations like iPhone Apple logo screen, iPhone frozen, black screen and so on. Download and install this program on your computer and then follow the steps below:
Step 1 Run the program on your computer and connect iPhone, choose "Repair Operating System" once the device is detected.

Step 2 Click "Fix Now" and then you'll be aksed to download the firmware package. Download and save the firmware package on computer.

Step 3 Now you can start repairing the system. This process may take a while and the device will reboot once it completes.
9. Turn to Apple for Help
You can also take it into an Apple Store and show the iPhone camera not working issue to them. If you're still under warranty, then you should get a replacement without any hassle.
If this camera not working iOS 16/15 issue happens to your iPad ( iPad Pro, iPad Air, iPad mini 2, iPad 4/3/2/1) or iPod (iPod touch 5/4), unfortunately, you can try the tips above to fix it.