12 Solutions to Fix Instagram Stories No Sound on iOS & Android
Normally adjusting the volume in Instagram would unmute the video (story or post) and I'd hear audio but after iOS 15 update, I don't unless I switch off silent mode. Anyone else with this issue?
Instagram brings a lot of fun, and you can't imagine life without it. But some users reported that after updating to iOS 15, Instagram Stories no sound or videos on iPhone no sound. On Twitter and other social media accounts, within a day of downloading iOS 15, numerous users complained about the iOS 15 Instagram no sound issue saying, why is there no sound on my Instagram stories?
It's not fun to watch Instagram stories on iOS 15 without sound. Many users believe that if you go back to the previous story and then to the main story, you can restore the Instagram story. It will produce audio. Unfortunately, this is not a long-term cure for the Instagram no sound issue on iOS 15. Let's get started on resolving this problem right away.
Part 1. 12 Solutions to Fix Instagram Stories No Sound on iPhone & Android
Solution 1. Turn Off Silent Mode
We recommend fast-changing this setting to test if you can hear Instagram stories no sound on silent mode:
For iPhone/iPad:
Gently press the mute switch (located on the left side of the iPhone) against the screen until it clicks. Your phone is not in silent mode if the orange line is no longer visible.
For Android :
Hit the Volume Up button to increase your ringer volume and escape silent mode.
Solution 2. Re-enable Mic and Camera Permission
Another reason for the Stories audio problem could be because the Instagram app has denied access to necessary phone resources. As a result, you should consider turning off all permissions and then putting them back on when you're ready to use Instagram again.
With that in mind, the methods below will show you how to gain access to the Instagram app permissions on your device:
For iPhone:
1. To begin, open the "Settings" app, scroll down to the Apps section, and select "Instagram" from the list.

2. After that, make sure the Microphone and Camera are turned on in the list of permissions.
For Android:
1. Go to Settings > Apps & Notifications and select Instagram from the list of apps.
2. Next, go to "Permissions" and choose permission from the Denied section.
3. Then select "Allow" or "Deny" just while using the app from the drop-down menu.
4. Repeat with the remaining permissions under Denied until they all come under Allowed.
Solution 3. Turn On Audio on Instagram Feed
When viewing a video on Instagram, it has been noted that the application does not automatically provide audio. As a result, unmuting a video in your feed or clicking the Volume Up button causes videos to start playing sounds.
1. To do this, browse to a video in your Instagram feed and press it to unmute it. The mute icon should change to the speaker icon in the lower-right corner.
2. By pressing the Volume Up button, make sure you can hear the video as well.

3. Open a Story after that, and you should be able to hear the videos.
Solution 4. Clear Instagram' Cache on Android
The more you use the Instagram app, the more cache is built up and kept to help you navigate the app faster. This accumulated cache is causing issues with the app's different features, including Instagram Stories. You'll find that the app feels less unstable once you erase this superfluous cache. As a result, it's a well-known workaround for various minor bugs with the Instagram app and Instagram stories no sound on Android.
Unlike Android, there is no one-click button to remove all the Instagram app cache for iPhone or iPad users. So guide below is only for Android.
1. For Android, go to Settings > Apps & Notifications > Instagram and choose it from the list of apps.

2. After that, go to the Instagram app page and tap "Storage", then "Clear Cache". Then you have the option of choosing "Clear Data/Clear Storage".
Solution 5. Restart Instagram App
Sometimes the Instagram app may not have been launched properly. As a result, issues with features such as Stories arise and result in a poor user experience. The methods to close and restart Instagram are the same on both iOS and Android devices:
1. To clear Instagram, close the app, open your recently-opened applications, and swipe upon it.
2. After that, reopen Instagram and try viewing an Instagram Story from your feed. If the video is muted, remember to press the Volume Up button.
Solution 6. Update to the Latest Instagram
Instagram often provides updates and bug patches to address various in-app concerns. Many users complained that they couldn't play music in their stories or Instagram Stories with no sound at all. It is why you should keep an eye out for new information.
1. Go to "Updates" or "My Apps & Games" in the App or Play Store.

2. Then swipe left or right to discover Instagram. The most recent version of the software will be installed when you click the "Update" button next to it.
Solution 7. Reinstall Instagram
It could be a good idea to uninstall it entirely before reinstalling a fresh one. After you've completed the instructions, make a note of or remember your Instagram username and password so you can log in.
1. To do so, simply long-press "Instagram" and select "Uninstall or Delete App" from the menu.
2. You can next opt to restart or reboot your device to update the files. After that, go to the "App Store" or "Play Store" and install the Instagram app from there.
3. After that, open the newly installed App and log in with your Instagram credentials. Check to see if you're still missing out on any sound on Instagram Stories.
Solution 8. Check Bluetooth Earbuds & Headphones
The sound may be conveyed to your Bluetooth headphones or earbuds even if you are not wearing them. If you use Apple AirPods and turn off "Automatic Ear Detection", for example, it will deliver the sound to the earphones as long as your AirPods are connected to your iPhone. Wireless speakers may have a similar problem. The speaker level has been reduced, and you have forgotten to disconnect it from your smartphone, resulting in Instagram stories no sound on iPhone.
To fix it, go to your phone's "Bluetooth" menu, search for paired speakers/headphones, then tap on one to disconnect it.
Solution 9. Disable Power Save Mode on iPhone/Android
The disabling power-saving mode can also do you big sometimes while facing Instagram stories with no sound on iPhone. To do this, follow the steps:
1. "Settings" should be opened.
2. Scroll down to "Battery" and tap it.

3. If Low Power Mode is enabled, slide it to the left to disable it.
Solution 10. Turn Off Focus Mode on iPhone
iOS 15 also includes a new Focus Mode that mutes any annoying noises on your iPhone. It can also turn off the sound on your iPhone's Instagram story. As a result, if Focus Mode is turned on, on your iPhone, switch it off and try to play the Instagram story sound if there are Instagram stories with no sound on iPad/iPhone.
You can also use the "Settings" application on your iPhone to disable "Focus" on your device.
1. Open the iOS Settings app and go to the "Focus" area.
2. Select the Focus you want to disable from the Focus panel.
3. Toggle the (green) toggle next to the Focus' name to turn it off on the following screen. Leave the toggle as is if it is already greyed out.

4. The selected Focus has been turned off.
Solution 11. Restart Your iPhone
Restart your iPhone X, 11, 12 or 13
1.Hold down either the volume or side buttons until the power off slider displays.
2.Wait 30 seconds after dragging the slider for your smartphone to switch off.
3. To restart your device, press and hold the side button (located on the right side of your iPhone) until the Apple logo appears.
Restart your iPhone SE (2nd generation), 8, 7 or 6
1. Hold the side button down and don't release it until you see the power off slider appear
2. Wait 30 seconds after dragging the slider for your smartphone to switch off.
3. To restart your device, press and hold the side button until the Apple logo appears.
Restart your iPhone SE (1st generation), 5 or earlier
1.The power off slider will show up on the screen if you press and hold the top button.
2.Wait 30 seconds after dragging the slider for your smartphone to switch off.
3.To restart your device, press and hold the top button. Note that not release it until the Apple logo appears.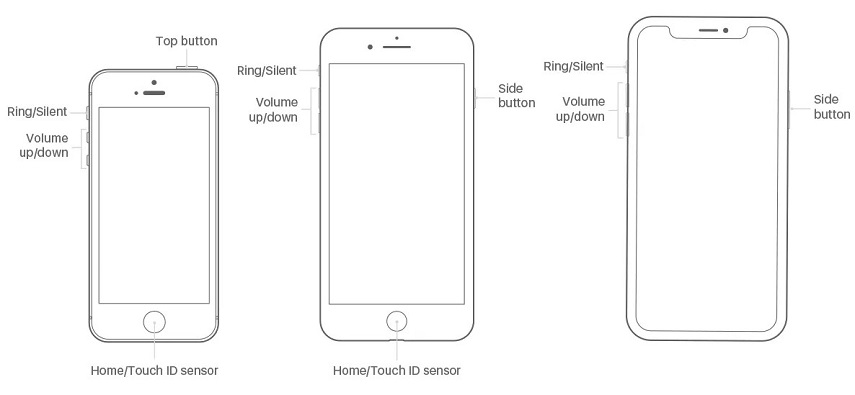 Solution 12. Ultimate Solution Featured 10-Year Experience on iOS 15 Issues
After updating to a new iOS version, you may experience issues with your iPhone, like Instagram Stories no sound, getting stuck on a loading screen, rebooting regularly, touch screen not working, and live wallpaper not working, among other things. UltFone iOS System Repair is a powerful iOS system recovery tool that we recommend. Apart from hardware issues, it's a professional tool that can fix iOS/iPadOS/tvOS issues.
Features
On an iPhone, iPad, or iPod, click once to enter and leave recovery mode.
Fix 150+ iOS system issues like the Apple logo, reboot loop, and black screen without losing data.
Reset iPhone/iPad/iPod Touch/iTunes/Finder without a password
Downgrade from iOS 15 to iOS 14 without using iTunes, and all iPhone models and iOS versions are supported, including the iPhone 13 series and iOS 15.
Step by Step Guide to use UltFone iOS System Repair:
Step 1 Connect your iPhone/iPad/iPod touch to the computer. After installing and running this program on your PC/Mac, connect your iPhone/iPad/iPod touch to the computer. Click "Start" to begin the iOS system repair module.

Step 2  To proceed, select "Standard Repair" on the next screen.


Note:
1. This program will prompt you to manually enter recovery mode or DFU mode if your iDevice is not identified.
2. On the UI, there are two repair modes: Standard Repair and Deep Repair. Standard Repair will fix any iOS problem without affecting your data.
3. On the other hand, Deep Repair would wipe your device clean and assist you in resolving more critical IOS issues that the Standard Repair option was unable to resolve.

Step 3 Before proceeding with the system repair, you must first click the "Download" option to obtain your device's automatically matched firmware package. You can change the protected path by clicking "Browse" and selecting an alternative location to save the firmware package.

Note:
1. If you have previously downloaded the firmware, please select "Import local firmware" to import your firmware package.
2. As the firmware package is around 2.5 GB in size, please be patient and keep your Internet connection active.

Step 4When the firmware package has been successfully downloaded, select "Start Standard Repair" to fix the iOS issues on your device. Allow for the repair of the iOS system to take a few minutes.

Step 5After the iOS system recovery is complete, your iOS device will reboot, and everything will be back to normal.
Part 2. How to Mute Instagram Stories?
Here's how to mute or unmute someone's Instagram story step by step:
1. Open the "Instagram app" on your smartphone or tablet.
2. Then press and hold the "profile picture" of the person whose story you'd like to mute at the top of the feed.
3. Select "Mute now". Finally, press the "Mute Story button".
Conclusion
To summarize, we found some interesting techniques to be helpful when Instagram Stories became inaudible. Unfortunately, this Stories problem has troubled us in multiple instances. Understandably, seeing your friends lip-syncing to videos with no music can be perplexing. So, go over the fixes above and determine which one works best for you. If not, move on to Solution 12. UltFone iOS System Repair is the ideal alternative for you because it is an ideal option dealing with iOS 15 issues and Instagram Stories with no sound.