How to Fix iPhone 14/13/12/11 Green Screen?
How to fix this green screen issue (dropped it today) I guess it's some connecter issue
Users report that their iPhone occasionally displays a noticeable green screen. When the display brightness is reduced, customers perceive a green tint or green lines on the iPhone screen. Apple continues to improve the iPhone's display, but it still needs to improve its flaws. You are not alone if you notice a peculiar green hue on your iPhone. Many consumers have recently expressed their dissatisfaction with the iPhone green screen issue.
How to fix iPhone green screen? Take your time. This post will look at what causes green screens on iPhone and what you can do to restore regular operation to your device. Continue reading!
Part 1: What Causes iPhone Green Screen?
Here are some of the most likely causes of your iPhone screen turning green or having green lines on it:
iOS system flaws
Incorrect display settings
Bugs and application conflicts
Driver circuit physical damage
Part 2: How to Check If Your iPhone has Green Screen?
Because the strange green tint is not immediately noticeable, some iPhone owners may need clarification on whether their devices are affected by the iPhone green screen after water issue.
The green dot displays primarily in dark mode or night shift. Thus, you need to go to a low-light situation, reduce the brightness, or enable the night shift. Then, on your device, view only black and white images:
Step 1: Navigate to a low-light location and launch the Settings app.
Step 2: Select Display & Brightness.
Step 3: Slide to the far left in the top BRIGHTNESS option to change to the lowest brightness.

Step 4: To activate the night shift mode, change the Night Shift Duration.

Step 5: Open a black-and-white image to see if it has a green tint.
Part 3: How to Fix iPhone Green Screen When It Still Works?
Way 1: Remove All Apps Running in the Background
If your iPhone has too many apps running in the background, the iPhone screen will turn green. You can resolve this issue by uninstalling apps operating in the background.
To begin, hit the home button twice. Then you'll see a list of all the apps you've been using. Next, swipe up from the bottom of your phone to access the apps.
Way 2: Change iPhone Display Settings
The iPhone green screen after drop is frequently caused by the incorrect screen choice and display features on your iPhone. As a result, you must change your iPhone's display settings, such as brightness, true tone, and other pertinent parameters.
Change the Brightness:
To modify your phone's brightness, go to Settings > Display & Brightness and then move the Brightness slider to the left or right.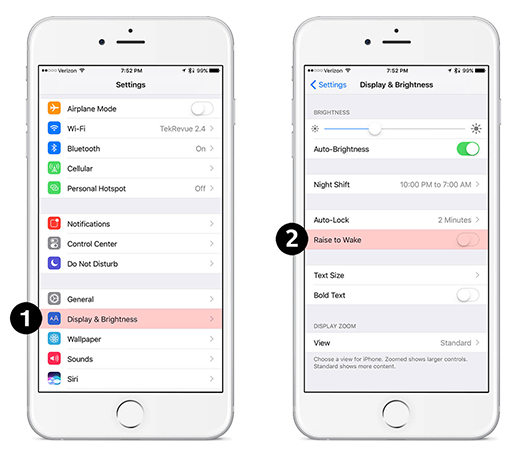 Turn on True Tone:
To enable True Tone, go to Settings > Display & Brightness > Then tap the switch next to True Tone to allow it to. With this function, your iPhone display will automatically adapt to the best lighting conditions for your iPhone, ensuring that colors look consistent in varied environments.
Turn on Auto-Brightness:
Another option is to enable Auto-Brightness. First, go to Settings > Accessibility > Display Accommodations to allow this option. Then, locate the option Auto-Brightness and toggle it on.
Way 3: Update iOS to the Latest Version
As many technical experts indicated, updating the iOS system on your iPhone can solve some burn-in difficulties. However, if you are using an outdated version of the app or have not updated your phone's iOS system, you may experience troubles such as the iPhone green screen of death.
Option 1: From the Settings menu
Navigate to "Settings". Next, locate "General"> "Software Update". Finally, to upgrade the iOS system, click "Install Now".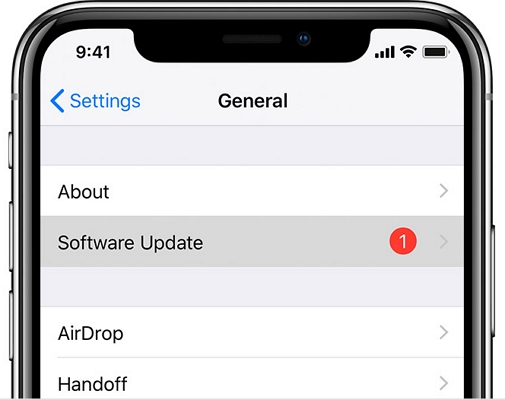 Option 2: Using iTunes
You can use iTunes if you cannot update your iPhone using Settings. To connect your gadget to the computer, you need a USB cable. Next, open iTunes and pick the device icon. Select Check for Update from the summary page. Then, follow the steps to finish updating your iPhone.

Way 4: Reset All Settings on Your iPhone
You should reset your iPhone to factory settings to delete any personalized settings that may have caused the iPhone to green screen. Then, it will restore your iPhone's settings to their original state. Here are the specific steps.
Navigate to Settings> General.
Locate the "Reset" button.

Select Erase All Content and Settings.
Note: Because all data on your phone will be destroyed after resetting, you must first back up your data with iTunes or iCloud.
Part 4: How to fix the iPhone Green Screen When It Doesn't Work?
Way 1: Hard Reset iPhone
If a basic restart does not work and your iPhone still has the green screen problem, you can force restart it. The force restart technique varies depending on the iPhone model you have.
For iPhone 8 and later: Quickly push and release the Volume Up button, followed by the Volume Down button. Hold down the Side button until the Apple logo appears on the screen.
For iPhone 7/7Plus: Press and hold the Power and Volume Down buttons simultaneously. When the Apple logo appears, press and hold for 10 seconds before releasing.
For iPhone 6S/6S Plus/SE: Hold the Lock and Home buttons simultaneously.  Release the buttons as soon as the Apple logo displays.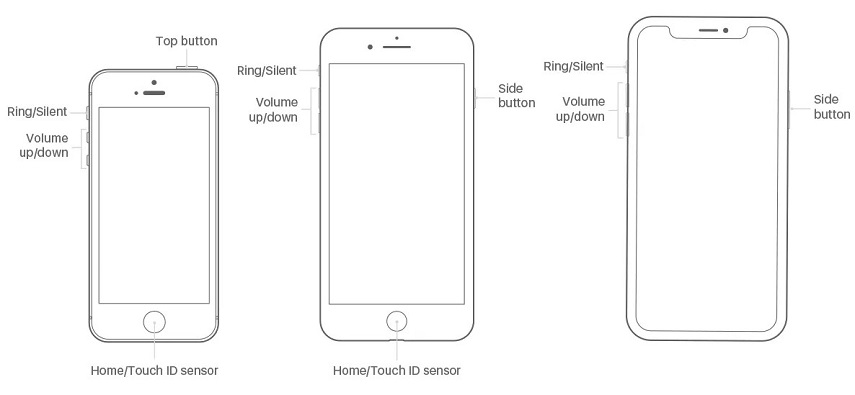 Way 2: Repair iOS with 3 Clicks
If your problem persists after attempting the solutions listed above, there is most likely a problem with your iOS system. For example, your phone's iOS system may be damaged for unexplained causes. As a result, you will want a professional iOS system repair tool to assist you in resolving this issue. In this case, we offer UltFone iOS System Repair.
It is regarded as one of the best iOS repair applications and can resolve over 150 iOS issues. In addition, you don't need to back up your data; you can solve your problem with a single click.
Features of UltFone iOS System Repair:
1-Click to enter and leave iPhone/iPad/iPod recovery mode.
Repair 150+ iOS system issues, such as the iPhone green screen, reboot loop, and black screen, without losing data.
Reset iPhone/iPad/iPod Touch without using a password, iTunes, or the Finder.
Downgrade from iOS 16 without the use of iTunes.
All iOS versions and iPhone models are supported, including the current iPhone 14 series and iOS 16/iPadOS 16.
Steps of UltFone iOS System Repair:
Step 1 Download and Launch UltFone iOS System Repair
After downloading and launching this program on your PC/Mac, connect your iPhone/iPad/iPod touch to the computer. Click "Start" to open the iOS system repair module".

Step 2 Select Standard Repair
To proceed, on the following screen, select "Standard Repair". If your iDevice is not identified, this program will instruct you to manually enter it into recovery mode or DFU mode for it to be detected.
The two repair modes are Standard Repair and Deep Repair. The primary distinction is that iOS issues can be addressed with Standard Repair without risking data loss. However, the deep Repair option will delete everything on your device.

Step 3 Download Firmware Package
Before proceeding with the system repair, select the "Download" option to receive your device's automatically matched firmware package. If you previously downloaded the firmware, please import it by selecting "local import firmware".

Step 4 Start Repairing Operating System
Please click "Start Standard Repair" after successfully downloading the firmware package to address the iOS issues on your smartphone. When the iOS system recovery is finished, your iOS device will restart, and everything will return to normal.
Way 3: Restore iPhone with iTunes
You can also use iTunes to reset your iPhone to factory settings and resolve the iPhone 13 green screen problem. Because this procedure will remove all of your data, you should first back up your iPhone. If your iPhone's display is green, we recommend it to you immediately. If your iPhone has a physical problem, this may be your final chance to create a backup.
1. Launch iTunes on your PC. Then, using a USB cord, connect your iPhone.
2. Go to the Summary tab by tapping the iPhone icon in the upper left corner when connected.
3. When prompted, tap the "Restore iPhone" button and confirm the restore.
4. iTunes restore iPhone.

5. Your iPhone will be restored, and the green screen problem will be resolved when it reboots.
Part 5: How to Avoid Data Loss When Similar Problems Happen Next Time?
Unlike iTunes and iCloud, this iPhone data manager allows you to inspect prior backups before restoring them, allowing you to pick or fully restore the files you desire without overwriting your current data. You may also back up your iPhone/iPad/iPod to your PC without worrying about space.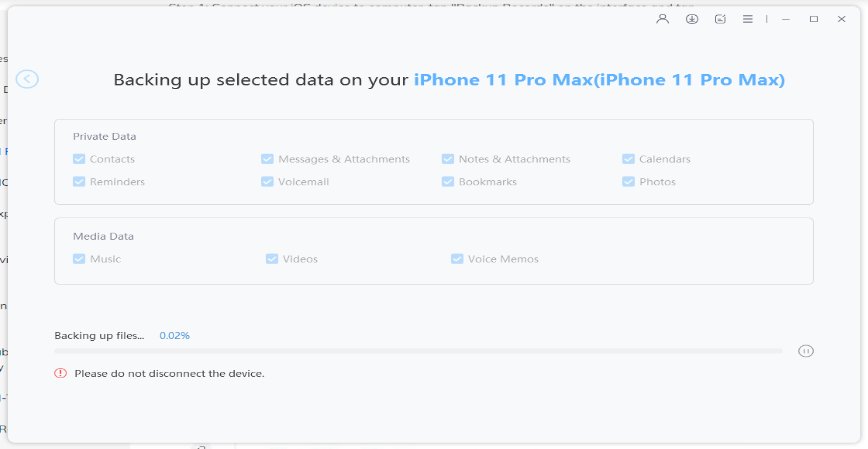 Conclusion
Here are the practical solutions we presented to fix the iPhone green screen. You can solve your problem step by step by following the above mentioned methods. If you still have issues fixing iOS issues like this, you can post a comment below or use UltFone iOS System Repair to fix it. Also, if you are seeking a data management solution, UltFone iOS Data Manager is the best.