How to Fix iPad Black Screen of Death
The iPad black screen is not new to a number of iPad users. Sometimes the iPad will freeze up and appear to be dead and only show a black screen, or iPad blacks screen with spinning circle, which we call iPad black screen or iPad black screen of death. The iPad black screen may appear after iPadOS 14/13.3/13 update, or when you are using iPad to send an email or playing "Angry Bird" or iPad black screen of death after drop. Whatever and iPad stuck on black screen with Apple logo.
I've seen a lot of people complain about iPad balck screen on the internet and here I summarize some possible ways to fix iPad Pro/Mini/Air black screen of death, which, hopefully would be of some help to you.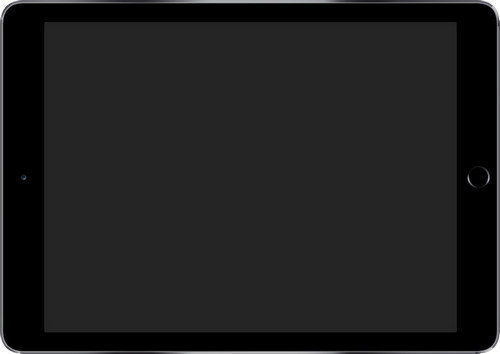 If Your 2019 iPad Air Goes Blank, Apple Will Repair It Free of Charge.
Apple has confirmed that some iPad Air 3 models may go blank permanently. A brief flicker or flash may appear before the screen goes blank. Apple has launched iPad Air (3rd generation) service program for blank screen issue. Affected devices were manufactured between March 2019 and October 2019. Apple or an Apple Authorized Service Provider will service eligible devices, free of charge.
If your iPad Air has this issue, you can take it to an Apple Authorized Service Provider or an Apple Store. Apple will check and determin whether your iPad Air can take advantage of this offer. Once confirmed, Apple will fix it for free.
However, if you have an iPad Mini that has a black screen, we recommend that you can try these tricks in the next part. In big chances that you can fix the iPad black screen of death.
Possible Solutions to Fix iPad Black Screen of Death
You can follow the tutorial below to fix iPad black screen. It not only works with smaller iPad Pro, iPad Air 2/Air, iPad mini 4/3/2, iPad 4/3/2. If you are having an iPhone, you can check how to fix iPhone black screen of death.
A. Recharge your iPad If Your iPad Screen Goes Black
Try connecting your iPad to something that uses the iPads battery juice. Wait till it runs out of battery, and then recharge it. It might work in some accasions and it is also the easiest way to fix iPad black screen of death.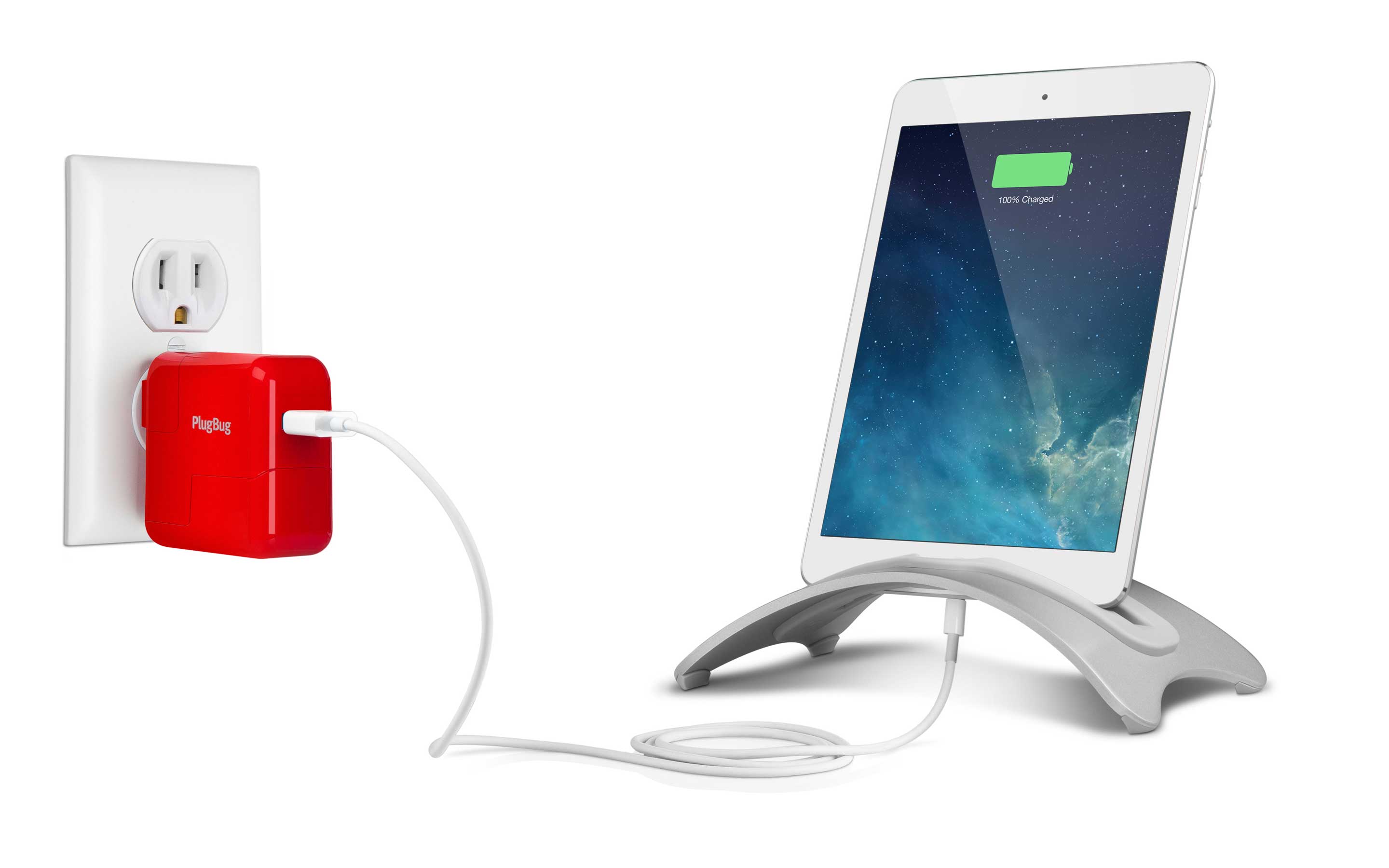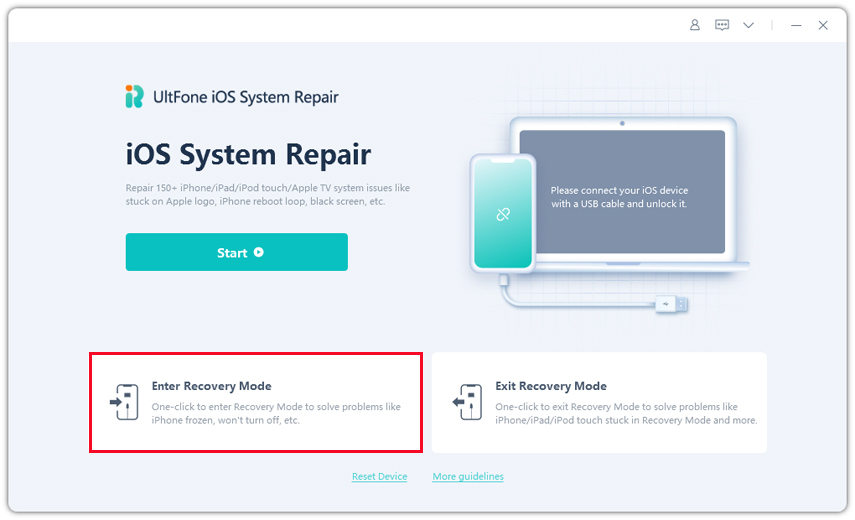 After this, click "Exit" to put your iPad out of recovery mode. In most cases, your iPad problem can be fixed through getting in and out of recovery mode.
Tips: If the black screen issue still cannot be fixed or it randomly happens again after a force reboots through entering/exiting recovery mode, I recommend you to fix this problem completely by repairing operating system. Click "Start" in UltFone iOS System Repair, choose Standard or Deep Repair mode, and follow the program guide to fix the iOS to normal without data loss. This is a process to recover iOS system from any crash, errors and freezes, including stuck at white apple , black screen, blue screen, iPhone/iPad boot loop , etc.
UltFone iOS System Repair 30% Coupon Code: VGS7-UJDG-8Y6G
E. Restore iPad to Factory Settings (Data Loss)
Well, if you are under a severe situations and the above methods failed to help you out, then your last choice is to restore iPad to factory settings and then set up the device as a new. Before taking this step, remember to back up your iPad as this method will erase all the data on iPad. Here are the steps to restore your iPad:
Step 1: Run iTunes on computer and choose "Summary", then you'll see some options.
Step 2: Click "Restore iPad" to start the process. It may take some time to complete.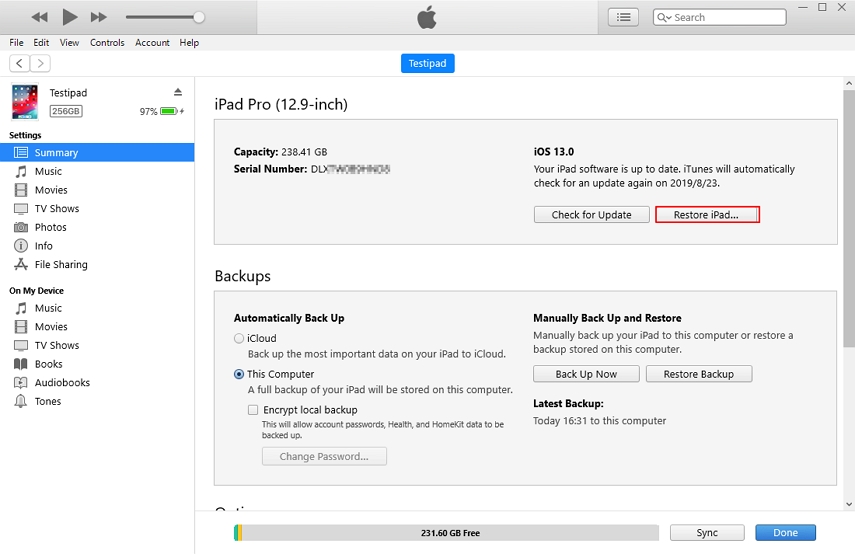 Conclusion
Hope this tips are helpful in fixing black screen on iPad in iOS 14/13/12/11 effectively. UltFone iOS System Repair is the top recommended way of solving your iPad issues through system repair. Besides, this iOS fix software can fix 150+ types of iOS issues without data loss, like stuck on Apple logo, start loop, recovery mode, etc.
You may also be interested in: