Sending Photos from iPhone to Email Not Working? Here's the Fix
How come I can't email photos from my camera roll on my iphone? I can send photos via text
Apple's Mail App is one of the best apps as a simple email solution for most iPhone users. It is simple, easy to use, and allows you to send emails with ease and convenience on your iPhone. However, it is quite frustrating for users when they are unable to email photos from iPhone. Almost every iPhone user faces this issue at least once in their life and they have concerns about what they should do in this case.
Can't email photos from iPhone may result in some basic issues, and some quick tips may solve your problem. In this article, we'll discuss these tips and share with you an easier way to transfer photos. However, if none of these methods sort the issue, then the best solution will be either to reinstall your iOS or visit a customer care center.
Solution 1. Check and Reset Network Settings to Fix Can't Email Photos from iPhone 12/11/10/X/XS/8/7/6/5
The most common issue that many users face, but they don't recognize is that they have network issues. Either your local internet network is not working, or there are issues in Apple servers. In some cases, kids may change some network settings and cause problems for you.
In each case, the first step is to check your network settings. Try to send a message on WhatsApp or open a webpage on Safari. If that is also not working, it means that you have local network issues. Look for your internet connection, sort it, and things will start working.
However, if the internet is working, and only sending photos from iPhone to email not working, there may be issues in specific network settings. Someone may have interfered with some specific settings in your Mail App.
In this case, the best thing to do is reset your network settings and sort the issue at once. Let us learn how to reset network settings step by step.
Step 1: Open "settings" on your iPhone.
Step 2: Locate "general" settings in the bottom and click on it.
Step 3: In the bottom, click on "Reset".
Step 4: Now check on the "Reset Network Settings".

Step 5: Insert your password to ensure your identity and click on "Reset Network Settings" to complete the reset.
Remember that this method will reset all your network settings. It will erase and set on default all your WiFi settings, Bluetooth settings, as well as other settings like Hotspot. So, when you finish these steps, make sure to add those settings again.
Solution 2. Force Restart Your iPhone to Fix iPhone Won't Email Photos
If your issue was related to network issues, then network reset will solve it. However, if you still cannot email photos from iPhone, you may want to look at other options.
In most cases, a force restart might solve the issue. Remember that force restart differs from the routine restart. So, let us learn how to force restart your iPhone.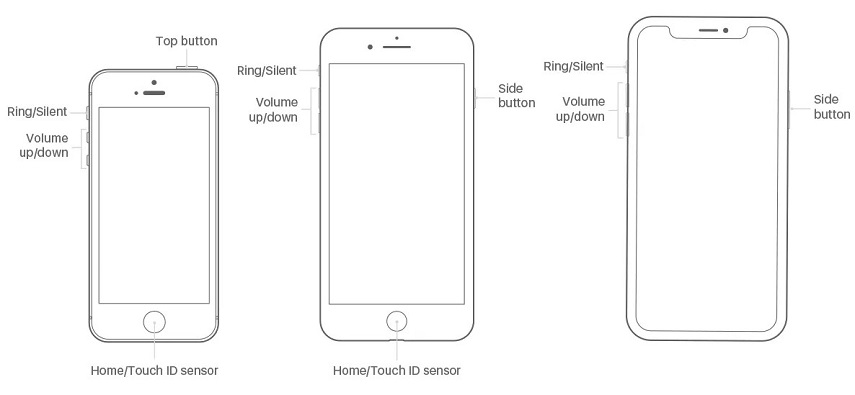 iPhone 8 or above:
1: Quickly press and release the button of volume up.
2: Quickly press and release the button of volume down.
3: Quickly press and hold the power button, keep holding it, unless you see the Apple logo.
iPhone 7 and 7 Plus:
1: If you can't email photos from iPhone 7, press and hold the power button and the volume down button.
2: Wait for around 10 seconds by holding both buttons, then you will see the Apple logo.
iPhone 6S, SE, or earlier:
1: Press and hold home button and power button simultaneously.
2: Let go of the two buttons until you see the Apple logo. And then your device will be rebooted
Solution 3. Delete Mail Account and Add it Again to Fix Can't Email Photos from iPhone
In most cases, the above two methods will resolve the problem: why can't I email photos from my iPhone. However, there are some cases in which your Mail App will still don't send photos.
If the issue still exists, the next thing you could do is to delete your account and login it again. This method is very simple as you just need to go to Settings > Mail > Account, logout from your Mail app for a while and then log in again. This's the third option, and we are hopeful that your Mail app will start working at this stage.
Solution 4. Repair iOS System
Somtimes it is due to an system malfunction that leads to sending photos from iPhone to email not working. In this case, the common solutions could not solve the problem completely. Even a force restart helps, the problem may occur after a while. The ultimate solution would be use an iOS System Repair software to fix iOS issues.
UltFone iOS System Repair aims to solve more than 150 iOS system issues without data loss. It is worth trying if none of the other methods works to solve iPhone not emailing photos.
Step 1. Download and run this program on a PC or Mac, and then connect your iOS device to computer via a USB cable. Click on Start button on the main interface.

Step 2. Choose on Standard Repair option to proceed.

Step 3. Download a firmware online and follow the onscreen instructions to start repairing iOS.
Solution 5. An Alternative Way to Transfer Photos on iPhone with One Click
We are hopeful that your issue is sorted by now. However, there is no guarantee that you won't face similar issues in the future. Reset network settings every time or doing force restart is not a lasting solution. It may work for once, but no one can try it repeatedly.
At this time, it'd better get help from a third-party tool. We will recommend you the UltFone iOS Data Manager. It has all the options to allow you to send and receive pictures at ease. Apart from exporting photos, UltFone iOS Data Manager will also:
1-click to backup and restore iPhone data to computer, and free of charge.
Transfer data freely between your iPhone and computer.
1-Click to export photos to computer.
Manage iOS data without iTunes.
Download the software on your computer and launch it, connect your iPhone to computer, then you'll see the "One-click Export Photos to PC" option from the main interface. Click it and the software will start to work automatically.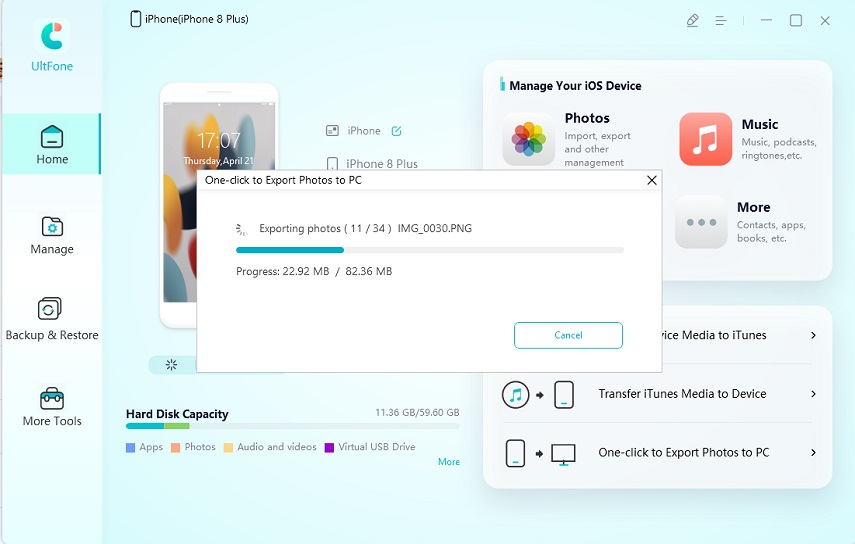 This is how simple it is. Compared with using Emails to send and transfer photos, it's more convenient and with less restrictions.
More features in iOS Data Manager, you can watch this video guide.
People Also Ask about Email Photos from iPhone
How to Email Photos or Attachments on iPhone and iPad?
It is very easy to send photos or attachments via Email on iPhone and iPad. You just have to open the Mail app on your phone. Once you open the mail app, you will see various options.
For attachments:
Step 1: You will see a file button just above the keyboard. Locate where is the document button.
Step 2: Tap on Browse, find your file and click on it. Thus, you had added the file.
For pictures:
Step 1: Click on the camera button above the keyboard and select the gallery.
Step 2: Swipe up to see more pictures and select any among them. Then, simply send it.
Why Can't I Email Photos from My iPhone 7/6/5?
This is one of the most common glitches of iPhone. Most people face it from time to time. There are some common solutions that you can try when you feel the same issue. The most possible reason could be that you have network issues, and reset network issues might solve it.
If this doesn't work, there may be issues in your phone RAM. Try to force restart your iPhone. In most cases, this method works, and your Mail App will start sending pictures. However, at some extreme point, the issue might be in your Mail App. So, you might need to restart your Mail App and log in again.
Conclusion
In this article, we saw why you couldn't email photos from iPhone. There are several solutions that you can try step by step. However, they all seem to work as temporary solutions. Thus, we highly recommend you use UltFone iOS Data Manager , which is a data management tool that allows you to do various jobs at a single platform and provides a one-stop service for all your iPhone data issues.