6 Solutions to Fix Live Wallpaper Not Working on iPhone 13/12/7 Plus/6s
Live Wallpaper is a fascinating way to bring life to your iPhone Lock Screen. Unfortunately, some people are unable to get them to operate because Live Wallpaper not moving. Is your Live Wallpaper not working? According to reports, no matter what they attempted, they could not set Live Wallpaper on their iPhone and their reaction is why is my Live Wallpaper not working?
First and foremost, keep in mind that Live Wallpaper is only available for the Lock Screen, not home screen. With that in mind, go over the procedures below to see if you can solve this problem.
Part 1: iPhone Models That Support Live Wallpaper
With the release of the iPhone 6s and 6s Plus, Live Wallpaper became a reality. The main point of making live backdrops for the iPhone was to use 3D Touch technology to produce live graphics animate with a touch and hold action. But some users reported saying Live Wallpaper not working on iPhone 6s.
To use Live Wallpaper, you'll need either a device with 3D Touch or one that supports haptic-touch/long-press.
iPhone with 3D Touch: iPhone 6s, 6s Plus, iPhone 7, 7 Plus, iPhone 8, 8 Plus, iPhone Xs, and Xs Max.
iPhone with Haptic Touch/Long Press: iPhone XR, iPhone 11, 11 Pro, 11 Pro Max, iPhone 12, 12 mini, 12 Pro, and 12 Pro Max.
Part 2: 6 Solutions to Fix Live Wallpaper Not Working on iPhone 13/7 Plus/6s
Solution 1. Restart Your iPhone
When you restart your iPhone, it will shut down all of the programs and processes currently operating on the system. So, no matter what unexpected issue you encounter on your Live Wallpaper not working, the first thing you should do is restart it.
For iPhone 8 and older (Touch ID models):
Step 1. Hold down the Sleep/Wake button until you see the slider display.
Step 2. To switch off your Phone, drag the slider to the left side.
Step 3. Please return to the sleep/wake button and hold it down until the Apple logo shows on your phone's screen.
iPhone X and later (devices with Face ID):
Step 1. Press and hold the Side button and volume button until the slider shows up.
Step 2. To turn it off, swipe the slider.
Step 3. To switch iPhone back on, press and hold the Side button until the Apple logo shows.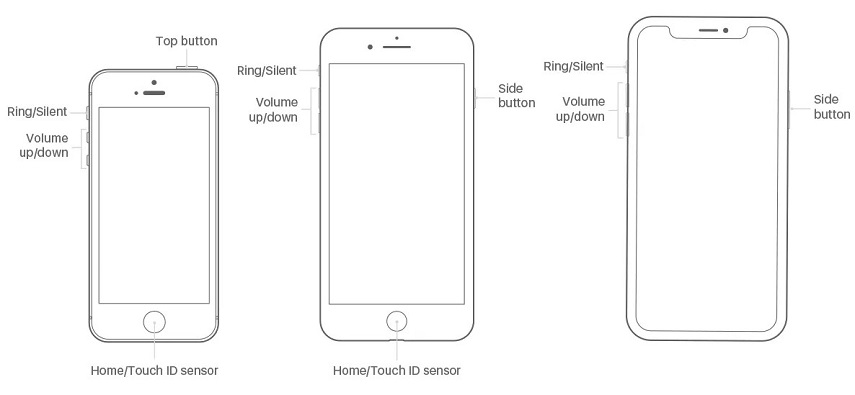 Solution 2. Disable Low Power Mode
To begin, ensure that the Low Power mode toggle is turned off. If your Apple iPhone is set to Low Power Mode, certain features will be disabled momentarily. Email fetch, background app refresh, automated downloads, and some visual effects are decreased or turned off, as are dynamic Wallpaper (live background, animated Wallpaper) and Perspective Zoom.
Steps to check if Low Power mode is on or off are as follows:
Step 1. Go to the "Settings" menu. Select "Battery".

Step 2. Now turn the Low Power Mode off switch.
Solution 3. Enable 3D Touch and Haptic Touch
Live Wallpaper only work on the Lock Screen and only when you tap and hold the wallpaper to start the animation. If 3D Touch and Haptic Touch are deactivated, they will not work (the wallpaper will become a static image).
As a result, make sure 3D Touch and Haptic Touch is turned on if you want Live Wallpaper to operate. On your iPhone, follow these steps to activate the two features:
Step 1. Open the "Settings" menu. Go to "Accessibility" and select it.
Step 2. Click Touch the screen. Then, select "3D & Haptic Touch" from the drop-down menu.

Step 3. Make sure 3D Touch is turned on, then choose your chosen Sensitivity and Duration. There's a trial place at the bottom of the page where you can see what works for you without leaving the 3D & Haptic Touch settings.
Solution 4. Turn Off Reduce Motion
Reduce Motion is another option that will affect the functionality of Live Wallpaper. When selected, this Accessibility option decreases the Motion of the user interface. It includes things like parallax icon effects, Live Wallpaper, and app animations.
So, before we move on to the next step, make sure you disable this option. Here's how to turn off the iPhone's Reduce Motion feature:
Step 1. Open the "Settings" menu. Go to "Accessibility" and select it.

Step 2. Choose "Motion". Turn off the "Reduce Motion".
Solution 5. Set Still Wallpaper First and then Set Live Wallpaper
For some users, this simple solution to why is my live photo not working on lock screen problem works well. Give it a shot right now:
Step 1. Go to Settings > Wallpaper > Choose a New Wallpaper > Done. Select Stills > Choose a wallpaper that you like and then hit "Set".

Step 2. Return to Settings > Wallpaper > Select a New Wallpaper > This time, tap Live. Choose one of your favorite Live Wallpaper and Tap "Set". Your Live Wallpaper should now be operational.
Final Solution: Fix Live Wallpaper Not Working with UltFone iOS System Repair
When you update to a new iOS version, you may experience issues with your iPhone, such as being stuck on a loading screen, restarting frequently, touch screen not working, and Live Wallpaper not working.
UltFone iOS System Repair is a powerful iOS system recovery program that we recommend. Except for hardware issues, it's a professional tool that can fix iOS/iPadOS/tvOS issues. It can also assist you if you are having problems connecting, syncing, or restoring with iTunes. Additionally, UltFone allows you to upgrade/downgrade iOS and reset your iOS devices with just a few clicks.
Features:
Click once to enter and exit recovery mode on an iPhone, iPad, or iPod.[Free]
Without losing data, fix 150+ iOS system issues like the Apple logo, reboot loop, and blank screen.
Reset iPhone/iPad/iPod Touch/iTunes/Finder without a password.
Downgrade from iOS 15 to iOS 14 without the use of iTunes.
All iPhone models and iOS versions are supported, including the newest iPhone 13 and iOS/iPadOS 15.
Step by step Process to Use UltFone iOS System Repair
Step 1 Connect your iPhone/iPad/iPod touch to the computer. After downloading and launching this program on your PC/Mac, connect your iPhone/iPad/iPod touch to the computer. Click "Start" to begin the iOS system repair process.

Step 2  On the next screen, select "Standard Repair" to continue.


Note:
1.If your iDevice isn't recognized, this program will tell you to put it in recovery mode or DFU mode manually.
2.As visible on the UI, there are two repair modes: Standard Repair and Deep Repair. Standard Repair can fix any iOS problems without losing any data.
3.The Deep Repair mode will delete everything off your device and assist you in resolving more severe iOS issues that the Standard Repair option failed to resolve.

Step 3 Before continuing with the system repair, you must first click the "Download" option to receive your device's automatically matched firmware package.
Please be patient since the firmware package is about 2.5 GB in size, and keep your Internet setup active and working.

Step 4When the firmware package has been successfully downloaded, click "Start Standard Repair" to resolve the iOS issues on your device.

Step 5After a few minutes, your iOS device will reboot, and everything will be back to normal.
Part 3: Necessary Tips about Live Wallpaper
Are you aware that Live Wallpaper only animate when the device is locked? Live backgrounds aren't supposed to be used on the Home Screen. So, if your iPhone isn't displaying an animation when it's unlocked, don't bother troubleshooting it because there's nothing to correct.
Live Wallpaper don't animate when you automatically wake the iPhone's screen, even on the Lock Screen. The live photo is triggered by pressing and holding the screen.
Live Wallpaper are currently an iPhone-only feature. They are not available on iPads or iPods.
Due to hardware restrictions, iPhone SE (1st gen) units are unable to play Live Wallpaper.
To make it easier to trigger Live Wallpaper on the Lock Screen, set the 3D touch sensitivity to "Light".
Part 4: Differences between Live Wallpaper and Dynamic Wallpaper
Live Wallpaper: When you 3D or Haptic Touch a Live Wallpaper, it will animate. Live Wallpaper are only available on iPhones with 3D/Haptic Touch. Therefore, they're not available on the original first-generation iPhone SE. To use as Live Wallpaper, you can build your live images. Live Wallpaper are limited to the Lock screen. Live Wallpaper are still a photo on your home screen.
Dynamic Wallpaper: Dynamic Wallpaper are looping vibrant pictures that operate on both the Home and Lock screens. They also don't require 3D Touch unlike Live Wallpaper not working on home screen.
Conclusion
If you're having trouble with the Live Wallpaper not working, this article must have given you enough information to find out how to fix it. We've provided you with easy-to-follow instructions for resolving the iPhone Live Wallpaper not functioning issue. If it still doesn't work, UltFone iOS System Repair is the better option you have. With UltFone iOS System Repair, you won't have to worry about losing all of your data or wasting money on a repair shop when fixing the Live Wallpaper.