You were taking that classic Selfie and all of a sudden, the camera turns black. There is no wonder that iPhones are popular for featuring astounding cameras. However, there are situations when you encounter a problem with an iPhone camera such as an iPhone camera won't work black screen. The problem could be due to a software or hardware issue. Luckily, you are in the right place. We are going to discuss every plausible solution you can try to fix the camera black screen issue on your iPhone.
Part 1: Basic Checkups When iPhone Camera Not Working Black Screen
Before proceeding with complicated troubleshooting solutions, go through the following basic checkups to address the iPhone camera not working black screen issue.
Tip 1: Remove Any Case, Film or Attachment
It could be possible that a case or film block the camera, resulting in affecting performance. A magnetic or metallic case or camera attachment might hinder with optical stabilization. So, it's recommended to test your camera without any case to figure out if they're a culprit for the issue.
Tip 2: Clean Camera Lens
Are your photos blurred, have sports or out of focus? If so, then ensure that your camera lens is free of any dust particle. You can use a microfiber cloth to clean the camera lens.
Tip 3: Restart Your iPhone and Test with Different Apps
Are you seeing a closed lens or black screen while launching the Camera app? Then, try to reboot your device and then, use the Camera app or another app using the camera to test the camera.
Part 2: How to Fix iPhone Camera Black Screen
Method 1: Force Quit Camera App
If the Camera app on your iDevice hasn't been loaded properly, then it can lead to iPhone camera black screen issue. The simplest approach to fix the issue is by closing the app forcefully. To force a quick Camera app on your iPhone, access the preview of the apps and swipe up the Camera app interface to force quit the app. In a white, launch the app again.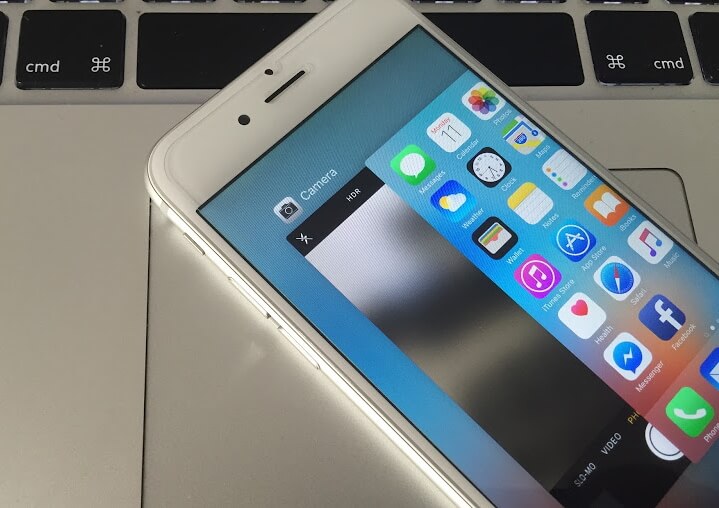 Method 2: Switch Your Camera to Front (Or Rear)
This method can fix the iPhone 8 camera not working black screen issue without causing any serious effect. There are situations when the front camera of the device doesn't work.
Therefore, if the front iPhone camera black screen problem occurs, then you can simply switch to the rear camera by clicking on the camera icon. The same can be done if the rear camera of your device isn't working. After you switch back, you will probably be able to fix the problem.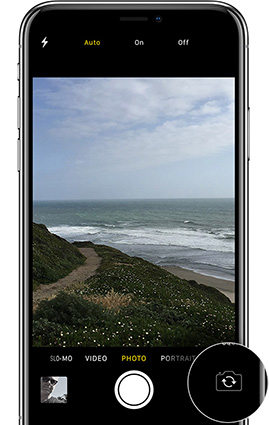 Method 3: Turn Off Voiceover Feature
There are users who have witnessed that the iPhone 7 Plus camera black screen issue occurs when the Voiceover feature is enabled. It could be an issue in iOS that leads to the iPhone camera to failure at times. In order to fix this, all you need to do is to turn off the Voiceover feature.
On your iPhone, go to "Settings".
Then, click "General">" Accessibility".

Finally, turn off the "Voiceover" feature. In a while, open the Camera app again.

Method 4: Update iOS Software

When you encounter a problem like the iPhone camera screen black but still takes pictures, it could be due to an unstable iOS version. The good news is that the problem can be resolved by simply updating the software of your device to a stable version.

On your iPhone, open "Settings".
Then, click "General">" Software Update".

If updates are available, then click "Download and Install" to upgrade the software to a stable version.

Method 5: Reset All Settings

If the problem is due to the device's settings, then the best thing to do is to reset all settings. To do that, follow the below steps:

On your iPhone, go to "Settings".
Then, click "General">" Reset".

Finally, click the "Reset All Settings" option.

Method 6: Erase iPhone

If the iPhone X camera not working black screen issue isn't resolved even after resetting all device settings, then you might need to reset the device by erasing all the data and saved settings. To do that, follow the below steps:

Open "Settings" on your iPhone.
Then, click "General">" Reset".

Finally, click the "Erase All Content and Settings" option.

Method 7: Fix iPhone Camera Black Screen with iOS System Repair Software

If all the common workarounds fail to help you fix the iPhone 7 camera not working black screen issue, then you certainly need a more powerful solution. Luckily, UltFone iOS System Repair can help you fix your problem in the most hassle-free manner. You can take advantage of this professional iOS system repair solution to repair your iOS device on your own thanks to its repair operating system feature. It is powerful enough to fix various iOS issues including black screen, white screen, etc.

Are you ready to use UltFone iOS System Repair? Download it from on your computer and follow the below steps to start fixing the problem like a pro.

Step 1To commence the process, install and run the software. Then, connect your iPhone to the computer using a digital cable and click the "Repair Operating System" feature.

Step 2After clicking the "Fix Now" button, the software will recommend you download the suitable firmware package for your iOS system.

Step 3Once the firmware download process completes, click on the "Repair Now" button. In a while, the software will begin with repairing your device to resolve the issue.

The Bottom Line

That's all on how to fix the iPhone camera shows a black screen problem. As you can now see that there are several solutions to help you fix the issue. But, if you're looking for the easiest solution, UltFone iOS System Repair is highly recommended. With the software's highest success rate, it comes quite in handy to fix several iOS issues.