How to Reset/Restart iPhone 13/12/11/X/XS/XR When Frozen
You may have encountered some situations about iPhone frozen or hung issues like "your iPhone randomly frozen, it did not respond to your touchscreen gestures. Or your iPhone keeps crashing? Worst still, your iPhone is hung and re mains black? What are you supposed to do?" No worries. In this article, you can learn how to reboot/reset a frozen iPhone without Power or Home buttons.
Part 1: Why is My iPhone Frozen or Hung
Freezes and crashes are generic iPhone problems that can occur in any iPhone software, from Safari to Maps. Your iPhone could lock up completely, does not respond to any input, or even does not wake up from sleep if there are corruptions or other issues on the device's programs, applications or widgets, or after installing/updating apps on iPhone, jailbreak, iOS update, etc.
Part 2: 10 Ways to Reset/Restart a Frozen or Hung iPhone
We have found top 10 ways to help you fix iPhone Xr frozen (as well as other iPhone models) and how to reset/restart iPhone when frozen. In some cases, you don't have to reboot your iPhone to fix the freeze. Anyway, try any of them to get rid of iPhone freezeing or hung issue.
The top 5 methods below apply to the situation that you have working Power (Sleep/Wake/Lock/On/Off) button and Home button. If you have broken Power and Home buttons, or you hava an iPhone without a Home button, you should go to the ways on how to restart frozen iphone without home button, which is described from Top 6.
Top 1. Use Home Button to Restart iPhone When Frozen
To unfreeze an iPhone 6 or iPhone 7, the first thing you should do is to press and hold down the Home button for about 10 seconds. Then you will be returned to the Home screen with everything working again.
Top 2. Restart iPhone
For iPhone X or later, press and hold either volume button and the side button until the power off slider appears. For iPhone 6 to iPhone 8 series, press and hold the Side button untile the power off slider appears. Then press and hold the Power button again until the Apple logo appears. Wait a few seconds for iPhone's startup sequence to finish and you can be back at the home screen.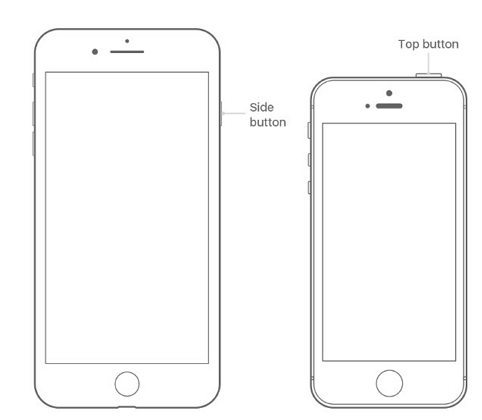 Top 3. Force Restart a Frozen/Hung iPhone
For iPhone 6 and older Models:
Press the home button and the power button at the same time. Keep pressing the buttons until you see the Apple logo and let the restarting process finish.
For iPhone 7 and 7 Plus:
Press the Power button and volume down button simultaneously and hold them. Let go of the buttons when you see the Apple logo on the screen.
For iPhone 8 and later Models:
For the new models, you have to quickly press the volume up button, and then follow the same process with volume down button. At last, press the side button and hold it until the screen turns off and the Apple logo pops up on the screen.
Related read:
Top 4. Close an App to Unfreeze iPhone X/XR/XS/11/12/13
If you have a single misbehaving app on your iPhone, you can "force quit" it by pressing and holding Power button for a few seconds until a red slider appears, then press and hold the Home button until the app quits.
Top 5. Remove Some Content
If your iPhone screen is still frozen, you can try to remove some of the content that's on your iPhone. Alternatively, you can erase all content and settings by tapping Settings > General > Reset > Erase all Content and Settings. Then you can use the Top 2 method to restart your iPhone.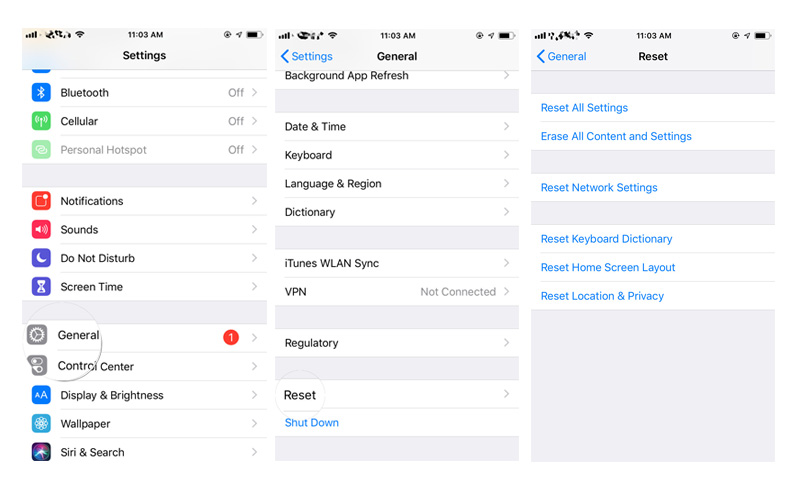 The methods below are about how to reboot a frozen/hung iPhone without Power or Home buttons. If you have a broken Power/Home button, try any of them until you can restart your iPhone and fix the issue.
Top 6. Reboot Frozen iPhone with UltFone iOS System Repair
UltFone iOS System Repair is the professional freeware that can help force to reboot the frozen or hung iPhone and fix frozen iPhone after upgrade by putting the device into recovery mode and then get it out. That is, you won't lose your iPhone data and your iPhone will run smoothly. You can fix all booting problems without Power or Home buttons on computer:
Free download the program and install it on your computer. There is a Windows version and a Mac one. Windows version runs on Windows 10/8.1/8/7/XP/Vista, and Mac OS.

Connect iPhone to your computer and run UltFone iOS System Repair. Click on "Enter Recovery Mode".

Then click on "Exit Recovery Mode" to restart your iPhone. It will come back to normal.
Top 7. Try a Trick to Turn Off iPhone When Screen is Frozen
Squeeze the edges of your iPhone near the top of iPhone, just below the Power button and press the broken Power button at the same. This will force the internal switch to make just enough contact to allow you to power iPhone off. And then you can power iPhone on by plugging it into a computer with a USB cable.
Top 8. Reset iPhone when Frozen without Data Loss
However, if the above methods cannot get you out of the dilemma, there might be soem severe system issue on your iPhone. Luckily, with UltFone iOS System Repair, you can easily repair the operating system of iPhone without using iTunes, thus all the data and settings will be kept untouched. Here are the steps to repair iPhone system.
As you have already downloaded the program, choose "Start" then "Standard Repair".
Then you can download the newest firmware package for your iOS device. Choose a save path and start downloading.
Once the firmware is downloaded successfully to your computer, click "Start Standard Repair" to begin the system recovery.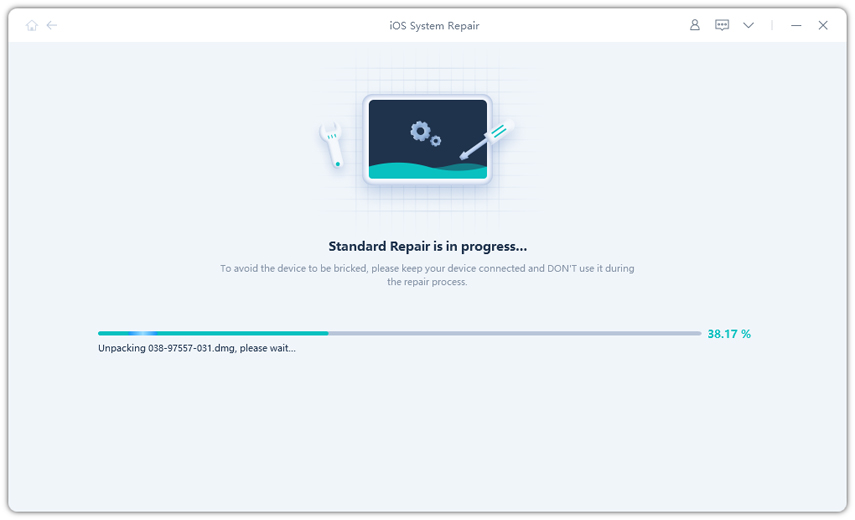 Top 9. Reset iPhone to Factory Settings [Erase All Your Data]
You can try to reset your frozen or hung iPhone to its original factory settings. As we know factory restore will erase all the content and data on your device, thus, remember to back up your iPhone before taking this method. Here are the steps for you to restore iPhone in iTunes:
Step 1: Run iTunes on your computer and then connect iPhone to computer with a USB cable.
Step 2: Once the device is detected, click the device icon and then choose "Summary"
Step 3: Now you can click "Restore iPhone" to set up it as a new one.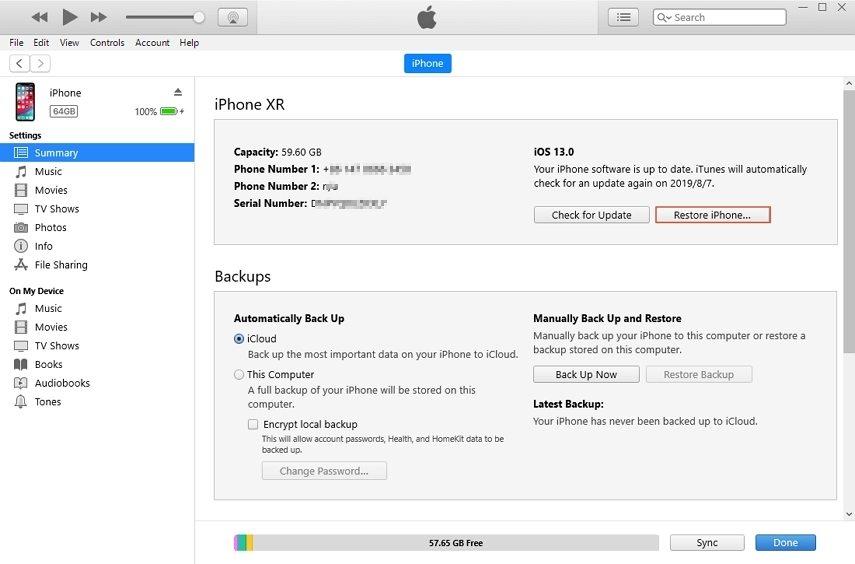 Top 10. Ask Apple for Help
If you have AppleCare or iPhone is still under warranty, you can take it to an Apple retail store or call AppleCare for help. A broken power button is covered by the Apple warranty.
Part 3: How to Avoid iPhone Being Frozen or Hung
To prevent iPhone freezes or hangs in the future, you should update your iPhone's software to prevent (or reduce at least) iPhone frozen or hung. Updates fix known bugs in existing software and add new features. You can refer to Apple's official website about how to update iPhone: http://support.apple.com/kb/HT4623
Remember to update your iTunes too. Updating to the latest version of iTunes can make syncing and other interactions between iTunes and your iPhone go smoothly, which in turn can prevent your iPhone from freezing or hanging.
The Bottom Line
Well, we've analysized iPhone frozen issue and show you the possible ways to reboot a hung iPhone. I hope your problem can be solved after trying the above methods. If you have similar issues like iPhone stuck on recovery mode, Apple logo, iPhone not turning on and so forth, you are always welcomed to contact us and try the iOS System Repair tool to fix iOS to normal.