[Solved] My iPhone SE/5S/6/7/7 Plus Stuck on Verifying iPhone Restore iTunes
My iPhone 7 plus is stuck in recovery mode and when i try to restore using iTunes it got stuck in verifying iPhone restore with apple. My phone screen displayed apple logo with a progress bar that does not even start progressing. I waited for over one day but no progress. I tried using another computer, disable antivirus but nothing works. I even tried 3utools and it stuck at 20% unmounting filesystem. The phone display is the same when i tried to restore with iTunes. Can anyone help please??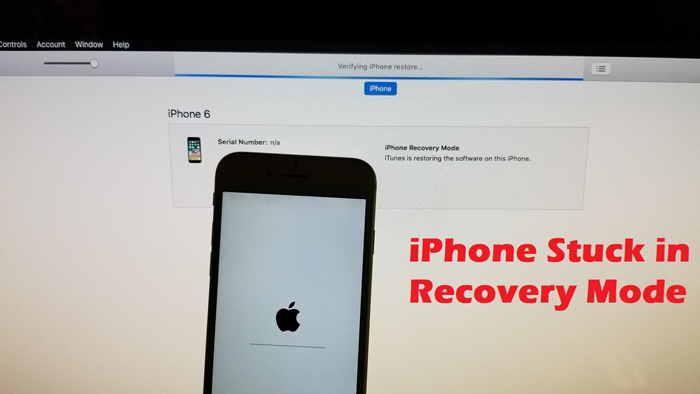 As asked in the above quarry from the Apple forum, it normally happens that an Apple logo appears with a progress bar that gets stuck. In fact, you can see Reddit filled with such quarries. This is a clear sign of some problem. In this article, we will give a complete guide on how to fix iTunes stuck on verifying iPhone restore. 
Part 1. How Long Does it Take to Verify iPhone Restore?
One of the most common questions people ask after facing the problem where their iPhone is stuck on restore is that how much time it actually takes to verify iPhone Restore.
Well, there is no exact time limit for any update or restore from any credible and official store, but to be clear, it depends on the size of the update. If the update is big, it might take your iPhone 10-15 minutes to verify. But as a general rule, it is safe to wait 15-20 minutes. If you see no progress during that time and iTunes is still stuck on verifying the iPhone, it's probably bad news. In that case, you need to find some other way if you don't want to waste your time.
Part 2. What to Do if iTunes is Stuck on Verifying iPhone Restore with Apple?
If your iPhone is stuck at verifying iPhone restore, here are the best tips that you can use to solve this problem.
100% Working Solution to iTunes Stuck on Verifying iPhone Restore
The first method as well as our best recommendation is to go for UltFone iOS System Repair. This is a powerful and easy-to-use software that can be a lifesaver during iTunes stuck on verifying iPhone restore with Apple logo. It has been made to serve anyone and everyone, with which you can solve your iOS problems like an expert so that you can save your money as well as back-to-back trips to get your iPhone repaired.
It is loaded with hundreds of solutions for almost every iOS related problem. And you can do all of that by yourself in only one click. Here is a list of some of the most prominent features of UltFone iOS System Repair:
Support all iOS version and iPhone models including the latest iPhone 12 series.
1-click to enter and exit recovery mode. [Free]
Fix Apple logo stuck, iTunes stuck, black screen, loop reboot, and 150+ other iOS problems.
Reset iPhone/iPad/iPod Touch without password/iTunes/Finder.
Downgrade from iOS 15 beta without iTunes.
The best thing about UltFone iPhone System Repair is that anyone can use it like a pro. It is made to be an easy-to-operate software and its 1-click to enter and exit repair mode features makes it stand out from many competitors.
To fix iPhone stuck on verifying iPhone restore, just follow the following simple steps:
Step 1

Launch UltFone System Repair and connect your iPhone with a lightning cable.

Step 2 Click on the Enter Recovery Mode button.

Step 3 After about 10 seconds, your device will show the classic USB to iTunes logo. Then click Exit the Recovery Mode.

Step 4 If it goes well, UltFone iOS System Repair will show you a message that your phone has successfully exited the recovery mode and your phone will reboot and go back to normal.

Step 5 But if not, try to repair your iOS system without data loss, which is 100% working on iTunes stuck on verifying iPhone restore but also a paid feature.
Possible Solutions to iPhone Restore Stuck on Verifying iPhone Restore
There are some other possible solutions for iTunes stuck on verifying iPhone problem. If you don't have UltFone System Repair for some reason, you can try one of these solutions.
Check Your Network Connection Status
One of the most probable causes of iTunes stuck at iPhone restore is due to poor network connection. The first thing that you should look for is your internet connection. It is highly recommended to be on a Wi-Fi connection during verification due to the same reason. You should also restart your modem and try again, which should sort out the problem.
Restore your iPhone on Another Computer
Another reason that might be causing your iPhone 6 or any other iPhone to stuck at iTunes verification is that your system does not support the function or just not perform well enough. This problem can also be due to a faulty USB port. Whatever the problem might be, the simple solution is to try another computer to fix the issue.
Turn off Antivirus Software
Most of the software would recommend you to turn off antivirus software beforehand. This is because these software like iTunes are performing the repairing process on your iPhone, which would be taken as a malfunction or malware by the antivirus software. Thus you should turn off your anti-virus software and windows defender and then try again.
Update iTunes to Latest Version
Always remember to check for an update of iTunes before you start the restore process. When you try to restore your iPhone using some outdated versions of iTunes, it can cause problems like iTunes stuck iPhone restore verification.
Restore iPhone using DFU Mode
Make sure that your iPhone is connected to the system.
Now press and hold the home and power button for a few seconds and release the home button just before the Apple logo appears.
Then your iPhone screen will go black and iTunes will show you a message stating that a device has been detected in DFU mode.
Now restore your phone normally through iTunes.
After the update and repair is done, you will need a hard reset to exit DFU mode.
Part 3. People Also Ask About iTunes Stuck on Verifying iPhone Restore
There can be a few complications when trying to restore your iPhone. There are a lot of reasons why that is happening but the point here is that it happens to many people. So, we decided to list a few of the most asked questions about that and answer them here.
Why is my iPhone stuck on restore screen?
One of the main reasons why iPhone gets stuck on restore screen is that iTunes version is outdated or undergoing some some issues. Or you once updated or restored your iPhone improperly. Other reasons can range from a corrupt USB port, cable, and whatnot. We highly recommend using UltFone iOS System Repair to get rid of all the problems easily.
Why is my Apple ID stuck on verifying?
Once you have restored or updated your iPhone, sometimes it gets stuck at a message where it says that it is unable to verify iTunes. Your iPhone is not allowing you to connect to the verification server. The most important reason can be a corrupt file, etc.
Why won't iTunes recognize my iPhone in recovery mode?
The reason why most people face this problem is because of the low battery. This happens when you have an extremely low battery and you connect your iPhone to your computer. In such cases, make sure you wait at least 10-15 minutes before starting the recovery mode after you connect your iPhone with your PC. That should get your iPhone charged enough to continue the process.
Conclusion
So, this was all about how you fix iTunes stuck on verifying iPhone problem. The best solution we recommend here is to use UltFone iOS System Repair. Its one-click Enter and Exit recovery mode option can help you easily out of this problem. If you still have any questions about it, feel free to leave your question in the comment section below. We'll be thrilled to help you! Till then Stay Safe and Peace.