How to Fix iCloud Mail Not Working on iPhone/iPad/Mac?
I want to use my @icloud.com mail, but it is not showing up in the stock mail app, nor iCloud Mail option is showing in the settings under "Your Name > iCloud" where it is supposed to be.
The stock app is working, but only Gmail accounts are shown. I have already gone to the edit button on top to check whether my iCloud Mail is unchecked, but it is not even there. It is happening on both my iPhone and Mac.
On top of that, the webpage for iCloud Mail is not loading when I am signed in from my Apple ID. Anyone has faced this issue and have a solution?
Mail is surprisingly sophisticated for something as simple as signing in or sending and receiving emails, and it must be correctly configured to perform appropriately. Before proceeding, ensure this is a mail-only problem that is not affecting any other internet service. If it does, you should evaluate your overall networking infrastructure, as it could be an issue with internet services rather than iCloud Mail.
Don't be concerned about anything! If your iCloud Mail is not working, you can find a solution.
Part 1: What is iCloud Mail?
Apple is the only owner of iCloud. To utilize iCloud Mail, you must have an email address/domain ending in @me.com, @icloud.com, or @mac.com. If you don't have anything like this, you can easily make your iCloud Mail. Once you have that, you can keep your Mail synchronized across all your devices, whether they be iPhones or Macs.
Part 2: Types of iCloud Mail Not Working
Cannot send iCloud Mail
Cannot receive iCloud Mail on iPhone/iPad
Cannot access iCloud Mail at iCloud.com
iCloud's Mail cannot sync across devices
Part 3: Top 7 Ways to Fix iCloud Mail on iPhone/iPad
Way 1: Check whether iCloud Mail is Down or Not
Before going on to other alternatives to solve iCloud mail not working on iPhone 11/13/12, ensuring that iCloud services are operational is critical. If they are down, it is possible that iCloud email is not working. To find out, go to the Apple System Status tab and look at the iCloud and Mail services. If any of these is not working, the iCloud email is currently inaccessible and is not updating with the most recent content received and all you need to do is wait.
Way 2: Free Up Enough Storage on iCloud
It is also possible that iCloud mail is not working due to a lack of iCloud storage capacity. Go to settings on your iPhone, tap on your name and select iCloud. A bar at the top will show you how many different types of files are using up space on your iCloud. Tap on manage storage to obtain more information.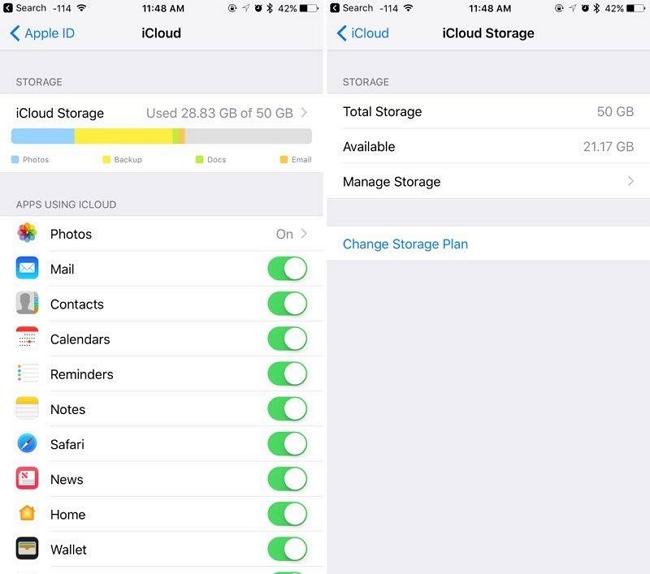 When you set up your iCloud, you get 5GB of storage for free. If your iCloud is complete and you need extra capacity, you can upgrade your storage plan and buy additional.
Way 3: Turn on Fetch New Data
My iCloud mail is not working on my iPhone? Now, if you cannot get iCloud emails, it is possible that new data is not being pushed to your iPhone regularly owing to a change in settings. When you enable this option automatically, your device will constantly query the server to see if any new mail/data is available. If your iCloud Mail is not working, this may help.
1. Turn on Push by going to Settings > Mail > Accounts > Fetch New Data.

2. Select whether the Mail app should fetch data automatically or manually and how frequently.
Way 4: One-Click to Fix iCloud Mail not Working on iPhone
Why are my iCloud emails not coming through? If you've tried everything described above and your iPhone's Mail app is still not working, it's most likely due to a problem in the iPhone system. In this sense, UltFone iPadOS/iOS System Repair is the most acceptable option. This solution will cure your problem without causing any data loss. Follow the steps, and the iCloud Mail not working issue will be resolved in just 3 clicks.
Features of UltFone iOS System Repair:
1-Click to enter and leave iPhone/iPad/iPod recovery mode.
Repair 150+ iOS system issues, such as the Apple logo, and black screen, without losing data.
Reset iPhone/iPad/iPod Touch without using a password, iTunes, or the Finder.
Downgrade from iOS 16 without the use of iTunes.
All iOS versions and iPhone models are supported, including the current iPhone 14 series and iOS 16/iPadOS 16.
Steps of UltFone iOS System Repair:
UltFone iOS 16/15/14 System Repair allows you to effortlessly repair various iOS system faults without data loss in just a few clicks. Let's find out how it works right now!
Step 1 Connect your iPhone/iPad to the computer after downloading and running this programe on your PC/Mac. To access the iOS system repair module, click "Start".

Step 2 To proceed, click "Standard Repair" on the following screen.

The interface shows two repair modes available: Standard Repair and Deep Repair. The main difference is that with Standard Repair, iOS bugs can be fixed without causing data loss. Deep Repair mode, on the other hand, will erase everything on your device and assist you in resolving more significant iOS issues.

Step 3 Before proceeding with the system repair, click the "Download" option to obtain your device's automatically matched firmware package. If you have previously downloaded the firmware, please import your firmware package by clicking "local import firmware".

Step 4 After successfully downloading the firmware package, please click "Start Standard Repair" to resolve the iOS issues on your smartphone. Wait a few minutes for the iOS system to be repaired.

Step 5 When the iOS system recovery is complete, your iOS device will reboot, and everything will return to normal.
Way 5: Fix iCloud Mail not Working on iPhone Safari
How do you check if your iCloud email is working? You may use iCloud Mail on iCloud.com on your iPad, Mac, or PC. Instead, on an iPhone, utilize the Mail app. Check that your browser is up to date. Update Safari to the most recent version if you're using it.
Step 1: Clear the cache in your browser and navigate to Safari > Preferences.
Step 2: Select the Advanced option. Close Preferences after selecting the "Show Develop menu in the menu bar". Select "Empty Caches" from the Develop menu. If you're using a different browser, look in its help menu for instructions.
Step 3: Contact your Internet service provider (ISP) or network administrator if you can access iCloud Mail from a different location or Internet connection.
Step 4: Some Internet setups, whether deliberate or unintentional, block access to specific websites or services, such as iCloud Mail.
Way 6: Sign Out & Sign In to iCloud Account
If all other Apple services are functioning normally, there could be a technical issue in the iCloud mail that has stopped responding. These minor technical issues can be resolved by logging out of the iCloud Account and logging back in.
To do so, follow the steps outlined below:
1. On your iPhone/iPad, open the Settings app and tap on your name at the top of the screen.

2. Then, click the Sign Out button at the bottom of the subsequent screen.

3. After that, you'll be required to enter your Apple ID password to switch off Find My.
4. Then you must choose whatever data you want to keep on your iPhone. Don't worry if you don't pick anything. Everything is still saved on your iCloud.
5. Return to Settings and sign in with your Apple ID login details once the preceding steps are completed.
Way 7: Disable Low Data Mode
If you're wondering how to disable Low Data Mode, go no further than this tutorial.
1. To disable Low Data Mode, navigate to Settings on your iOS device. Then, navigate to Cellular > Cellular Data Options after opening Settings.
2. Once under the Cellular Data Options, look for Low Data Mode. Tap the toggle to turn it off.

3. After you do this, Low Data Mode will be disabled, and check whether iCloud mail works or not.
Part 3: Can I Share UDID with Other People?
Make sure you can trust the developer before you share your UDID. Developers require your UDID to create a custom application for your device. In addition, they must register the UDID in the Apple database. So, be cautious about who you provide your iOS UDID. When you share a UDID, you risk exposing your personal information.
Part 4: Fix iCloud Mail Not Working on Mac
If you notice the message "Apple iCloud mail not working on Mac". It will remain in your Outbox until you send it, make sure iCloud is your Outgoing Mail Account.
1. Open Mail and navigate to Mail> Preferences.
2. Navigate to the Accounts tab.
3. Choose your iCloud email address.
4. Navigate to the Server Settings tab. If iCloud isn't shown as an Outgoing Mail Account, choose it.
Conclusion
There is no reason to panic when iCloud Mail Not Working on iPhone/iPad/Mac. Try to come up with a solution. If your iCloud Mail has stopped loading or is not responding, don't worry and follow the steps outlined above to guarantee that your iCloud Mail is operational. And UltFone iPadOS/iOS System Repair is the ideal tool for resolving iPhone system issues.