How to Solve iMessage and iCloud Not Match
When users come across the iMessage and iCloud accounts do not match error, they become frustrated because it can lead to iMessage not working as it ought to. There are a couple of reasons that could be responsible for this anomaly. Here, you will learn 5 reliable ways to fix this problem once and for all.
Part 1: Why do iMessage and iCloud Accounts not Match?
To sync iMessage to iCloud, your default iMessage account will have to be your iCloud account too. If this is not done, it will be impossible to have your iMessage chats synced across all your devices.
The number one cause for this problem is when your device uses more than one iPhone account. Many people use a different account for iCloud and another one for iMessage. This issue is likely to arise when your iPhone device is operating multiple Apple IDs.
As you may already know, there is one way to fix this issue – ensure that iCloud and iMessage accounts are the same. When that is done, all your messages will automatically be updated on all your Apple devices.
Part 2: How to Fix iMessage and iCloud Accounts Not Match?
This section will take us through some ways an iMessage and iCloud do not match error can be resolved. Let's go through them one after the other.
Fix 1: Use the Same Account for iMessage and iCloud
Using the same account for your iMessage and iCloud is a good place to begin with when fixing iCloud and iMessage accounts are different iOS 15. If the problem persists after 24 hours (because it could be resolved automatically from Apple's end), try the following steps;
Step 1: Open Settings on your iDevice
Step 2: Access your Apple ID card by tapping your Apple account name (it's located at your screen's top)
Step 3: You are expected to confirm your email ID when the Apple ID screen pops up.
Step 4: Return to Settings, and click on Messages.

Step 5: Look for Send & Receive on the Messages screen and click on it. This is to enable verify your iMessage settings. Your Apple ID can easily be seen here.

Step 6: Your duty is to ensure the Apple ID displayed is the same as your iCloud ID as seen in step 2. However, if the Apple IDs differ, then you have to log out of the present Apple ID. Then, log in with your iCloud's Apple ID. Look at the iMessage settings, and tap the Apple ID.

Step 7: Tap Sign out to log out from the current Apple ID.

Step 8: When you are done signing out, a "use your Apple ID for iMessage" option will replace the Apple ID that was initially listed.
Step 9: From the menu that pops up, click Sign in, and you would be logged in with the exact ID that is being used on your iCloud account.
Congratulations, the iMessage and iCloud do not match notification should have stopped by now.
Fix 2: Check iMessage's Status
Sometimes, an issue with iCloud or iMessage can prevent you from receiving or sending messages. To resolve this, you can look at Apple infrastructure status to verify if iCloud and iMessage are listed. If there is any issue you need to be aware of, it will be mentioned next to the service.
If the issue is coming from Apple's end, then it will be displayed. In that case, you have to wait until Apple fixes the problem from their end. Otherwise, you can continue to troubleshoot the problem.
Fix 3: Check the Internet
Messages on iMessage can only deliver when the iDevice is connected online. Without the right kind of internet connection, transmitting messages onto your iDevice will not be possible. You can connect to the internet using a cellular or Wi-Fi connection on your iDevice. iCloud cannot sync your data if this connection is not steady. That is why it is important to establish the status of your connection.
The following steps will help you confirm your Wi-Fi connection:
Step 1: Launch your iDevice and click on Settings.
Step 2: Click on Wi-Fi.
Step 3: Disable Wi-Fi and enable it again.
Step 4: Connect to a functional Wi-Fi network. Also, connect to another network just to be sure it is working.
Step 5: If the Wi-Fi is working well, open Safari.
Step 6: Visit https://www.icloud.com and make sure the page renders properly. You would be required to input your iCloud login parameters. Should the Wi-Fi function as expected, then keep troubleshooting to find out the problem.
However, if you find yourself in a place where there is a cellular network and your iDevice has the ability to pick such networks, then try disabling Wi-Fi to see whether that will solve the problem. Otherwise, use the following steps to confirm your cellular connection;
Step 1: Open Settings on your iPhone
Step 2: Click on Wi-Fi.
Step 3: Disable Wi-Fi.
Step 4: At your screen's top right hand, you can see an indicator that shows the cellular strength. The more the number of bars, the more strength the network will have. Confirm if it is 3G, 4G, or 5G network.
Step 5: If you are okay with the cellular connection, open Safari.
Step 6: Visit https://www.icloud.com and make sure it loads up properly. You would be required to input your iCloud login parameters.
Fix 4: Force Restart Your iDevice
An iMessage app that's corrupt or a firmware crash can also bring about this issue. When it comes to how to make iCloud and iMessage accounts the same, one solution is to forcefully restart your iPhone.
When you force restart your iDevice, it shuts down and checks for any error on the device's software. This can take care of the problem if it has anything to do with a software glitch. Once the error is cleared, iMessage and iCloud can start working again.
If you are planning to restart your iDevice, use the steps below:
On an iDevice that does not have a home button
Press Volume (+).
Press Volume (-).
Press the Power button and hold it down.
Slide the iPhone to power off.
Press the power button and hold it till you see the Apple logo. This can take about 30s.
Power your iPhone.
On iPhone 7 and iPhone 7 +
Press and hold the Sleep and Volume (-) buttons together.
It will activate a reboot on your iPhone.
Wait till you see the Apple logo.
On iPhone 6 or older versions, or iPad;
Press Sleep and Home buttons and hold them down for like 15s.
It will turn the iPhone off and turn it on again.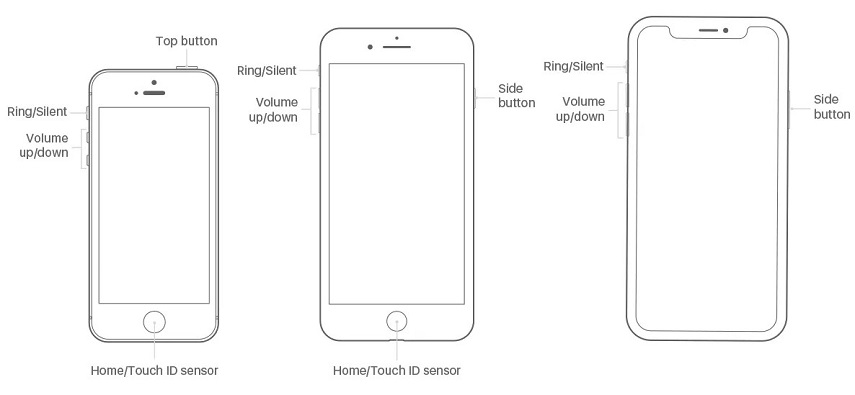 Ultimate Fix: Fix iOS Issue with UltFone iOS System Repair
Are you concerned about how do I get my iCloud and iMessage accounts to match? In addition to the above methods, you can use a one-click solution like UltFone iOS System Repair to solve the problem. Unlike the other methods in this post, this tool helps you take care of any problem your iPhone may be having.
UltFone iOS System Repair Features:
A single click for accessing and exiting recovery mode on iDevices.
Resolve over 150 iOS problems, such as black screen without data loss, reboot loop, Apple logo, and others.
Resetting iDevice without Finder/iTunes/Passwords.
Downgrade your iOS without any need for iTunes.
Compatible with every iOS version and iPhone models, which includes the most recent iPhone 13 series, as well as iOS 16 beta.
Steps to Repair iOS System without Data Loss:
Step 1 Download UltFone iOS System Repair, install, and launch the software

Download the program onto your Mac or PC, and launch it. Connect your iDevice to the system.

Step 2 Choose Standard Repair

When you see the screen below, click on Standard Repair.

Step 3 Firmware Package Download

Before you commence repair on your iPhone, download the appropriate firmware package for your iDevice. Click on Browse if you wish to change the location for the download.

Step 4 Repair OS

After successfully downloading the firmware package, click Start Standard Repair, it will start fixing the iOS issue on your device.

Step 5 iOS System Repair Complete

When the process is complete, your iDevice will restart itself and start functioning as expected.
Part 3: You May Want to Know: Difference between Apple ID & iCloud
What's Apple ID?
This is simply a way of verifying a user on Apple TV, Mac, iPad, iPhone, and other iDevices. It is used for logging into different Apple services and products such as iMessages, Apple Store, iTunes Store, iCloud, and others. If you intend to use any Apple service, your Apple ID is what will be required. You can use an Apple ID on all the iDevices you have.
What's iCloud?
This refers to Apple ID used on cloud services, such as iCloud backup, sync, & restore. iCloud makes it possible for you to sync and have access to your data on different iDevices. It is a cloud kind of service that lets you store photos, emails, contacts, apps, documents, music, as well as other files.
Conclusion
From the above post, iMessage and iCloud accounts do not match can be resolved in different ways. And apparently, the UltFone iOS System Repair appears to be the most efficient and user-friendly means to get this problem solved.