10 Ways to Fix Mail Not Updating on iPhone
"iPhone Mail not updating after iOS 15\14 update, even though fetch new data is set to push. Any ideas as to why my Mail inbox only updates my Gmail account when I open it? "
An email is a critical tool for corporate communication to communicate between people who are using gadgets. iPhone mail not updating undoubtedly is a disaster for businesses as they face the risk of missing important information. Some iPhone users reported that even though fetch new data is configured to push, iPhone Mail does not update after the release of iOS 15/14. So, if your email isn't updating in Mail on iPhone, the answers and suggestions below should help you resolve the issue.
Part 1. 10 Ways to Fix iPhone Mail Not Updating
Way 1. Do A Manual Refresh
Have you tried refreshing your iPhone's Mail? Drag your finger down the screen until you see a spinning wheel, then release it. It should prompt the program to connect to the email servers.
Refreshing the Mail app also aids in manually updating mailboxes with accounts that use Fetch rather than Push (more on that later).
Way 2. Force Quit and Reopen Mail
If refreshing the Mail app doesn't work, force-quit and reopen it. It frequently aids in the resolution of strange technical issues like iPhone mail not updating automatically.
Perform a swipe-up gesture from the bottom of the iPhone's screen to force the Mail app to close. Then, in the App Switcher, drag the Mail app card up and out. Then relaunch the app.
Way 3. Reset Network Settings
To begin, make sure your iPhone is linked to Wi-Fi or cellular service. If it does connect, close it and then reopen it. If it continues to show the error of Mail on iPhone not updating from the network, you might try resetting your network. Here's how you can do it:
Reset Network Settings by going to Settings > General > Reset > Reset Network Settings. You'll be able to reset Wi-Fi networks and passwords, cellular settings, and APN settings that you've previously used in this manner.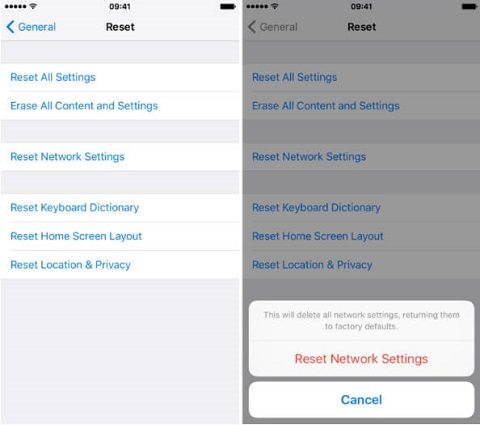 Way 4. Allow Notification on Settings
You can check to see if the Mail app's notification has been switched off. If it's turned off, switch it on. You may also pick how to display your mail app's alerts: on the lock screen, in the history, or as banners. The following are the steps to follow to make it:
1. Go to "Settings" and tap on "Notifications".

2. Allow Notifications by tapping the "Allow Notifications button".
Way 5. Enable Fetch New Data
Why is my iPhone mail not updating? The reason could be that you have disabled Fetch New Data on Mail. Alternatively, you may not have disabled Fetch New Data on mail, but your iPhone's mail is still not updating. You can also use the procedures below to address the problem.
1. Go to "Accounts & Passwords" under Mail Settings.
2. "Fetch New Data" is located near the bottom of the page.
3. Then, check on "Push Emails".

4.For the FETCH schedule, choose "Every 15 Minutes" or another option.
Way 6. Enable Background App Refresh
You can also try setting Background App Refresh to allow your apps to refresh their content for iPhone mail not updating. What you should do is:
1. To refresh the background app, go to Settings > General > Background App Refresh.
2. "Fetch New Data" is located near the bottom of the page.

2. If it's turned off, simply switch it on.
Way 7. Disable Low Data Mode
Low Data Mode can also be used to reduce internet usage in apps like Mail. Check your Wi-Fi or cellular settings and turn them off if necessary otherwise iPhone email won't update.
Wi-Fi – Disable Low Data Mode
Tap the "Info" icon next to the active Wi-Fi connection in Settings > Wi-Fi. Turn off the switch next to Low Data Mode after that.
Cellular – Disable Low Data Mode
Turn off the switch next to Low Data Mode in Settings > Cellular > Cellular Data Options.
Way 8. Disable Low Power Mode
Similarly, try turning off Low Power Mode. Another feature that negatively influences the Mail app is the ability to limit certain background activities on your iPhone mail not updating when locked. To do so, follow these steps:
1. Open the "Settings" app on your phone.
2. The "Battery panel" should be tapped.

3. Toggle the Low Power Mode slider to the OFF / WHITE position.
Way 9. Re-Add Mail Account
Any problematic accounts that refuse to update can also be removed and re-added. That should help you fix iPhone mail not updating folders caused by a wrong or corrupt configuration. To do so:
1. Navigate to Settings > Mail > Accounts and choose the account you want to delete.

2. After that, select "Delete Account".

3. Then go back to the mail settings and select "Add account".
Way 10. Fix Mail Not Updating with UltFone iOS System Repair [Recommended!]
If the mail continues to fail to refresh and download into the iPhone's inbox, UltFone iOS System Repair will take care of it for you. It is the best potential option as an excellent iOS repair tool for the iPhone and all iOS products. UltFone iOS System Repair can fix iPhone email difficulties and other iOS issues without losing data, such as iPhone being stuck in recovery mode, iPhone keeping restarting, iPhone black screen, iPhone won't turn on, and so on.
Features:
Press the home button once to enter and exit recovery mode on an iPhone, iPad, or iPod.
Fix 150+ iOS system issues like the Apple logo, reboot loop, and blank screen without losing data.
Without a password, reset your iPhone/iPad/iPod Touch/iTunes/Finder.
All iPhone models and iOS versions are supported, including the iPhone 13 series and iOS 15, and you may downgrade from iOS 15 to iOS 14 without using iTunes.
Guide to use UltFone repair software:
Step 1 Connect your iPhone/iPad/iPod touch to the computer after installing and running this program on your PC/Mac. Then click "Start".

Step 2 On the next screen, select "Standard Repair". Standard Repair and Deep Repair are the two repair modes available. Standard Repair may be able to resolve any iOS issue while preserving your data. On the other hand, Deep Repair would wipe your device clean and assist you in resolving more severe IOS issues that the Standard Repair option could not fix.

Step 3 You must first click the "Download" button to receive your device's automatically matched firmware package before continuing with the system repair. Also, you can change the protected path.

Step 4 Select "Start Standard Repair" to address the iOS issues on your device when the firmware package has been successfully downloaded. Then UltFone will repair your iDevice.

Step 5 Now your iPhone is back to normal. 
Part 2. Sync Mail Between iPhone and iPad
Using iCloud, Exchange, IMAP, or a web-based email account like Gmail, you may view and react to the same email messages on your iPad and iPhone. Most email accounts fall into one of these categories, so don't be concerned if you don't have the proper configuration.
1. On your iPhone or iPad, open "Settings".
2. Then touch "Add Account" under "Passwords and Accounts".
3. Add an email account and double-check that your username and password are correct.
4. Add the same account to your other device after it's been configured.
The Final Words
Is it tough to resolve the issue of iPhone mail not updating now that you've read this article? No, that is not the case. Also, you should be aware that popular solutions have a probability of solving your difficulties, so you should try them first. However, you are welcome to use UltFone iOS System Repair, a top professional iOS/iPadOS repair program, to rapidly resolve your problem of iPhone mail not updating automatically.