How to Access iCloud Storage on iPhone, iPad, Mac and PC
Accessing iCloud storage is really easy because almost every Apple device and even a Windows PC can access iCloud now. But if you are not clear about how do I access my iCloud storage, then this article will be a helping hand for you. You will learn how to access iCloud storage and manage, upgrade or downgrade it properly.
Part 1. How to Access and View iCloud Storage?
"How to access my iCloud storage?" Well, this part has you answer. Just follow the guideline below to learn about iCloud storage access.
On Your iPhone/iPad
If you are using iOS 10.3 or later: First go to "Settings" option and tap on your name, then go to "iCloud". Now choose "iCloud Storage" or "Manage Storage".
If you are using iOS 10.2 or earlier:: First go to the "Settings" option and choose ïCloud". Now go to "Storage".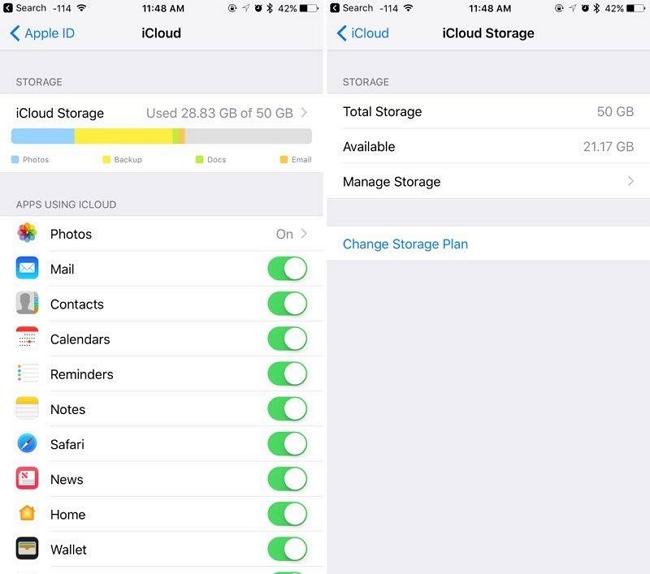 On Your Mac
First you need to go to the Apple Menu" and choose "System Preferences".

Then go to "iCloud" and click on "Manage".

On Your PC
First you need to download, install and launch iCloud for Windows. Then sign into your iCloud account.
Now you need to choose the features and contents that you want to keep updated in all your devices and click on "Apply".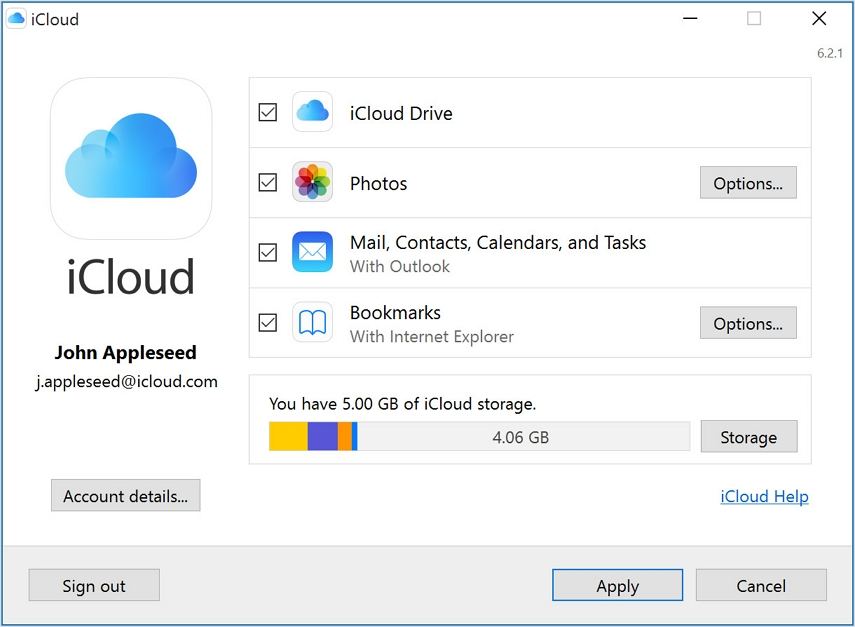 When you need to check your iCloud Drive, open the file explorer and from the left menu bar click on "iCloud Drive". You will see all your files/folders from the drive.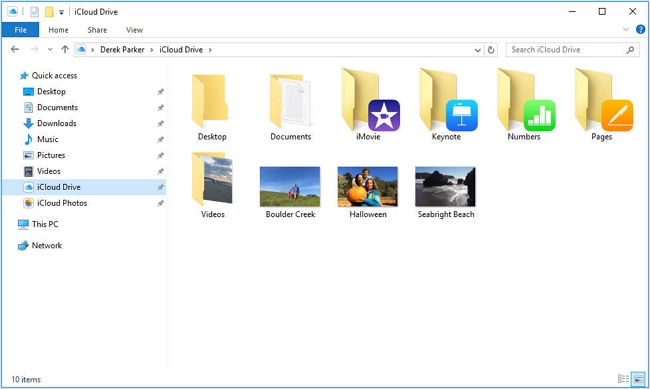 Part 2. How to Manage and Free Up iCloud Storage?
iCloud only offers 5 GB storage space for free. So it's really necessary to know how to manage and free up iCloud storage efficiently. Here is how to do it:
1. Turn off backups for apps that you're not using
First navigate to "Settings", choose "your name" and tap on "iCloud".
On iOS 11, you need to tap on "Manage Storage" then choose "Backups". If you are an iOS 10.3 user, tap on "iCloud Storage" and choose "Manage Storage".
Tap on your device name.
Now turn off any apps that you don't want to back up, under "Choose Data to Back Up" option. Tap on "Turn Off & Delete".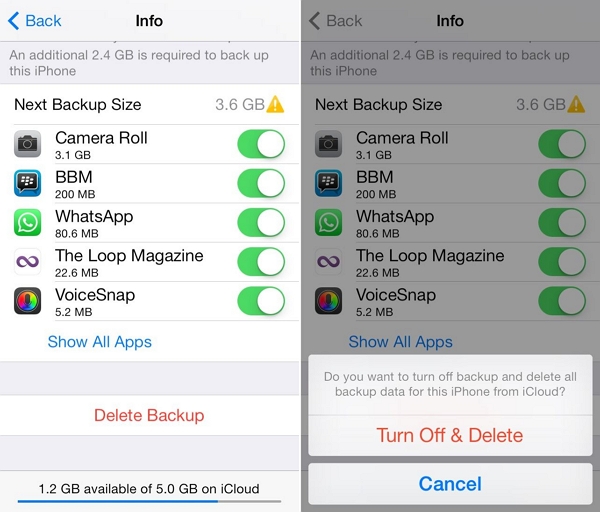 2. Delete old iCloud backups
iCloud backup files will take a lot of space on iCloud. You can also follow steps above to delete old iCloud backups that you are not using to free up more iCloud storage.
3. Delete unneeded photos, videos or other files
1. Launch the Photos app on your iPhone/iPad/iPod touch and then choose Photos from the bottom of your screen.
2. Tap on "Select" and choose one or more photos or videos that you want to delete.
3. Now tap on the "Trash icon" and then choose "Delete Photo".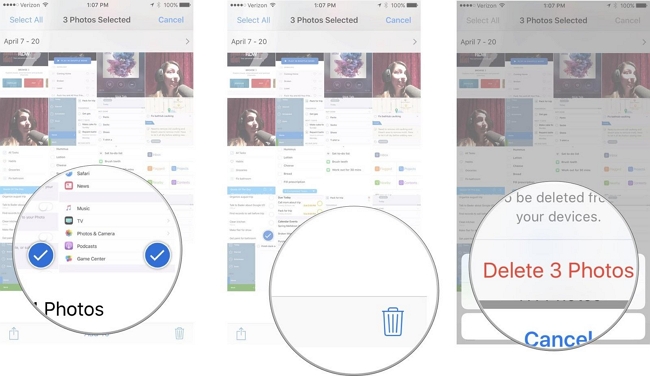 Part 3. How to Upgrade or Downgrade iCloud Storage?
If 5 GB free storage space are not enough for you or current iCloud storage space are too large for you, you can follow steps below to upgrade or downgrade iCloud storage.
1. Go to "Settings" option on your iPhone and choose "Accounts & Passwords".
2. Tap on your iCloud account and choose "Storage".
3. Now tap on "Change Storage Plan".
4. Here you'll find your current plan and a list of upgraded plans. A button for downgrading your plan will also be available.
5. Click on the chosen "upgraded plan" or "Downgrade options".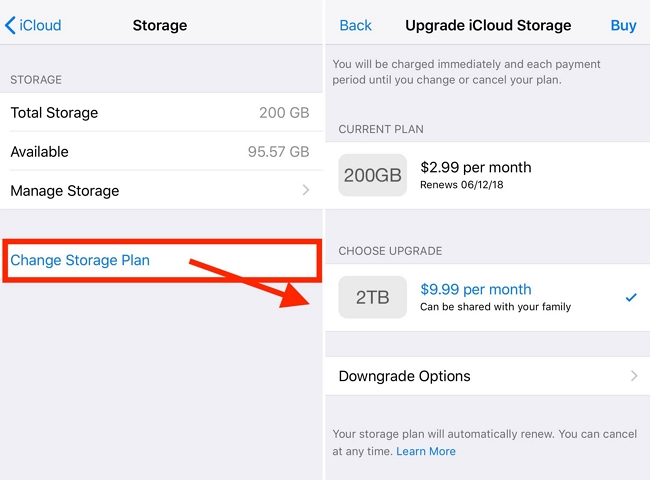 6. Tap on "Buy" to upgrade your storage. You will get a confirmation message.
7. For downgrading your storage, you must sign into your iCloud account. You will get option to downgrade your storage. Just "Choose your option" and tap on "Done".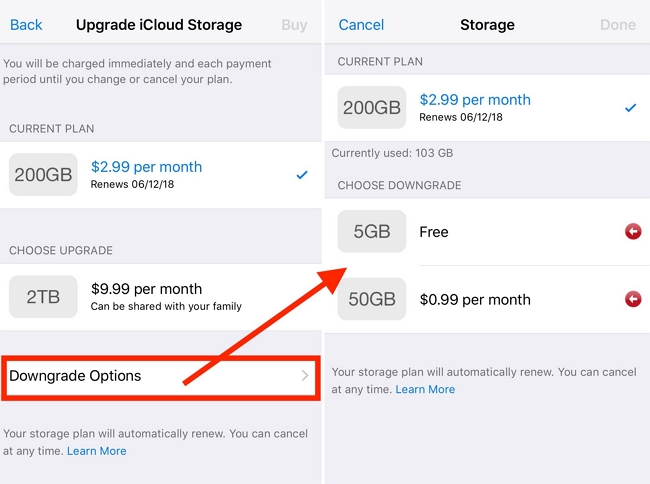 Part 4. How to Access iCloud Backup?
Tenorshare UltData can be your best option to access iCloud Backup on PC/Mac. This amazing software can preview and selectively recover data from iCloud backup. It will give you full safety and security while recovering your data from any backup file or any iOS device. Here is how to use UltData to access iCloud Backup on PC/Mac.
1. You need to download, install and launch UltData on your PC/mac. Then go to the "Recover from iCloud Backup File" option and log into your iCloud account.
2. On the next page, you'll find all the backup files associated with your iCloud account. Check the date, size or any other details of the backup files to confirm and choose the one you need, then hit the "Next" button to proceed.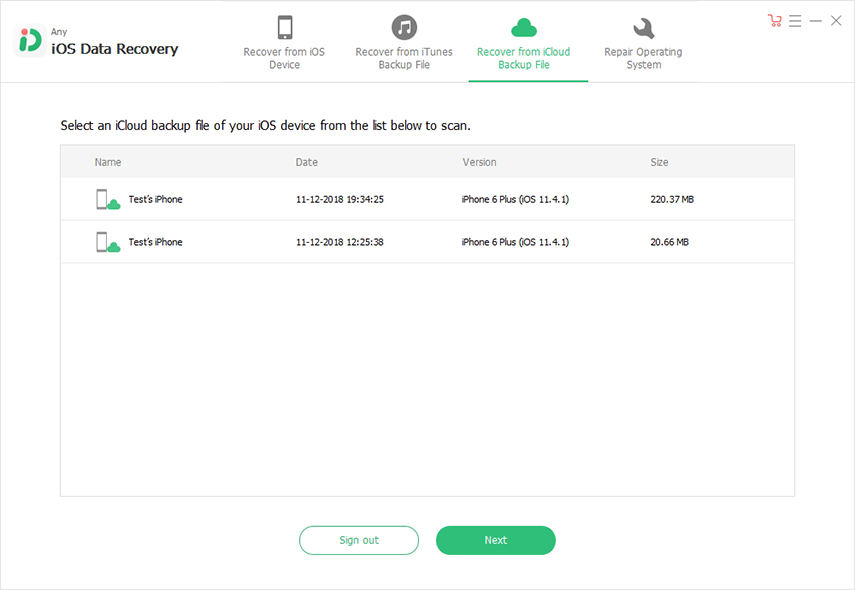 3. Choose any file type from all the suggestions and click on the "Next" button to start downloading. After downloading, all the files inside the backup file will be scanned by UltData and displayed immediately. You can access different files from the left side menu bar and choose any file of your choice.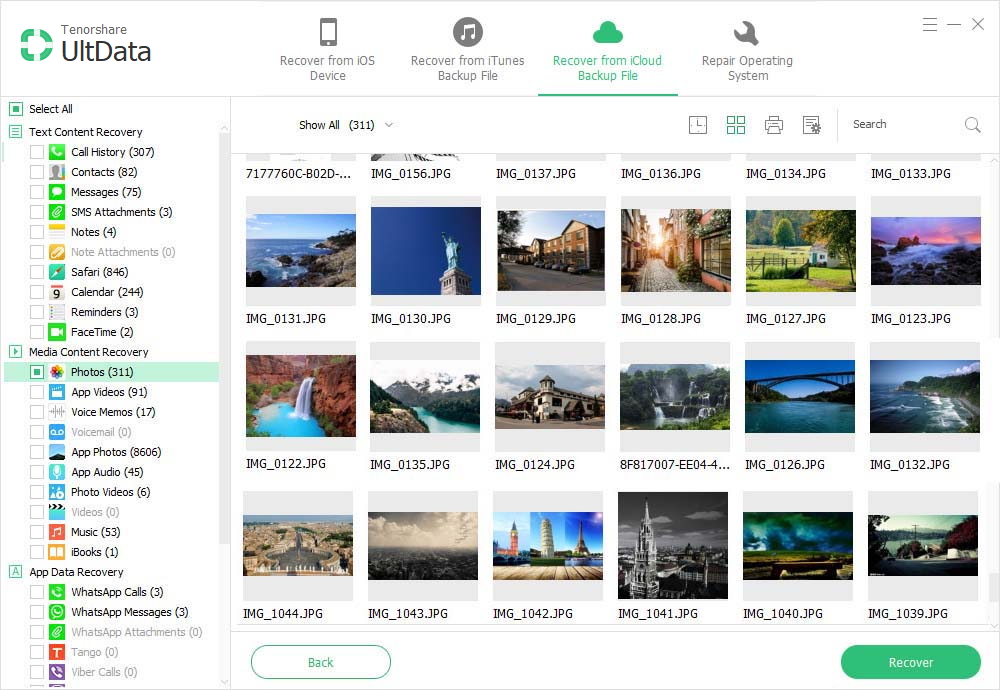 This article can clear any confused users question on iCloud storage access. So you must have a clear idea about how to access my iCloud storage. Also accessing and recovering files from iCloud backup is really easy if you use UltData. So start using this smart tool and get the best result every time.