Why is my iPhone Wifi Greyed out? Here's Answer and Real Fix
In today's digital age, it's the Wi-Fi connection on our smartphones that keeps us going to perform daily tasks. That's why it can be extremely frustrating when the iPhone Wi-Fi greyed out or doesn't work for any reason. It renders your device without an internet connection, causing a major inconvenience.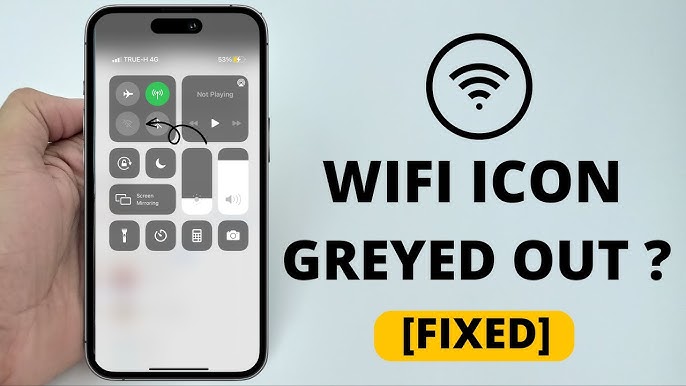 Luckily, this problem is not-so-difficult to diagnose and troubleshoot. In this article, we will outline the tested-and-tried ways to fix the iPhone Wi-Fi greyed out issue in 2023.
Give it a read and find out!
Part 1. Why is my Wi-Fi Greyed out on my iPhone?
Understanding why your iPhone Wi-Fi button greyed out is important to avoid facing this issue again in future. Our research shows that there are three common scenarios that can lead to this problem; hardware issues, software issues, or network issues.
To troubleshoot this, try the below simple solutions:
Restart your iPhone
Reset its network settings
Update the iPhone to the latest iOS version
Restore to factory settings
Or use a professional iOS repair software to get rid of bugs in your iPhone's software
This article is going to present a step-by-step guide of these proven workarounds to help you resolve this issue once and for all.
Part 2. What do you do when your iPhone Wi-Fi Button is Greyed out?
Try implementing the below solutions to start using your Wi-Fi again.
Way 1: Reset Network Settings
Many a time, the issue is in the network settings that might lead to Wi-Fi grayed out on iPhone. The easiest way to overcome this problem is by resetting the network settings. It deletes all the settings related to saved Wi-Fi networks, VPN profiles, Bluetooth connections, and cellular networks.
However, this will not remove your data or account information. Here's how to perform this solution:
Step 1. Launch Settings and go to General > Transfer or Reset iPhone.
Step 2. Next, tap Reset and select "Reset Network Settings" on the pop-up tab.
Step 3. Enter your screen passcode if prompted, and voila, the iPhone will instantly reset the network settings.
Now, try to turn on the Wi-Fi option and check if its working.
Way 2: Update iOS (If you have not updated to iOS 16)
Not updating your iPhone can be the reason why iPhone 12 Wi-Fi greyed out or not working properly. Every iOS update brings new features as well as automatic fixes to the minor glitches and bugs.
Thus, the next thing you should do is to check and install the iOS updates if you haven't already. As the Wi-Fi is not working already on your iPhone, you need to use iTunes on a desktop to get the job done.
The procedure is very easy and takes just a few minutes. Here's how to do that:
Step 1. Launch the latest version of iTunes and connect your iPhone to the computer.
Step 2.When the program detects the iPhone, hit Summary on the left panel.
Step 3.Then, click on Check for Updates. If new updates are available, install them.
Way 3: Restore to Factory Settings
Still not able to turn on the Wi-Fi on your iPhone even after updating the iOS? The problem can be in the iPhone's settings. As a last resort, try resetting your device to the factory settings to fix the Wi-Fi button greyed out iPhone error.
Before you proceed, be sure to backup your iPhone as factory reset will wipe out data as well as personal information. Use iTunes or a third-party program to back it up on a PC as your Wi-Fi is not working.
After that, follow the below steps to fix the iPhone Wi-Fi greyed out problem:
Step 1.Open Settings and go to General > Transfer or Reset iPhone.
Step 2. Choose the Erase All Content and Settings option and enter your screen passcode to confirm.
>Step 3.It will take some time reverting your device to the factory settings.
When it restarts, set it up as a new device and check if you turn on the Wi-Fi feature.
Part 3: Ultimate Way to Fix iPhone Wi-Fi Greyed out on iOS 16
If you have tried the aforementioned methods but still Wi-Fi is greyed out on iPhone, then it's time to look at your iPhone's operating system problem. That's where UltFone iOS System Repair comes into play.
It is basically a system repair tool that can resolve many system glitches including Wi-Fi greyed out with just a few clicks. Using advanced algorithms, UltFone performs a deep scan of your iPhone and repairs the all the underlying OS issues. Aside from fixing the Wi-Fi, it automatically troubleshoots 150+ iOS system issues/errors/stuck.
And most importantly, the program doesn't cause any data loss for standard repair process, making it an ideal way to repair your iPhone.
Repairs your iPhone's OS to fix the iPhone Wi-Fi greyed out problem
It can automatically resolve over 150 errors in iOS operating system
No data loss during the standard repairing process However, deep mode will cause the data loss
Users can enter or exit the recovery mode for free
Ease of use is the most distinct trait of this powerful software. You can perform the system repair of your iPhone in 4 simple steps, which are:
Step 1 Download and Launch UltFone iOS System Repair. After downloading and launching this program on your PC/Mac, connect your iPhone/iPad/iPod touch to the computer. Click "Start" to open the iOS system repair module".

Step 2To proceed, select "Standard Repair" on the following screen. If your iPhone is not recognized, this program will instruct you to manually enter it into recovery mode or DFU mode so that it may be detected.

Step 3Select the "Download" option before proceeding with the system repair to acquire your device's automatically matched firmware package. If you downloaded the firmware before, please import it by selecting "local import firmware".

Step 4 After successfully downloading the firmware package, please click "Start Standard Repair" to solve the iOS issues on your smartphone. When the iOS system recovery is complete, your iOS device will restart, and everything will be expected.
Final Word
And that's all the information you needed to fix the iPhone Wi-Fi greyed out all by yourself. Next time, you Wi-Fi is not working, don't fret and start implementing the abovementioned solutions right away. Most of the tips are free but if nothing works out for you, try using the all-powerful UltFone iOS System Repair.
With this tool, you can easily repair the iOS operating system that fixes 150+ issues including the Wi-Fi not working or greyed out. Just install this tool and rest assured, you never have to worry about iPhone's system issues.