iPhone Headphones Not Working? Here's How to Fix it!
It doesn't necessarily mean that you are dealing with faulty hardware when you find out that headphones don't fit your iPhone. Or you find out that your iPhone headphones not working in one ear. Many individuals who have experienced similar problems in which their iPhone headphones don't work have pointed out that software is the main source of the issue. If you're trying to find a solution to an iPhone headphones jack not working issue too, this article is what you need. Please go through it carefully and know helpful solutions.
Part 1: 5 Tips to Fix iPhone Headphones Not Working
If you face iPhone headphones not working issue, the first thing is to calm down and perform the common checks. After finishing these checks, you should fix this problem with a 50% success rate. And then there are 4 other tips to improve the success rate to 90%. Now let's go ahead.
1.Common Checks for Headphones
Make Sure Headphone or Headphone Jack is Clean
One of the things to be sure of is your device's jack. It might be possible that the problem isn't with the headphone itself but the jack. Hence, check the jack for any dirt or debris and clean it in the first place. Apart from that, the earbuds can be dirty too, so check it too.
Check Headphone Cable
It is possible that the problem lies with the headphone cable or the connector. Go through the cable and look for any damage. And as a tip for future, please keep the cable safe and don't fold it in an unmanageable way.
Turn the Volume up
What if the Volume is turned down? Sometimes, we do silly things and laugh on ourselves later. And this can be the case here too! Check this and turn up the volume and then see if the headphone not working issue is still persisting.
Try Another Original Headphone
One of the things that many people ignore and underestimate is the originality of the headphones or chargers. This can lead you in a great trouble. Therefore, we would suggest if you can go for and replace the old headphones to high-quality one. Also, you can try some other spare headphones in order to just check if the problem lies with the jack or the headphones. Moreover, you can plug out and re-plug the cable.
Turn Bluetooth off
To err is human, as they say and it completely implies here too. As mentioned above too, we sometimes ignore silly things and this is quite possible that you have left the Bluetooth turned on and the audio is playing through it. Please check it and be ensured of it.
Try Removing Case
Minor check and yet useful! We all are in habit of protecting our devices with fancy cases. And as a result, it might cover the jack and gives you such error. So this tip would require you to remove the case once and check for any error.
2. Force Restart iPhone/iPad
Headphones not working on iphone 6? If you've tried common checks but to no avail, try force restart and this can work wonders in such situations. Here are the steps to be followed.
For iPhone 6 and earlier versions:
Press and hold down the Home button with the Sleep/Wake icon held down.
Keep both keys pressed as long as the Apple logo is displayed.
For iPhone 7 and 7 Plus:
Keep the Volume Down button and Sleep/Wake button pressed simultaneously.
Now, keep holding the buttons until Apple logo shows on display.
For iPhone 8 and later versions:
Press the Volume Up button and release quickly.
Now, do the same with Volume Down key.
After that, press the Power key for long and wait until Apple logo is visible.
3. Reset iPhone Settings
Resetting iPhone settings is a yet another option that you can try. Here is what you can do. Please note that these steps will reset all your device's settings.
Step 1: Open Settings and head to General.
Step 2: Swipe down to the bottom and click Reset.
Step 3: To reset settings to normal, tap Reset All Settings and enter password when asked.
4. Update iOS Versions to latest iOS 14
Apple gives the updates free of charge. They add new bug fixes and features to your iPhone. And when your device isn't updated, chances are high to get issues like iPhone headphone not working. Here's how iOS for your iPhone can be downloaded.
1. Open Settings in your device and go to General.
2. Now, tap on Software Update. If any update is available, tap on Install to proceed.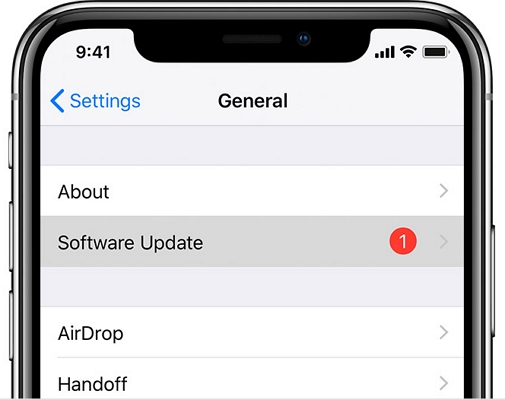 5.If Nothing Works – Factory Reset iPhone
In case you are still on the same situation, try resetting your iPhone. We know this is not what you can resort to but if your device is already backed up, you should give a try on this. The steps included are:
1. Head to iPhone Settings followed by General.
2. Now, tap on Reset.
3. Choose Erase All Contents and Settings and confirm it when password is asked.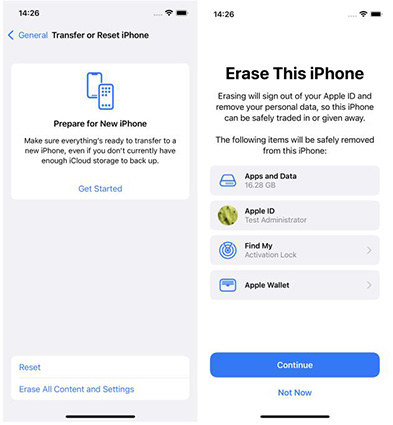 Part 2: Recommended Solution for Headphones Not Working: Use a Professional Software
If all the above solutions failed to solve your problem iPhone headphones not working no sound, you may have to check the software glitches about your iPhone or iPad. UltFone iOS system repair program is the most recommended solution when all efforts go in vain. This tool is designed to fix nearly all the iOS system problems in no minutes. You can fix these iOS device problems with UltFone iOS System Repair without data loss. Within a few clicks, you can get the desired results.
Following are the features of UltFone iOS System Repair:
Capable of fixing more than 150 iOS system issues, such as stucking on Apple logo, black background, start loop, headphones not working issue.
Comes with a great compatibility, as it's compatible with all iPhone models, iPhone 12/11/X/8/7/6/5/4.
You can enter or exit recovery mode with ease and also it's free.
Standard and deep repair for better performance and high success rate.
As you are now aware with what UltFone can do for you, let us know how it can do. Follow the steps below to fix iPhone headphone not working!
Step 1 Download and launch UltFone

Firstly, download the tool and then install it. Launch it afterwards. When you are in the main screen, you need to click on Repair Operating System (Fix All iOS Problems) option.

Step 2 Press Start Repair

To continue, click on the Fix Now option given on the screen.

Step 3 Update the Firmware Package

Now, hit on the Download button and then the program will install the suitable firmware. Please click on Browse in order to select a path.

Step 4 Begin to Repair the Operating System

When the firmware is successfully downloaded, make sure to hit on Repair Now button given on the screen.

You need to wait until the process is going on.

Step 5Complete Repairing

You will now see a screen which notifies you about the completion of the process.
Conclusion
These were some of the most useful fixes to iPhone headphones not working. If you've done all we've mentioned above, and your headphones still do not seem to be working, try UltFone iOS system repair as it claims to work perfectly and securely and therefore, we can assure that it can fix iPhone headphone not working issue instantly.