How to Fix iPhone Error -1 Effectively
The error -1 is not a rare issue that you can encounter while trying to restore or update your iPhone. The problem doesn't occur only on old iPhones, but on new iPhones like iPhone X and 8 Plus too. Just like any other iOS issue, there are some common workarounds to fix this problem. Whether your intent is to resolve iPhone restore error -1 or update error -1, you have come to the right place. In this post, we're going to cover every possible method you can try to come out of error -1 issue on your iPhone.
Part 1: If You See iPhone Restore Error -1, Check Your Hardware
The first thing you should when it comes to error -1 iPhone issue, check whether it is hardware or software issue. Not to mention, hardware issue could be the culprit for such iPhone errors.
If you are wondering how to determine whether it is software or hardware issue, try methods discussed in the next part. If the problem gets fixed, then the error was due to a software issue. But, if not, then it can be a hardware issue. In such cases, the best thing to do is to contact Apple Support.
Part 2: How to Fix iPhone Error -1?
Facing problems like iPhone restore error (-1) is maddening for sure. But, the good news is that there are some workarounds available to help you resolve the problem with ease. So, it's time to try them (discussed below) and get your issue fixed.
Method 1: Use iOS System Repair to Fix iPhone Update or Restore Error -1 Without Data Loss
Every user desire to fix iPhone errors without data loss. Fortunately, UltFone iOS System Repair can help you get the job done in that way. This professional iOS system repair software is designed to help users fix iOS related errors like iPhone restore error (-1), iPhone 4013 error, iPhone white screen or black screen, iPhone stuck in recovery mode, etc. Above all, if you're looking for iTunes alternative to update or restore your iPhone, this software comes quite in handy.
So, let's learn how to use UltFone iOS System Repair to fix iPhone error 1.
Step 1After downloading and installing the software, run it and connect your device to the computer using a USB cable. Next, click on the "Repair Operating System" feature.

Step 2Now, click on the "Fix Now" button and click on the "Download" button to get the recommended firmware package by the software for your device.

Step 3Once the download process completes, click the "Repair Now" button. Wait for a while until the software repairs your iOS system and resolve the issue.
Method 2: If it is an iTunes Issue, Fix With an iTunes Repair Tool
If you get an iPhone could not be restored error -1 while restoring or updating your device via iTunes, then you certainly need the iTunes repair tool. And Tenorshare TunesCare is highly recommended. It might be possible that there is a problem within iTunes itself. Fortunately, TunesCare can help you resolve iTunes errors like the one you are facing now with ease.
Do you want to try TunesCare to fix your error? If so, the get it from its official site on your computer and follow the below steps:
1.Once installing it on the computer, run it and connect your device to the computer. Next, click on the "Fix All iTunes Issues" feature.

2.If there is a problem in your iTunes, the software will detect it and you just need to click on the "Repair iTunes" button to get started with the process.

3.In a while, the software will repair your iTunes and fix your problem too.
Method 3: Update iTunes to Latest Version
Well, iPhone update error (-1) could occur due to an outdated version of iTunes. So, you can fix the problem by simply updates your iTunes.
If you're using a Mac:
Go to App Store on Mac.
Click "Updates"at the top of menu bar.
Then you can view updates installed and updates available showing on the window.
Just choose iTunes update if there is one available.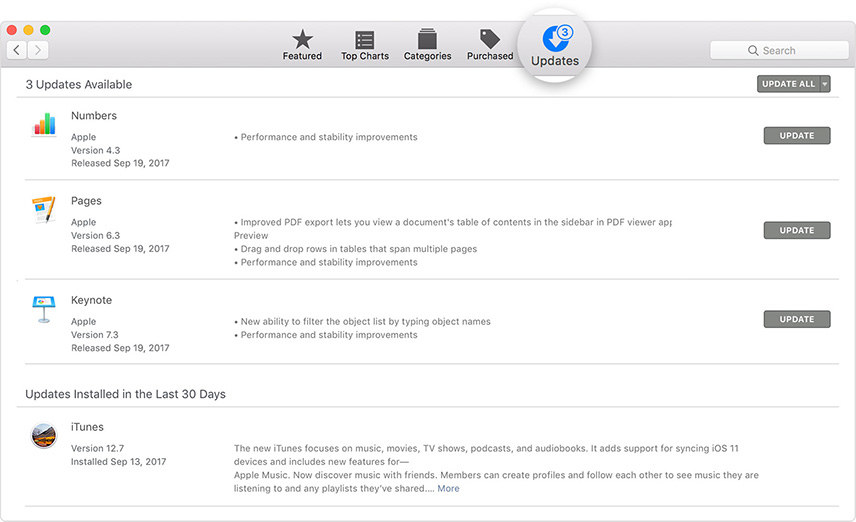 If you're using a Win:
Method 1: You can go ahead to Microsoft Store > More > Downloads and updates > Get updates.
Method 2: You can launch iTunes > Click "Help" from the top menu of window. Then choose "Check for updates".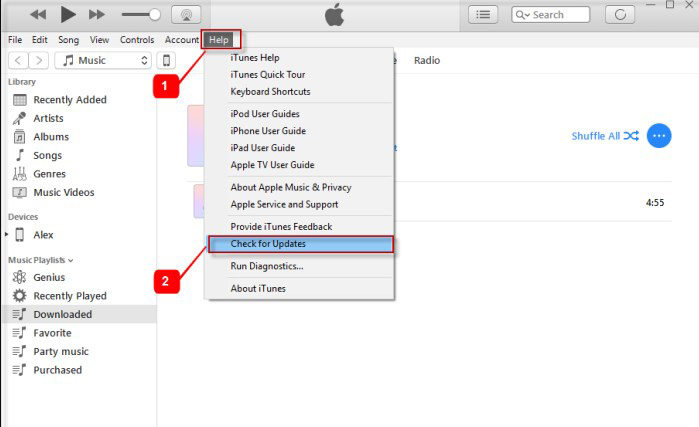 Method 4: Check USB Cable
If iTunes is already up-to-date, then check whether the USB cable you are using to make a connection between iPhone and computer is not damaged in any way. Most importantly, use the lightning cable provided by Apple for iPhones. Sometimes, the error occurs due to using unofficial digital cable. So, it's recommended to use the one that came with your iPhone. If you don't have it, then use a different Apple digital cable.
Method 5: Check USB Ports
If you still get the iPhone could not be restored an unknown error occurred (-1), then check your USB ports. Try to use a different USB port on your system. Make sure that the USB port you are using is free of dust particles and debris.
Method 6: Disable Antivirus Software or Firewall on Your Computer
Do you have any kind of antivirus software or firewall on your computer? They could be a reason behind such errors - error -1 iPhone restore. These tools are third-party and probably to block downloads to your iPhone, resulting in damaging the device. Deactivate your anti-virus software or firewall on your computer before restoring or updating your iPhone via iTunes.
Conclusion
Hopefully, you now got an idea of what to do when it comes to fixing the iPhone could not be restored an unknown error occurred -1. With patience and tools like UltFone iOS System Repair or TunesCare on your side, you can effectively resolve such iOS issues on your iPhone.