iPhone 6 Stuck in Headphone Mode? Here's The Fix
What's wrong with my iPhone 6? I couldn't hear voice when making a phone call unless plugged in a headset, while the other end can hear me clearly. What's worse, there's no ringtone but vibration every time it pushes notifications. Is there any solution to it?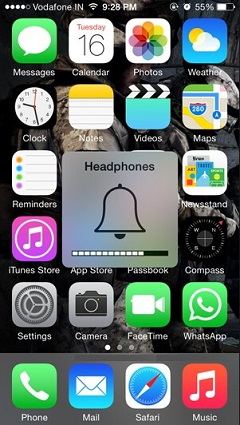 Obviously, it is iPhone 6 stuck in headphone mode error that causes such phenomenon. To solve it, you need to figure out why your iPhone 6 get stuck in headphone mode after removing the earpiece first: caused by misoperation, affected with damp or jammed headphone jack. And in the following, I'm to offer you 6 solutions in 3 parts.
Part 1: How to Fix iPhone 6 Stuck in Headphone Mode Due to System Problem
If you answer iPhone 6 via headphone and take them out midway, then in most cases, your device would stuck in headphone mode. And replug in headphone to make a phone call and take it out afterwards is a quick solution. If it doesn't work, take a look at another 3 solutions below to fix iPhone 6s stuck in headphone mode.
Solution 1: Restart iPhone 6
Hold down the Home and Power button simultaneously till white Apple logo appears (ignore the sign "Slide to turn off") and keep pressing until the screen goes black. When the white Apple logo reappears, release your hand.
Solution 2: Lock iPhone 6 screen
Plug in your headphone when your iPhone 6 doesn't play music and then tap the Power button on the right side to lock screen. Then press the Power button again and unlock your iPhone 6. To get iPhone 6 out of headphone mode, you need one more step: take earphone out of your iPhone 6.
Solution 3: Repair iPhone system to fix iPhone 6 stuck in headphone mode
If your iPhone 6 is stuck in headphone mode is an iOS system problem, you can repair iPhone system to fix it thoroughly. UltFone iOS System Repair is designed professionaly to fix iPhone system problems. Hence, if your iPhone 6s Plus stuck in headphone mode after update, or your iPhone 6 is stuck in recovery mode, you can always fix these problems with this software. What makes this software prominent is its ability to keep data intact while fixing iPhone problems.
Download and install this program on your computer, and connect your iPhone 6 in headphone mode to computer. Select "Repair Operating System" function on the main interface.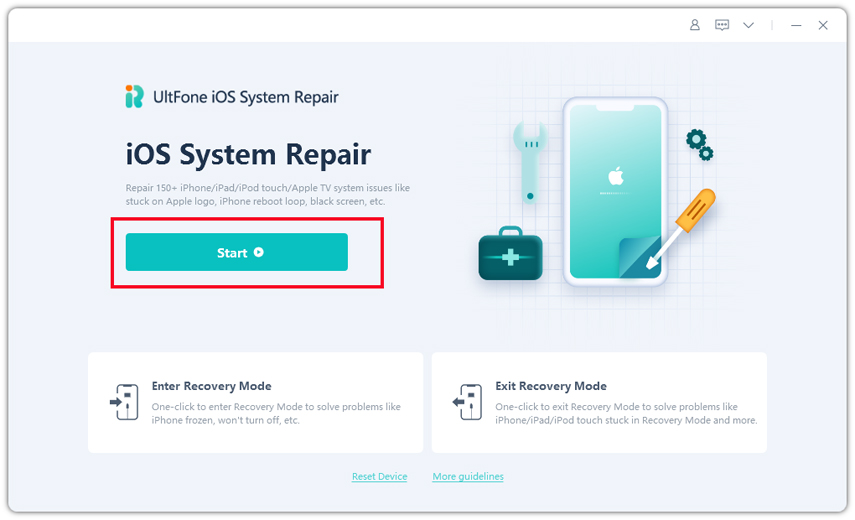 Click "Fix Now" on the next screen, and you will see a screen like below. Prior to system repair, please download the latest firmware file online. This will update your device to the latest iOS after system recovery.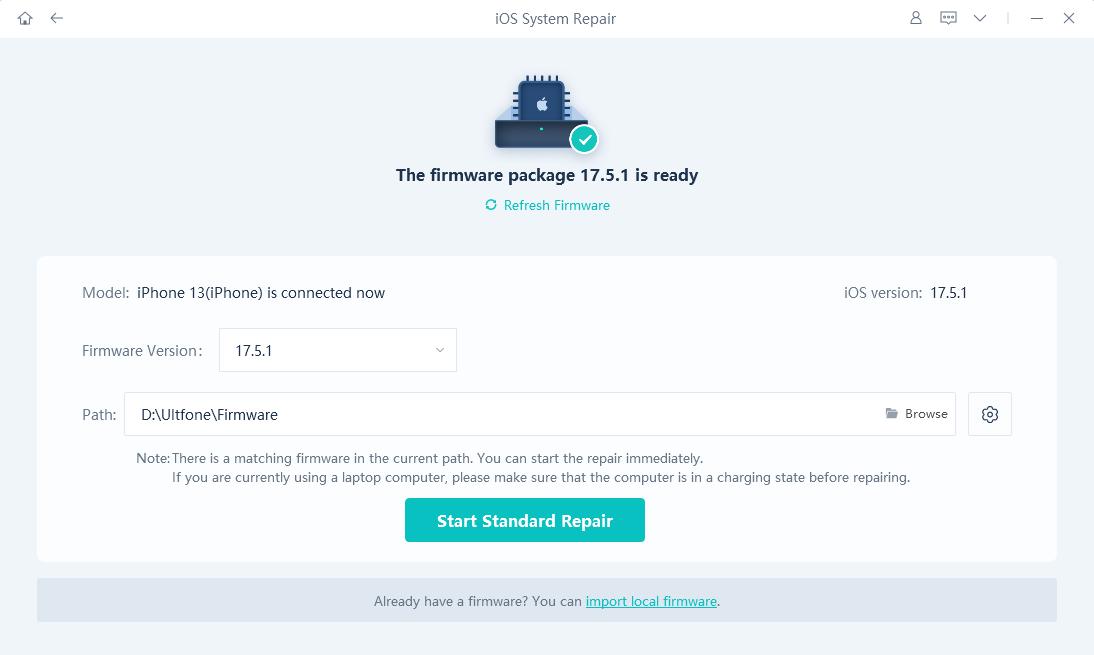 With the firmware package, you can start repairing iOS to fix iPhone 6s Plus stuck in headphone mode.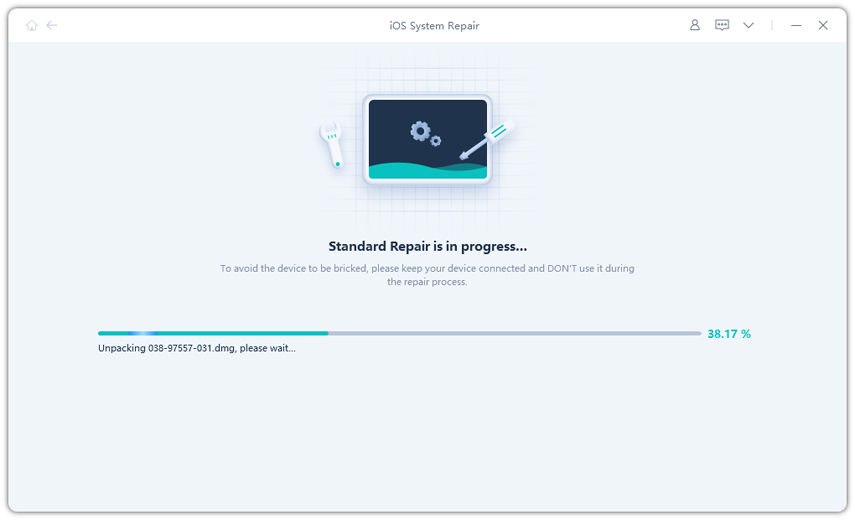 Here is a video guide to show you how to fix iOS problems without data loss.
Part 2: How to Fix iPhone 6 Stuck in Headphone Mode Water Damage
As is known, water damages most electronics as long as they're not waterproof, so is iPhone 6. If it's your iPhone 6 gets water damaged that causes headphone mode stuck, you'd better take advantage of the following solution.
Solution 4: Dry iPhone 6
Blow the headphone jack for 3 to 5 minutes with hair dryer's cold wind to dry your iPhone 6. Or you can dry your damp iPhone 6 by placing it in the air-conditioned room. Then you would find your iPhone 6 functions well again.
Part 3: How to fix iPhone iPhone 6 Stuck in Headphone Mode Caused by Dirty/Jammed headphone jack
Headphone connector can easily get jammed by lint, dust or other debris, so you can use a flashlight to check if your headphone jack is jammed or too dirty. If it is, you can follow the 2 solutions below.
Solution 5: Clean headphone jack
Use a small cotton swab (you'd better dampen it with distilled water or alcohol) to clean the jack and be careful not to break it off and remain lodged in the jack. Or you can also use a toothpick to pick the lint, fuzz, paper, etc. from the jack.
Solution 6: Replug earphones
Sometimes the jack is simply jammed or stuck, namely, you can just attach earphones to iPhone 6 and plug and unplug them several times.
If none of the above works for your stuck iPhone 6, I'm afraid you have to contact Apple support or go to genius bar to get your iPhone 6 repaired.
Optional: 6 Must-know Tricks for iPhone 6s/6s Plus/6/6 Plus headphone
iPhone 6 headphone consists of microphone, volume buttons and central console. And the central console enables you to do more than listening to music. Here I collect 6 must-know tricks for your reference.
1. Press the central console to pause the playing music or video and press again to continue.
2. Press the central console to answer incoming call and press again to hang up.
3. Double-press the central console to skip to next song and tap the console three times you can return to the last song.
4. Double-press the central console and hold it to fast-forward videos. And tap the central console three times you can fast-backward videos.
5. Hold the central console for 2 seconds to reject incoming calls.
6. Tap the "+" button in the headphone to take a snap if you're using the built-in camera of iPhone 6.
Bottom Line
Here you'll see the comrehensive solutions for Apple iPhone 6/6s stuck in headphone mode. If it is an system glitch, repairing iPhone system will fix this problem effectively and it won't cause data loss. For hardware problem, I'll recommend you to take it to Apple.