How to Fix iOS 16/15 Weather Widget Not Working on iPhone/iPad
Before iOS 14, the weather widget is not available. After this, you can add a weather widget on your home screen and check all current weather information with just a glance. Apart from that, many users face the weather widget not working, not loading, refreshing randomly, or not updating the temperature on iPhone 13/12/11/XR/XS.
8 Tips for Weather Widget Not Working on iPhone/iPad
Weather Widget is present on the lock screen of the iPhone/ iPad. With the help of this, you will get instant updates related to the weather of your current location or the location you added manually. If the weather widget on iOS 16/15 not working, use these tips to solve it.
1. Ensure Location Services is Enabled for The Weather App
This is the basic method to resolve the iOS 16/15 weather widget not working on iPhone, iPad. For that, you need to turn on the location access of your iPhone or iPad.
Step 1. To enable the location, tap on the Settings application present in the iPhone. Then there are lots of options available on the screen. You need to tap on Privacy.

Step 2. You need to tap on the Location Services and also check that location services are enabled or not. If not, then turn on the toggle option. Make sure that the toggle button color changes to green color at the time of on.

Step 3. Tap on the "Weather" option after scrolling option.

Step 4. Tap "While Using the App or Widgets". You can also enable the toggle for "Precise Location".
2. Check Device Internet Connection
If the issue is not resolved after not enabling the weather location, we must check for our internet connectivity. Let's go for a quick check and absorb the performance of your carrier's internet connectivity.
Open the Settings app on iPhone and tap on Wi-Fi. Make sure that you are connected to a stable wireless network.
Also, you can tap on Cellular option on Settings and turn on this option. Scroll down to find Weather app and make sure the toggle is green for this app.
3. Manually Select Location in Weather Widget
If the weather app widgets for iPhone still not working after trying the above two tips, then we can manually selecting the location for the weather widget of your iPhone. Follow all the steps carefully that are given below.
Step 1. From iOS 15, do a long press on the weather widget. Now there are sub-options available in front of you. There are three options. Out of these, you need to tap on the Edit Widget Option.

Step 2. Tap on the Location option.

Step 3. Now insert the name of your location manually.
If you are changing your location, you can switch manually according to your location.
4. Turn on Background App Refresh
Suppose you are again facing difficulties related to the weather widget. Then you need to refresh your background running application for perfect update. Follow all the steps given below that will help turn on the Background App Refresh for weather app.
Step 1. Go to Settings > General > Background App Refresh. Make sure you've enabled this option.

Step 2. Scroll down and find the Weather app. Toggle on the option for the Weather app also.
5. Reset Location & Privacy on iPhone
Another tip to fix Apple weather widget not working is to reset the Location & Privacy on iPhone and iPad. While doing this, go to the Settings app > General > Reset > Reset Location & Privacy. Enter the iPhone passcode to confirm your choice.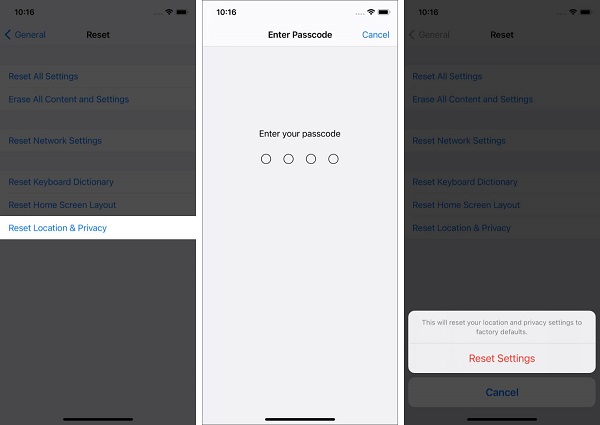 6. Update iPhone Software
Also check and make sure that your iPhone software is up to date. iOS 16 is now available, please go to Settings > General > Software Update.
7. Remove and Reinstall the Weather App
This is an inbuilt application of the Apple organization. You can uninstall and again install it to remove the small bugs to fix this. Follow all the steps to uninstall and reinstall the Weather app.
Step 1. Long press the weather icon that is present on the home screen or App library.

Step 2. You need to follow this chain and tap on Remove App → Delete App → Delete. Additionally, by long-pressing, you enter jiggle mode. You can follow by tapping on the minus button.

Step 3. Restart your iPhone.
Step 4. Now, visit the App Store. You need to tap on the search bar and type Weather. Then tap on the download icon to install the official Application.
8. Repair iOS to Fix iPhone Weather App Not Working in iOS 16/15
Suppose you went through all the basic methods given above and can still not resolve iOS 16/15 weather widget not working on iPhone/iPad, this time you need a professional tool get this problem solved thoroughly. UltFone iOS System Repair is a professional third party and most recommended software to solve iOS related issues in a few clicks.
With the help of the UltFone iOS System Repair, you can fix more than 150+ iOS system-related issues. At the time of resolving your issue, this tool turns you into a pro user so, the time taken by any user to resolve any kind of issue is very less and without causing any data loss.
Steps to use UltFone iOS System Repair to solve iPhone Weather app not working
Step 1 You can download and install this program to a PC or Mac. After that, you need to connect your iPhone with the USB cable and then click on the Start button to proceed to the future.

Step 2  Now tap on the Standard Repair option that will repair your iPhone weather widgets issues without data loss.

Step 3 Now, over a new screen, you will be suggested to download the latest firmware package online. Click the Download button to start.

Step 4 When the firmware is downloaded successfully, click on the Start Standard Repair> button to continue the repairing process.

Step 5 Once your iPhone iOS system repair is completed, at that time, your iPhone will automatically reboot. Check and see whether the weather widget works properly now. 
Wrapping Up
After reading our troubleshooting guide, we hope that we can help resolve your issue related to weather widget in iOS 16/15 not working. All the methods are given hereafter doing a lot of research all the methods are safe and secure. You can also choose UltFone iOS System Repair to become a professional fixer related to iOS issues. After using this tool, you will feel that this is the simplest and safest way to fix such an issue.