12 Ways to Fix Spotify Not Working in iOS 16/15
Spotify is installed on the phones of most music fans but at times Spotify not work in iOS 16/15. It's a well-known music streaming service that offers a wide range of music genres and top singles from notable albums and artists. Spotify is primarily a music streaming service, but you can also download tracks for offline listening.
On an iPhone, using Spotify is as straightforward as using any other web application. Everything should function as expected as long as you've completed all of the requirements, like logging into an active Spotify account. If you're experiencing trouble updating to iOS 16/15, here's what you should do. Continue reading to learn what to do if Spotify isn't working.
Common Spotify Not Working Issues:
Spotify streaming errors.
Spotify music stutter goes in and out.
Unable to play songs on Spotify using Bluetooth speakers and headphones.
Part 1. Spotify Supported iOS Versions and Browser
Supported iOS Versions:
Supported Browsers:
Chrome
Firefox
Edge
Opera
Safari
Part 2. Spotify Not Working? Spotify Problems
Way 1. Reopen Spotify
There may be a minor software issue with Spotify not working on iPhone. A little software fault may be resolved by closing and reopening the program.
1. To use the app switcher, double-press the "Home" button or swipe up from the bottom of the screen to the center (if your iPhone lacks a Home button).
2. To close Spotify, swipe up and off the top of the screen.
Way 2. Update to Latest Spotify Version
1. To open the app, touch on the "App Store" icon on the Home screen.
2. At the bottom, select the "Today" tab.
3. Then, tap the "user profile icon" in the top right corner of the screen (Apple ID header). You should be able to see the account information.
4. Scroll down to the section titled "Available Updates".

5. To install a pending update for the Spotify app, tap "Update" next to it.
If there are numerous app updates available, select "Update All" to update all of them simultaneously.
Way 3. Reinstall Spotify
If none of the above techniques work, it's time to start with a new Spotify installation. It entails deleting and reinstalling the app. Please keep in mind that removing the app will also delete all of the tracks you've downloaded.
1. Long touch the Spotify app icon on the Home screen and select "Delete App".
2. After that, long-press the App Store icon and select "Search" from the menu.
3. Tap on the download icon after typing "Spotify". After that, simply log in to the app, and it should function flawlessly!
Way 4. Check Spotify Server Status
Why is Spotify not working on iOS 16/15? It happens in rare cases, or there may be an issue solely in your location. The quickest way to find out is to go to Spotify Status on Twitter. Visit services like DownDetector to find out if Spotify is available in your area. You can also use Google, Bing, or any other search engine to look up "Spotify Server Status".
Way 5. Log Out & Log In Spotify Account
Logging in and out might also be beneficial at times. Here are the steps to take:
1. If you haven't already, open the "Spotify app" and tap on "Home". Tap the "Settings" icon in the top right corner.
2. Scroll to the bottom of the page, press "LOG OUT" and Confirm.

3. Force the app to close now (explained above). Then, reload Spotify and log in with your username and password.
If you recently upgraded to Spotify Premium and do not reflect or cease working correctly, follow the steps above.
Part 3. Spotify Not Working? iPhone Problems
Way 1. Restart Your iPhone
It's straightforward to restart your iPhone. Restarting your devices, like closing and reopening Spotify can resolve minor issues.
For an iPhone X or newer:
1. To restart an iPhone X or newer, simultaneously press and hold the "volume up or down button" and the "side button". 
2. Hold your breath until the words "Slide To Power Off" show on your screen.
3. Wait about 30 seconds after swiping this symbol. Then tap and hold the "side button" to turn your iPhone back on.
For an iPhone SE 2 or 8 or earlier:
1. Press and hold the "power button" on an iPhone SE 2 or 8 or earlier to restart it.
2. Hold the button down until the words "Slide To Power Off" show on your screen.
3. To turn off your iPhone, swipe this symbol. Wait for around 30 seconds. Finally, hold the "power button" down to turn on your phone again.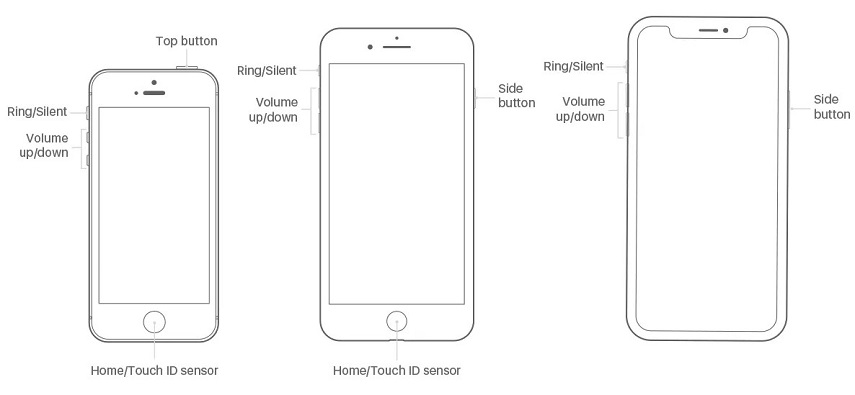 Way 2. Reset Internet Connection
Why isn't my Spotify working? Well, the answer is, it may not be operating due to internet issues ranging from slow to no internet connection. Refreshing your iPhone's wireless internet connection can help clean up odd internet difficulties. There are some ways to refresh internet connection. The Wi-Fi toggle is an excellent place to start. Here's how to do it:
1. From your Home screen, go to "Settings."
2. Choose "Wi-Fi".
3. Turn the Wi-Fi off by tapping the "switch".

4. To turn Wi-Fi back on, hit the button again after around 30 seconds.
Way 3. Turn Off iPhone Restriction
Restrictions might also prevent specific apps from working on your phone if they are enabled. As the name suggests, this feature would restrict access to particular apps for security and privacy concerns. Follow these methods to verify and manage restrictions on your iPhone to rule out the underlying cause:
1 Go to the Home screen and select "Settings" from the drop-down menu.
2. Choose "Screen Time".
3. Select "Content & Privacy Restrictions" from the drop-down menu. To continue, enter your Screen Time password if requested.

4. Then turn off the feature by toggling the switch next to "Content & Privacy Restrictions".
Way 4. Reset All Settings on iPhone
If the problem began when or after you installed software updates or made changes to your iPhone settings, this is frequently the case. To fix Spotify not working in iOS 16/15, try resetting all settings to clear out all current system configuration and automatic settings override from software upgrades that may have created system issues or conflicts. There's no need to back up your files ahead of time because the reset does not affect any data saved on the internal memory. When you're ready, follow these steps:
1. Select "Settings " from the home screen. Select the "General" option.
2. Reset is located at the bottom of the page. From the list of options, select "Reset All Settings".
3. If prompted, enter your passcode to proceed.

4. Tap on "Reset All Settings" once more to confirm your action.
Way 5. Ultimate Solution: Repair iOS 16/15 System
You may face troubles with your iPhone after updating to a new iOS version, such as Spotify not working on wifi iPhone, being stuck on a loading screen, rebooting frequently, or touch screen not working. We recommend UltFone iOS System Repair as a robust iOS system recovery tool. It's a professional tool that can fix iOS/iPadOS/tvOS difficulties, aside from hardware concerns.
Features:
To enter and exit recovery mode on an iPhone, iPad, or iPod, click once.
Repair 150+ iOS system issues such as the Apple logo, reboot loop, and blank screen without losing data.
Reset without a password iPhone/iPad/iPod Touch/iTunes/Finder.
All iPhone models and iOS versions are supported, including the iPhone 13 series and iOS 16/15, and you can downgrade from iOS 16 to iOS 15 without using iTunes.
Step by step Guide to using UltFone iOS System Repair:
Step 1 Connect your iPhone/iPad/iPod touch to the computer. Connect your iPhone/iPad/iPod touch to the computer after installing and running this program on your PC/Mac. To begin the iOS system repair module, click "Start".

Step 2  On the next screen, select "Standard Repair".
1. If your iDevice isn't detected, this program will instruct you to manually enter recovery mode or DFU mode.
2.There are two repair modes displayed on the UI: Standard Repair and Deep Repair. Standard Repair can resolve any iOS issues without causing data loss.
3.The Deep Repair mode, on the other hand, will wipe your device clean and assist you in resolving more serious IOS issues that the Standard Repair option failed to fix.


Step 3 You must first click the "Download" button to acquire your device's automatically matched firmware package before continuing with the system repair. You can select a different location on your PC by clicking "Browse" to save the firmware package. Please select "Import local firmware" to import your firmware package if you have previously downloaded the firmware. Keep patience since the firmware package is around 2.5 GB in size, and maintain an active and working Internet connection.

Step 4 To fix the iOS issues on your device, select "Start Standard Repair" when the firmware package has been successfully downloaded. Wait several minutes for the iOS system to be repaired.

Step 5 Your iOS device will reboot after the iOS system recovery is complete, and everything will be back to normal. 
Part 4. Spotify Not Working? Browser Problems
Way 1. Update your Browser
It would be best to use the most recent version of whatever browser or OS system you're using. Click 'About' and then check build info to see if updated Chrome, Firefox, and Safari versions are available.
Way 2. Check Browser Extensions
Ad blockers and privacy plugins can sometimes cause streaming services like Spotify to malfunction. If you're experiencing difficulties getting Spotify to function in your browser, try loading it in private mode. Something you've installed is causing the problem if Spotify runs in incognito mode without your extensions enabled.
Conclusion
The app gets heavy and occasionally crashes as thousands of songs, music, and podcasts are added every day to the platform. Keep the app updated and clear the cache at regular intervals to ensure a smooth operation on your device. This should put an end to the problem. If Spotify not working in iOS 16/15 persists, try the solutions mentioned above. They're simple to implement and will solve the Spotify keeps halting issue. Try these to figure out what's causing the problem and how to avoid it happening again! If the issue persists, UltFone iOS System Repair should be your last resort.