How to Fix Screen Time Not Working When Updating to iOS 16/15
[iOS 16/15 Beta 8]I have been experiencing irregularities in my screen time on multiple occasions. There are some websites which I had opened for less than 5 minutes but make up for up to 9 hours of screen times. On one occasion, it shows 24 hour screen time for Twitter which is not only correct but also shows other apps with more hours of screen time which doesn't even make sense.
Are you experiencing Screen Time not working with your device? I'm talking about multiple occasions where every website that was opened seemed like hours of online browsing.
I know this sounds strange, but many iOS 16/15 update users are complaining about how their screens were off for less than 5 minutes and yet still made up a 9 hour before they went back into use!
Let's find out more about why Screen Time is not working and how to fix it.
Part 1. Why is My Screen Time Not Working?
For example, if you want to restrict the amount of time your child uses an application on their iPhone or iPad then setting up Screen Time is a good idea.
However, some people have reported that this feature doesn't work for them so it's important to check whether you set it up correctly before giving into frustration! Others report it is due to other factors, like location services or a weak signal for their phone's GPS feature (which can lead the app not to be able to launch).
It's a common issue that iPhone screen timings not working. If you are experiencing this problem, follow these solutions to fix it quickly and easily.
Part 2. Top 10 Ways to Fix Screen Time Not Working
Way 1. Re-enable Screen Time on iPhone
This is the first suggested method as it is quite simple. Follow the steps below:
1. Go into your settings app and find "Screen Time" button.
2. Click it and enter your password, then tap "Turn Off Screen Time" on the next screen.

3. Restart your iPhone and enable it on settings.
Way 2. Sign out of and Sign in Apple ID
If turning off and on Screen Time doesn't solve the problem, try signing out of your Apple ID. Note: this will delete any data associated with that account.
Steps to sign out of your Apple ID:
1. Go into Settings. Tap on your name at top of the screen.
2. Scroll down and tap Sign Out.

3. A pop-up box will appear asking for confirmation that you wish to sign out, tap Ok.
After the above steps, make sure you check for updates on your iPhone or iPad and when prompted to sign in again using the same Apple ID that you had when you first created it.
Way 3. Check Apple Server Status for Screen Time
Apple server status will tell you which feature is available and which is not. A green dot means this feature is available and a gray dot is not. Checking Apple server status to see whether Screen Time is available or not is still necessary, though it is rare to happen.
Open www.apple.com/support/systemstatus/ in your web browser and then you will see a page. Find Screen Time on it.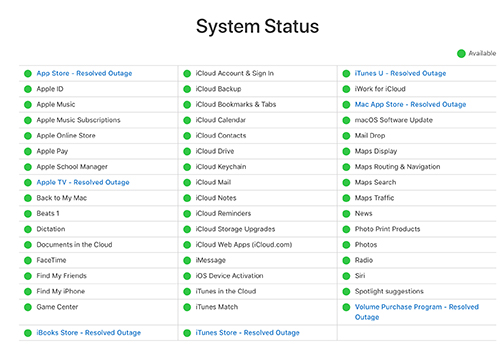 Way 4. Turn Off Low Power Mode
It is worth trying this method even though it will make the battery drain faster because it may fix "Screen Time Not Working on iPhone" issue. Once the issue is solved, you will see the correct time you spend on your iPhone and then reduce to use iPhone.
Here is a way to turn it off: Go to "Settings". Select "Battery" button and turn off "Low Power Mode".
Way 5. Set Correct Date & Time
If the Screen Time not showing data or showing the wrong data, Date & Time may be the reason for it. Therefore, setting Date & Time automatically may solve it.
Here is the route: Settings>General>Date & Time>Set Automatically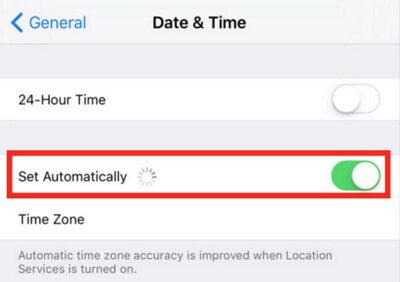 Way 6. Restart your iPhone
If you are having trouble with the Screen Time application on your iPhone, it could be because of glitches during regular use of that device. Restarting will usually solve any issues!
Step 1. For iPhone X or later(iPhone 13 included), press one of the volume buttons on the left and side button. For iPhone 6 to iPhone SE (the second generation), press and hold the side button. For iPhone SE (the first generation) or earlier, press and hold top button.
Step 2. Not release the related buttons on different iPhone models until you see a power off slider. Drag the slider to the turn off iPhone.

Step 3. Press side button for iPhone 6 to iPhone 13 or press top button for the other iPhone models to turn on iPhone.
Way 7. Update to the Latest iOS 16/15
Apple releases iOS versions frequently to perfect its operation system. It is possible that you missed the latest iOS version and don't know that Screen Time not working has been fixed.
Here is the guide to check iOS update: Settings>General>Software Update. Tap "Download and Install" option.
Way 8. Reset All Settings on iPhone
If nothing else has worked, you can fix your problem with a Reset. Schedule an automatic backup on your iPhone to prevent any future mishaps from happening.
Here is the guide: Settings>General>Reset>Reset All Settings. Then enter your passcode to finish this operation.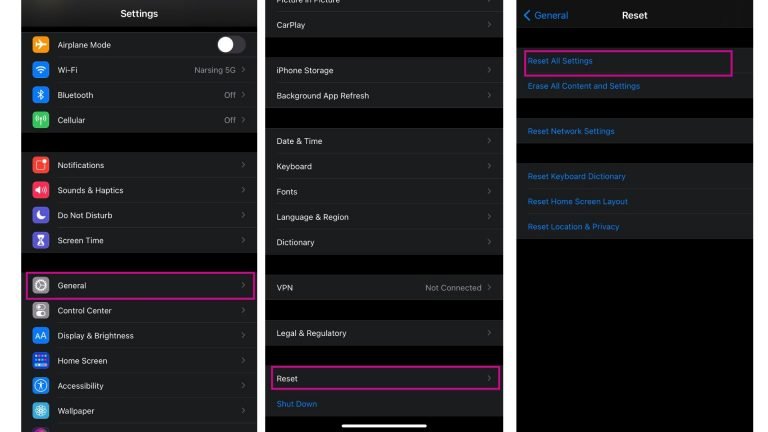 Way 9. Clear Usage Data
If you're having trouble with your child's Screen Time reports not working, it may be because they are overloading the app. To clear all data for an iOS device and try again:
1. Tap settings on their home screen.
2. Tap "Screen Time" .
3. Scroll down until you see Clear Usage Data option.

4. Once you've cleared all data, try setting up Screen Time again on your child's device.
Way 10. Fix Screen Time Not Working with A Third-Party Software
If you still can not fix Screen Time not working in iOS 16/15, try UltFone iOS System Repair. This cool third-party software can fix problems without the hassle and is very affordable!
Key features of UltFone iOS System Repair.
Free to enter and exit recovery mode.
Fix common iOS 16/15 issues without data loss.
Downgrade from iOS 16 to any previous version of iOS without iTunes.
Steps to Repair iOS System to Fix Screen Time Not Working
Step 1 Download and install UltFone iOS System Repair software on your PC. Connect your iPhone with your PC.

Step 2  Your iPhone will be detected automatically and then select "Standard Repair" on the screen.

Step 3 Click "Download" and then it will start to download firmware package on your computer.

Step 4After download, click "Start Standard Repair". Now it will begin to repair iOS 16 system. A few minutes later, the process is completed and your iPhone turns to normal.
Part 3. FAQs about Screen Time on Family Sharing
1. How to Turn On Parent/Guardian
Open settings on your phone, go into profile name and select "Family Sharing". Choose the family member that you want to know about his or her screen time, and then toggle the "Parent/Guardian" switch on.
2. Can I Create A Screen Time Passcode on My Child's iPhone?
It depends. When Screen Time has already turned on on your child's iPhone, you can not create a Screen Time passcode. You need to turn off Screen Time and then create a passcode.
Conclusion
An update may cause accidental errors, like Screen Time not working. This post provides 10 ways to help you fix Screen Time not working. Maybe some ways are difficult for you. In this case, UltFone iOS System Repair is highly recommended since it only needs 3 clicks. After all, making life easier is the meaning of technology.