How to Restart iPhone without Power in 5 Ways
My power button is broken, meaning it doesn't work at all. My iPhone locked up and crashed (just frozen while using a particular app) so I tried to reboot but I could not b/c my power button is broken. How can I restart my iPhone if my home button is broken and the screen is black?
There seems to be no solution when asked how to restart iPhone without power button. Luckily, that's totally not true. If you're in a pickle on the same problem, then you're in the right place. We have five methods here to help you out of the trouble. Take a look at them and there's always a way for you.
Method 1. [100% Guaranteed] Ultimate Way to Restart iPhone without Power Button and Frozen Screen Free
The easiest way to restart iPhone 6 without power button is using UltFone iOS System Repair. With it, you can easily restart your iPhone by entering and exiting recovery mode with only 1 click and fix 50+ iOS system issues like Apple logo, reboot loop, frozen/black screen and etc. Besides, it is now compatible with all iOS devices, that is to say it can solve all the questions like how to restart iPhone 12/12 Pro/, iPhone 11/11 Pro/XS/XR/X/8/7/6/5/4S without power button and frozen screen.
Can't wait to give it a try? Now get UltFone iOS System Repair from its official website and follow the guide below to restart iPhone 11 without power button:
Step 1 Run the software and connect your iPhone to your computer.

Step 2 It will detect your iPhone. Press "Enter recovery mode button", and wait for it to finish.

Step 3 Press "Exit recovery mode", and it'll exit recovery mode, reboot your iPhone. Your phone will come back on after the reboot.

Step 4 If the above steps don't work for you, then press the charged option "Repair Operating System" and follow the interface tips to further repair your iPhone.
Method 2. [70% Guaranteed] Drain the Battery and Plug iPhone in to Turn On iPhone without Power Button
Draining your iPhone's battery is also a way many people will think of when it comes to how to restart your iPhone without using the power or home button. However, although this method is easy to operate, it's quite time-consuming and meanwhile cannot guarantee the success rate.
For those who have the Home button on your iPhone, then the best way to eat the battery is press the Home button until voice option is on and put the music on until it empties the battery. If not or the home button doesn't respond, I'm afraid you have to wait for it to automatically run out of power, which can take two or three days.
Method 3. [50% Guaranteed] Squeeze the Power Button to Hard Reset iPhone without Power Button
Some iPhone users reported that there are times when you squeeze or pinch the Power button top corner front glass to the back case while pushing the Power button for about 10 seconds, the Power button will usually function.
If your iPhone is in a jam and you don't mind risking the device, it's worth a try. But still, we recommend you to use this method only when you really have no idea on how to restart your iPhone 7 without using the power button when your screen is frozen.
Method 4. [30% Guaranteed] Erase Frozen iPhone without Power Button via iCloud
Considering that without the power button, we can't connect to iTunes and enter recovery mode manually. At this time, how to restart iPhone with broken power button? You probably don't know that we can reformat our iPhone via iCloud. Nevertheless, we need to note that by doing so, you'll lose all your data if you didn't back up in advance.
Here's the step-by-step guide:
Step 1: Sign in iCloud Find My iPhone.

Step 2: Click "All Devices" and then select the device you want to erase.

Step 3: Erase the Selected Device.
After you set a device to erase, your device will restart and you can set up your iPhone but it's more like that your iPhone is still frozen. So I personally don't recommend this way if you don't have a backup file.
Method 5. [70% Guaranteed]Contact Apple Support
Before calling Apple, make sure that it's not the protective stuff on iPhone and debris or dirt around the power button causing your iPhone misfunctioning, then a repair can be arranged. Just visit Apple official support website and choose the service type you like.
Be aware that the Sleep/Wake button is included in Apple's free limited warranty if it's due to material defects and workmanship. Click here to check out your warranty status. And if your device is unluckily already out of warranty, you'll have to bear a lot of maintenance cost.
Additionally, For those who want to know "how to restart iPhone 5 without power button", Apple once admitted that it's a common problem on iPhone 5 and Apple did offer a replacement program for the sleep/wake button, but it's out of date nowadays.
People Also Ask about Restart iPhone
1. How to Restart iPhone without Power or Home button Using Assistive Touch?
Step 1: Press Settings > General > Accessibility > Assistive Touch and turn on the Assistive Touch feature on your iPhone.
Step 2: After Step 1, You'll find an Assistive Touch box on your screen. Tap it and click Device > Lock Screen, then slide to power off.
2. How to Restart iPhone 11/12 without Home button?
Press and quickly release the Volume Up button. Press and quickly release the Volume Down button. Press and hold the Side button until you see the Apple logo. The whole rebooting process will last for 10 to 30 seconds depending on how many apps you have installed on your phone.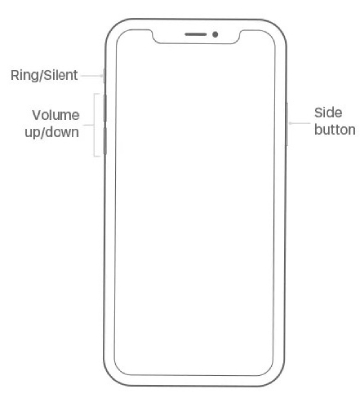 Conclusion
To conclude, in this article, we've in total summed up five methods on how to restart iPhone without Sleep/Wake button and frozen screen. Among them, UltFone iOS System Repair is the most recommended one in terms of price, quickness and success rate. What's more, there's a great possibility that you can restart your frozen iPhone without power button free when your iPhone button isn't working.
If you like this article, share it with the people in need and leave us a message below. And you can also read about how to restart iPad without home or power button.