How to Fix Cannot Verify Server Identity on iPhone/iPad
Recently, after the iOS 16/15 update, users have been experiencing many issues lately. And one major problem is raised when the iPhone keeps saying "cannot verify server identity" even after users have made unlimited attempts to fix this problem. It gets very frustrating when the users can't connect their device to the respective IMAP service.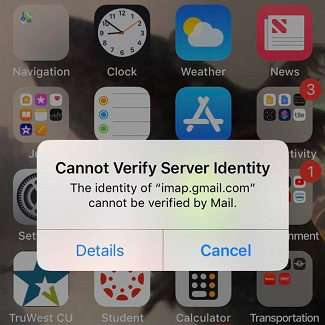 If you also cannot verify server identity on iPhone/iPad, then we have some solutions for you. Go through this guide and explore the methods that can help you resolve this problem as soon as possible.
Part 1. Why Does iPhone Say Cannot Verify Server Identity After iOS 16/15 Update?
After the real version of iOS 16/15 is released, users rushed to install the update and now they are facing various problems in it. And one of those problems is iPhone mail cannot verify server identity. This server identity verification issue occurs when the iPhone has strict settings while installing new mail server certificates.
For a mail server connection, the iPhone fetches the SSL certificate and check if it is reliable or not. If the certificate and the domain name don't match then it is labeled unreliable. As a result, the iPhone gives the Cannot Verify Server Identity error. Many users experience this issue during the set up of a new email account. But the latest iOS 16/15 update changes the settings and there are some bugs present in the update as well that is causing the problem abruptly. But don't panic, we have compiled a list of methods that will be helpful to get rid of this problem immediately.