iPhone Keeps Resetting Itself, Why and What to Do?
My iphone suddenly reset itself to factory settings for no apparent reason, and I lost everything I had on it. Before I call Apple tech support, is there any advice you can give me?
I have heard a lot of people complained that their iPhone reset itself for no reasons, or iPhone resetting itself after entering wrong passcodes for 10 times, and they lost all data on it. Really painful, isn't it? Worse still, when you Google "my phone reset itself and i lost everything", there isn't any feasible solution to this problem. In this article, we will discuss the possible reason that causes iPhone reset on its own and how to recover data after factory reset.
Why Did My iPhone Reset Itself
So, why did my phone reset itself? In the case described above it is because you have set up to erase all data on this iPhone after 10 failed passcode attempts. Simply go to Settings > Touch ID & Passcode > Turn off Erase Data, and your iPhone won't reset itself next time.
However, for many other people, the iPhone keeps restarting and factory reset itself for no reason. No matter for what reasons you iPhone factory reset by itself, try these tips to fix.
What to Do If iPhone Resetting Itself Randomly?
Here are some tips to fix the issue "my iPhone keeps resetting itself".
Tip 1. Check Battery
For some iPhone models like iPhone 6s, it seems to prone to shutting down when the battery percentage is less than 30%. Apple has confirmed that a very small number of iPhone 6s devices may unexpectly shut down.
If you are experiencing this issue, you can firstly check if your device is eligible for a battery replacement. If so, Apple offer free replacement.
Tip 2. Check Battery Health
Sometimes the reason why did my iPhone factory reset itself is due to battery issues. Since iOS 11.3, Apple introduced batery health feature. You can go to Settings > Battery > Battery Health. Look at both Maximum Capacity and Peak Performance Capability. If Peak Performance Capability shows anything other than normal, read the detailed descripiton underneath it. It may advise you to repalce the battery or seek additional assistance from Apple.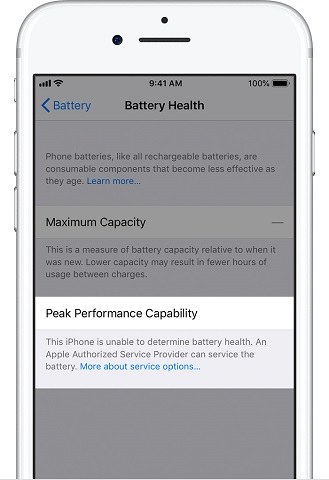 Tip 3. Update iOS
The iPhone X reset itself when you use an older version of iOS. Apple suggests that you keeps iOS version on your iPhone/iPad/iPod up to date. It is super easy to check an update. Go to Settings > General > Software Update. If there is an update available, go ahead to download and install it.
After update iOS, check to see whether the problem of iPhone reset itself to factory settings has solved.
Tip 4. Force Restart iPhone
Trying to force restart your iPhone when iPhone restored itself without asking.
iPhone 8 or above: Press and quickly release the Volume up button and Volume down button. Thereafter, press and hold down the Power button until the Apple logo appears on your iPhone screen.
iPhone 7 or 7 Plus: Press and hold down Power and Volume down button together until the Apple logo appears on your iPhone screen.
iPhone 6S or earlier, iPad, iPod touch: Press and hold down power and home buttons until Apple appears on your iPhone screen.
Tip 5. Change Time and Date
Go to Settings > General > Date & Time. Disable the option 'Set Automatically' and manually set up a time for a date that was in the past. Then, restart your device to see whether iPhone keeps resetting itself resolved. Once the reset issue is resolved, you can change the date and time settings back to 'Set Automatically'.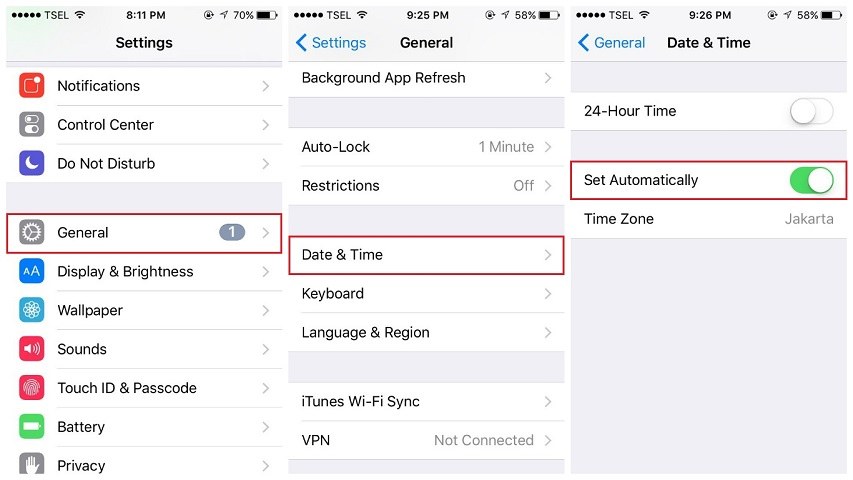 Tip 6. Update Apps on Your iPhone
Another tip to fix iPhone randomly factory reset is to check all iOS apps are up to date. You can open App Store o your iPhone, and tap on the Updates icon on the menu bar, and then tap on Update All at the top of the screen. This will update all Apps in a time.
Also, if you've purchased a third-party app, and the randomly resetting occurs since then, we'll recommend you uninstall the app because that would be the cause of the problem.
Tip 7. Reset Settings
Go to Settings app on iPhone, and then General > Reset, select Reset All Settings. This will restore all settings to factory settings, but you don't lose any of your data or apps.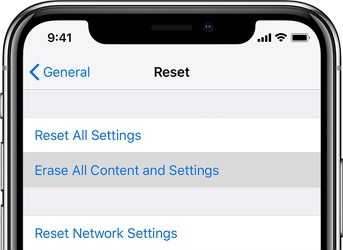 Still Having the iPhone Factory Reset Itself Issue?
Do all these above tips not work to the problem "my iPhone reset itself"? You may have to do a factory restore to refresh iOS system. You can either use a third-party iOS repair tool to restore iOS without data loss, or use tranditional iTunes to restore iPhone from backup.
Tip 8. Repair iOS without Data Loss
This is the recommended fix for fixing iPhone system problems by using iOS System Repair. This program will repair iPhone wiped itself, iPhone restarting or crashing without data loss. What makes it prominent is its powerful features to repair iPhone problems with the least effort.
1. Download and install this program on your computer, and connect your iOS device to computer. Choose "Repair Operating System" from the main interface.

Select Repair Operating System feature to fix iPhone suddenly reset itself

2. Prior to system repair, you can download the firmware package online by clicking Download button.

Download firmware package online before fixing iphone erased itself issue

3. With the firwmare package, you can start repairing the system to fix iPhone keeps resetting problem.

Repairing iOS to fix iPhone reset itself to factory settings
After a few minutes, your iPhone will restart after system repair. The problem should be resolved now.
Tip 9. Restore iPhone to Factory Settings (Data Wipe)
My iPhone factory reset itself expectedly is often caused by system glithes or hardware. If the basic troubleshooting tips failed to remedy the issue, the last resort is to reinstall iOS by restoring it to factory settings. We recommend you to backup iPhone to computer before you factory reset it, as all contents and settings will be wiped after performing a factory restore.
To do this, run iTunes on computer and connect your device to computer. Select Restore iPhone in Summery. In the prompt windows, click Restore button to confirm your action.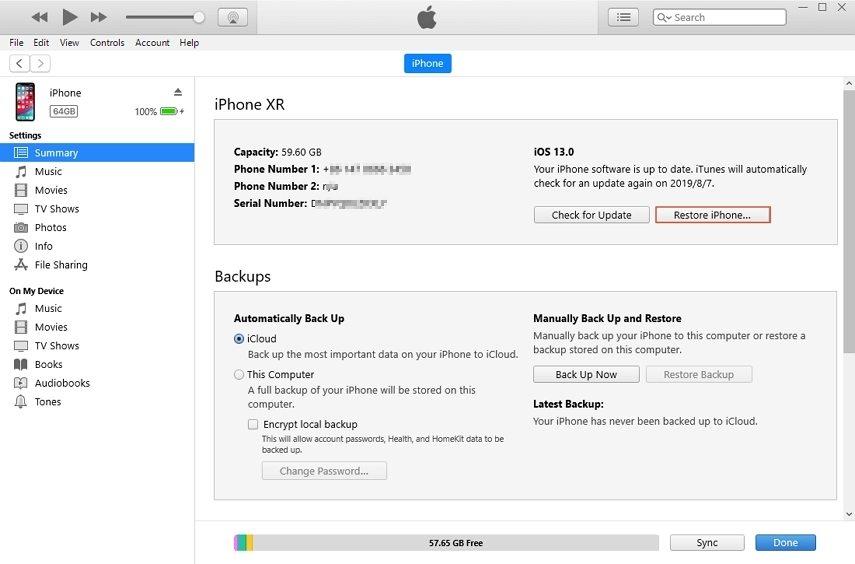 A Bonus Tip: Recover iPhone Data after Restoring to Factory Settings
my iPhone reset itself and I lost everything, is it possible to recover iPhone data after factory reset? Well, it depends actually. As long as you have backed up your iPhone data with iTunes or iCloud, you can restore iPhone from backup.
Method 1. Restore iPhone from iTunes Backup after Factory Reset
After factory reset, you need to set up your device. Follow the onscreen setup steps until you get the Apps&Data screen. Select Restore from iCloud Backup. Sign into iCloud using your Apple ID, and then select the backup file to restore.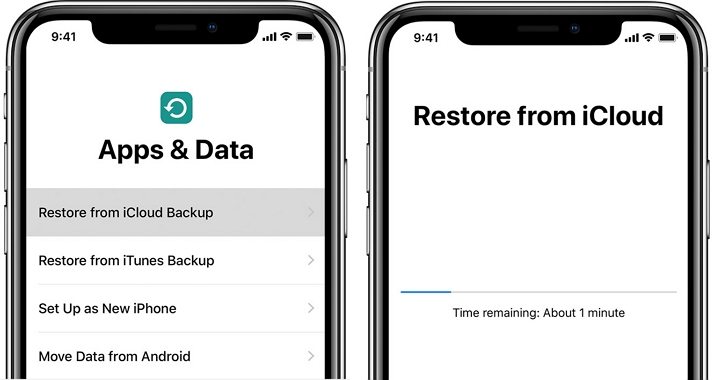 Restore iPhone from iTunes Backup after Factory Reset
To restore iPhone from iTunes backup, the steps are simple. Open iTunes and connect your device to computer using USB cable. In Summery tab, select "Restore Backup". In the pop up window, select the most recently backup file to restore.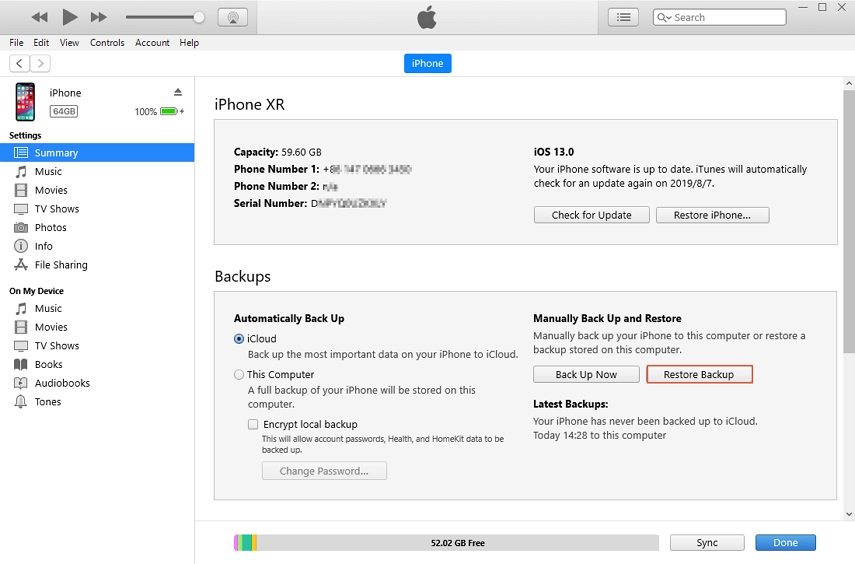 What if my iPhone restored itself and I lost everything without a backup? I am sorry to tell that it is not possible to rescue your data if you did not backup iPhone before. Even tools like iPhone data recovery can not recover iPhone data without backup after factory reset. It can only helps you extract files from iTunes/iCloud backup in a smarter way.
Wrap It Up
Here in this post we summerized the common tips and as well as recommended a third-party iOS system repair software to fix iPhone 11/11 Pro/XR/XS/X/8/7/6/5 reset itself to factory settings. Hope it helps you somewhat.