How to Fix iPhone Froze During or After iOS 16 Update 2023
One of the major problems that most iPhone users report regarding iOS updates is that their iPhones freeze during an upgrade.
I remember one of my close friends came to me when iOS 16 was released and asked me for help as his iPhone froze during an update. He was completely clueless about what to do.
This happens to many users when they are trying to update their iPhone that iPhone freezes on the update screen. This can be a nightmare for new users specifically as they have no idea what to do.
Well, don't panic and calm down. We got your back here. Today, in this article we will give you a complete guide on how to fix iPhone frozen during update.
Part 1. How long should the iOS 16 update take?
The first thing that you should know is that how long it normally takes for an iPhone update. Do remember that always be patient during the update process as sometimes people just think their screen is stuck while it's working completely fine and just taking the normal required time for an update.
Official Apple spokesmen state that it should take around about an hour for your device to update. They also add that this is just an average approximate and it can vary from person to person and device to device.
The most annoying thing about the iPhone iOS update is that there is not a percentage or any other sign to show if your update is still going on or if your iPhone is stuck in the update. You can only see a progress bar which can be a pretty hard job to notice progress.
Part 2. How to tell if your iPhone freezes during the iOS 16 update?
Well, we have the solution for you. Just press any button on your iPhone and if shows the message "iPhone will Restart after the Update Completes", it means that your update is still in progress and your iPhone is still responding.
Once your iPhone is stuck during the update, it will not respond no matter which buttons you press.
Part 3. Why is my iPhone frozen during or after an iOS 16 update?
Before we move to the solution of iPhone freezing in the update, you should know the reason why your iPhone stops or gets stuck. This way you can figure out the causes of your problem which will also help you solve it.
Here are the most possible cases that can be the culprit for iPhone lock up during the update.
Over Burdened Server
When a new update arrives, millions of users around the globe are trying to download the update. This can overburden the Apple server and can cause the iPhone freezes during update.
Overheating
Overheating is another big cause of iPhone freezing after update. And the major reason for iPhone overheating is a damaged battery.
Low Space
If you have very little free space on your iPhone, your iPhone might get stuck on the update as there is no memory available for downloading and installing the update files.
Bad Internet Connection
The problem can also be due to an interruption in the download process or an unstable internet connection.
Corrupted Data
It has been noticed that those users who use potentially risky third-party apps or have corrupt old data on their iPhones frequently get this iPhone stuck on the update problem.
These are all the possible solutions we collected. You can also share with us what's the reason your iPhone got stuck and let us know in the comment section.
Part 4. What should I do if my iPhone freezes while/after updating?
If you are facing any problems as the phone stops during or after the update, here are the top solutions that you should try.
Method 1.Charge your iPhone
This might sound too easy to be true but it does work in many cases. All you need to do is to plug your iPhone's charger into a socket and connect it.
Sometimes it happens that during an update, iPhone runs out of power. In this case, you can simply plug in the charger and leave it for 10-15 mins. Then it will resume the update again. It is also recommended to update your iPhone while charging if the battery is low.
One thing that you should note here is that if your iPhone is already too hot and as we discussed before, the update can also be frozen because of high temperature. So it is not recommended to connect the charger in that case as it might end up worsening the situation. So, before you go for this, make sure you check your iPhone if it's too hot.
Method 2.Force restart your iPhone
Another simple and easy method to solve the iPhone 7 update frozen screen is to simply force restart your iPhone.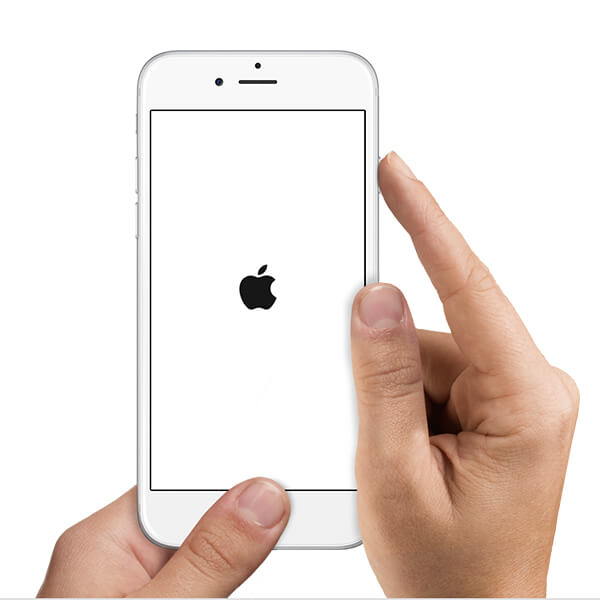 In many cases when you have third-party apps on your iPhone (or even sometimes the normal apps can also show such behavior), they end up going rogue during the update. When you leave apps open in the background during the update, there's a fair chance that you might face the iPhone stuck on update problem.
Start a hard reboot on your device and it will close all the background apps and then you can try again for the update.
Method 3. Fix iPhone frozen during update or restore using UltFone iOS System Repair [No Data Loss]
This is the best method which you can ask for. The results are almost magically perfect and it works for all the iPhone versions. The best part of using UltFone iOS System Repair is that you do not lose any data and you can easily reset or update your iPhone using it.
UltFone iOS System Repair can help you fix 150+ different iOS/iTunes problems and errors besides iOS update frozen error. So, if you are an iPhone user, this is definitely a must-have software for you.
Here are some of the key features of UltFone iOS System Repair:
Fix 150+ iOS/iTunes errors including iPhone frozen during the update, Apple logo stuck, and etc.
Force restart iPhone/iPad without password.
Downgrade iOS 16 beta without iTunes and no data loss.
Support all iPhone models and iOS versions.
Here's how to use UltFone iOS System Repair:
Step 1

Launch UltFone iOS System Repair on your computer and connect your device to the computer with a lightning cable.

Step 2 Click Start button to enter the next interface.

Step 3 Select Standard Repair.

Step 4 Next, download the automatically matched firmware package for your device.

Step 5 After the download, click Start Standard Repair to start to update your iPhone/iPad.

Step 6 Now UltFone iOS System Repair has successfully updated your iPhone without any hassle and stuck.
Method 4: Restore your iPhone in iTunes or Finder [All Data Erased]
If none of the above methods work and you are not using UltFone iOS System Repair, you can also use iTunes or Finder as your last resort options.
All you need to do is to restore your iPhone to the previous backup. Do note here that it will remove all your data and settings from your iPhone which are not included in your previous backup and you cannot get them back. But at least this way, you will be able to get rid of the frozen update screen.
1. First, connect your iPhone with a computer and then start iTunes or Finder.

2. Under the Summary option, click Restore Backup.

3. Confirm your selection in the next window by clicking Restore.
4. iTunes/Finder will restore your device to the last available backup and you can try for the update later.
People also ask about iPhone froze during or after an iOS 16 update
Here are the most asked questions about the frozen screen during the update.
1. What happens if you unplug the iPhone during a software update?
Apple strictly warns against doing that. This can cause the firmware to get corrupted or even stop responding. This is also one of the main reasons for getting the update screen frozen.
2. How do you stop an iOS update in progress?
You can go to Settings> General> Storage & iCloud Usage > Manage Storage. Here you will see the latest iOS 16. Tap on it and select Delete Update.
3. What to do if iPhone is stuck while restoring?
If your Phone is stuck during the restoring process, don't panic. Simply make a force restart and that should be enough to solve the problem. If you still face the problem, the best option is to contact the Apple support center.
4. Why does my phone keep freezing after iOS 16?
One of the main reasons we noted is that this problem is happening with mostly iPhone 7 and 8. This can be because of the old chipset in these phones or maybe your Phone is running out of storage.
We recommend clearing out some space and then make a backup. After you are done with that just start reset your device and restore it. This might help as it will clear out the cache and a lot of other junk from your Phone.
Conclusion
These are the top solutions for iPhone froze during the update. Make sure to try them all and give a try to UltFone iOS System Repair. This software will help you in tons of situations which you will face now and then. They also offer an unmatched customer care service.
If you still have any questions, feel free to leave them in the comment section below. Till then, have a great day.