How to Fix iOS 14 Stuck on Update Requested
Hi, I tried downloading the iOS 14 beta, but been stuck at "update requested" anyone encountering the same issue?
For better features and an enhanced experience, most of us can't wait to update to iOS 14. But most times, the update does not happen instantly and you may encounter the situation: iOS 14 install stuck on "Update Requested". If this also happened to you, then you're in the right place. In this article, we've got full solutions to this issue.
What does Update Requested mean?
Often there are times when the Apple server is overloaded with requests to download and install iOS 14, this creates a lot of backlogs and hence you are required to wait. It simply means that the connection of your device to the Apple server is in process. This can also occur because of less storage along with various other reasons.
This article will give you a perfect set of solutions that will help you fix iOS 14 stuck on update requested when you update your device.
Solution 1. Reset Network Settings
Network matters a lot in the process of updating, you can try to restart the WiFi router, change to another WiFi or enable to use cellular data, but if none of them take effect, follow the step below to try to reset your network settings.
Step 1. Open the "Settings" app on your iPhone.

Step 2. Click on the "General" option.

Step 3. As the "General" menu opens, go with the "Reset" option.

Step 4. Tap on "Reset Network Settings".
Solution 2. Delete Update and Try Again
Chances are you iPhone stuck on update requested only because of some lag issue, so you can directly delete the update download and install and download it later.
Follow these steps to delete the update and reinstall iOS 14.
Step 1. Go to Settings > General > iPhone Storage.

Step 2. Locate "iOS 14".

Step 3. Tap it and tap "Delete Update".
Now, go to Settings > General > Software Update and try to update iOS 14 again.
Solution 3. Restart Your iPhone
Bear in mind that no matther what system crash or software glitches you encounterd while using your iPhone, performing a restart will always help to some extent. Here's how to restart iPhone of different models:
For iPhone 6 and earlier
Press and hold the sleep/wake button and the home button together till the iPhone shows Apple logo on the screen.
For iPhone 7/7 Plus
Press and hold onto the Power button and the Volume Down button together. Keep pressing the buttons simultaneously till the screen shows Apple logo.
For iPhone 8, X,X (Max), XR, 11, 11 Pro (Max)
Press the Volume Up button and release it. Then do the same with Volume Down button. Once done that, press and hold the power button till the Apple logo comes up.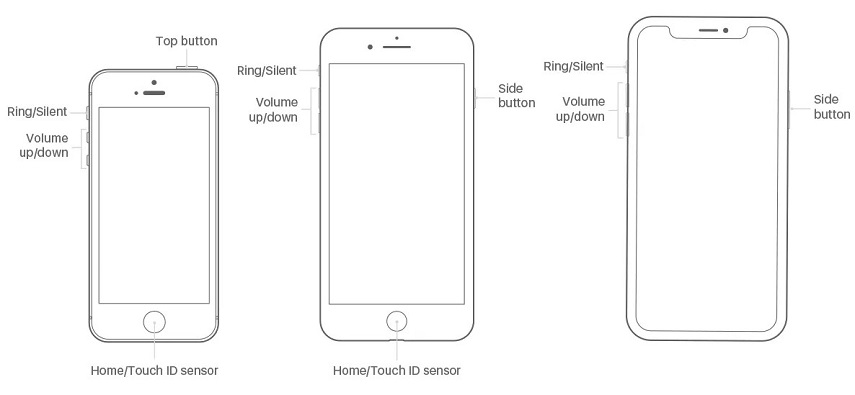 Solution 4. Update iOS 14 via iTunes
You know what? You can not only update iOS 14 via the OTA package on your iPhone but also update iOS 14 via iTunes, here's how to do:
Step 1. Open iTunes on your computer.

Step 2. Connect your iPhone to the computer with a USB cable.

Step 3. Locate your device in the left column.

Step 4. Click on the "Check for Updates" button. Then iTunes will automatically detect the latest updates. After that, click "Update" to install iOS 14 on your iPhone.
Solution 5. DFU Restore Your Device
According to the feedback from Reddit users, performing a DFU restore will solve the the iOS 14 stuck on update requested issue.
Step 1. Connect you iPhone to your MacBook/desktop.

Step 2. Upon successful connection, set your iPhone in DFU Mode according to different iPhone models.

Step 3. Locate your device in the left column.

Step 4. Wait for a few seconds, a "Restore" button pop up will appear on iTunes. Quickly tap on that and restore your iPhone.
Update iOS 14 via Third-Party Software (100% Working Way)
When the above solutions didn't work and you're still getting iOS 14 stuck on update requested, we recommend you to use a third-party tool to get the task done. For that matter, the UltFone iOS System Repair is a one stop solution. This program helps solving about 150+ iOS problems. It can easily repair problems with updates, a frozen screen, black screen, recovery mode, etc. Moreover, there is no need to worry as with UltFone iOS System Repair you can easily repair your device without any data loss.
Let's see the steps right away!
Step 1 Connect your iPhone to UltFone iOS System Repair and select the third option from the main interface.

       

Step 2 Click on the "Fix Now" button to proceed.

       

Step 3 Download firmware package according to the interface tips.

        

Step 4 Once the download is finished, click on the "Repair Now" button to take the last step.

        
Here's the video guide.
The Bottom Line
These are the various solutions mentioned to fix the iOS 14 update stuck on update requested. Although, with the various solutions mentioned above, the most reliable one is to go for the UltFone iOS System Repair as it is the safest and able to fix all your iOS problems. So, go ahead to know more and fix all your iOS problems with only a click.