5 Methods to Tackle iPhone X Spinning Wheel Black Screen
I have a black screen spinning wheel on my iPhone X. what should i do?
It's really a headache when our iPhone X Series has spinning wheel on black screen, especially in this pandemic period. However, there's no need to worry, chances are you can fix it by yourself even at home. We here provide you five methods to tackle this problem, which you can choose from according to your iPhone condition, emergency and budget.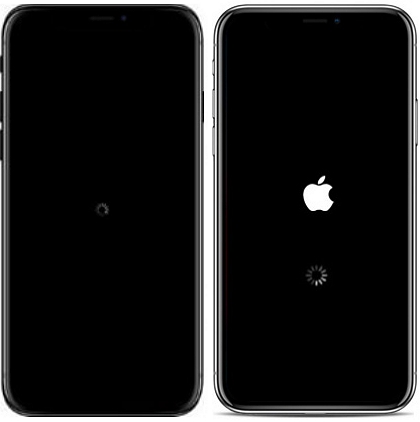 Part 1. How to Fix iPhone X Black Screen Spinning Wheel Owing to Software Glitches
In most cases, the iPhone XS black screen spinning wheel issue happens for software glitches especially after iOS update or restore. Thus, the following methods are about how to fix the iPhone XS spinning wheel of death issue caused by software glitches.
Method 1. 100% Working Way to Stop iPhone X Spinning Wheel without Data Loss
If you are looking for quick repair and success guarantee, then UltFone iOS System Repair-currently the best iOS system repair tool is exactly what you need. It can easily fix iPhone X stuck on spinning wheel by repairing the core iOS operating system. It is renowned for its powerful performances:
100% success rate (capable of fixing 50+ iOS system issues)
Strong compatibility (support all iOS device so far)
Absolute security (no data loss)
Get the software on your PC/Mac and follow the steps below to feel its magic:
Step 1 Launch the software and connect your iPhone to the computer with iPhone charging cable. After that, Click on Start button from the main interface.

Step 2 Choose Standard Repair to continue. This type of system recovery won't lead to data loss.

Step 3 Click on the "Download" button and wait for the download to complete.

Step 4 When the file is ready for use, click on the "Start Standard Repair" button and the software will resolve the iPhone X black screen with spinning wheel issue.
Connect, download and fix. Only three steps can get your iPhone XR black screen of death spinning wheel permanently fixed. As long you have normal network, it won't take you more than 1 minute, much less than go for a so-called technician.
Method 2. Force Restart to Stop Spinning Wheel on iPhone X
For the majority, force Restart to stop iPhone X black screen with spinning wheel is probably the first method that comes into mind. However, it can only do the trick when it comes to some minor problems. Anyway, it is worth a try. Here' s how to do it:
Press and quickly release the Volume Up button. Press and quickly release the Volume Down button. Press and hold the Side button until you see the Apple logo. Be careful do not take too long a gap during this process.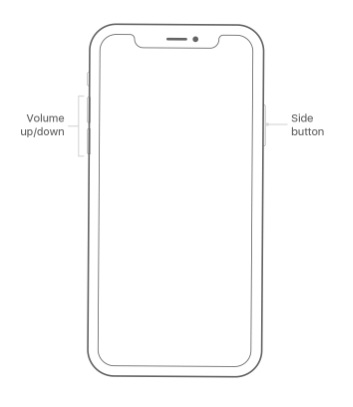 Instead of completely fixing the problem, force restart iphone X can only solve the problem once. If iPhone X stuck on balck screen with spinning wheel iPhone X happens to you ever and again, then continue to read method 3 for more help.
Method 3. Restore iPhone X via iTunes to Reset Spinning Wheel on iPhone X
Prior to operate this method, make sure that your iPhone X is now working well and you have backed up your iPhone X data recently. Therefore, you can restore your device to a previous state where it was no iPhone X spinning wheel issue and this also means your data will be overwritten. See how to do it:
Step 1: Connect your iPhone to the computer with iPhone charging cable and then launch iTunes on your computer.

Step 2: Once the connection succeeds, you'll see the interface below:

Step 3: Click on the button "Restore Backup" and choose the backup that you want to restore. Confirm your choice and wait for the process to complete.
Method 4. Restore or Update iPhone X with iTunes in Recovery Mode
If iTunes failed to recognize your iPhone X stuck on spinning wheel, then you may have to put iPhone X into recovery mode and then restore it with iTunes. By doing so, you'll lose all your data and your iPhone will be restored to factory settings. Think carefully before you take this method. Here's the step by step guide:
Step 1. Connect your iPhone to the computer and then launch iTunes on your computer. Meanwhile, make sure that iTunes has been updated to the latest version.

Step 2. Once it connected, follow the steps to enter recovery mode:

Press and quickly release the Volume Up button. Press and quickly release the Volume Down button. Then, press and hold the Side button until you see the recovery mode screen.

Step 3. Accordingly, you'll get the option to restore or update on iTunes. Either way your iOS will be reinstalled. The difference is that restore will erase all your data, while update will not.

Note that if the update fails then you'll have no choice but to restore your iPhone, that is to say, factory reset it.
Part 2. How to Fix iPhone X Stuck on Black Screen with Spinning Wheel due to Hardware Issues
Except for software glitches, iPhone X/XS/XR stuck on black screen spinning wheel can also be attributed to hardware issues. At this time, all the above methods may be declared invalid. What you can do is to ask Apple for further information and professional help.
Step 1. Visit Apple official support website.

Step 2. Select iPhone > Repair & Physical Damage > Unable to power on.

Step 3. Here are three options: Call Apple Support Later, Chat and Bring in for Repair. Just get the service you want.
Wrapping it Up
In a nutshell, you probably could first tell which type of reasons cause your iPhone X spinning wheel won't turn off or your iPhone 10 spinning wheel of death. Then among these five methods, pick the one that suits you best. Still, UltFone iOS System Repair is the most recommended one. It supports all iPhone models including iPhone 13/12/11. Get it, done once and forever. Last but not least, we"ll appreciate it so deeply if you'd like to share with us your feelings, problems or suggestions. Just leave your message and you mean so much to us and those who maybe in the same situation with you.
FAQs on iPhone X Black Screen Spinning Wheel
1. Why is my iPhone X having a black screen with a loading symbol on it?
Apple iPhone X black screen spinning wheel can result from various possibilities, but generally can be summarized into two categories: software glitches and hardware issues. Software glitches mainly include corrupt software, iOS update and insufficient storage space. Hardware issues mainly contain heavy fall, water damage, poor contact of internal parts.
2.How much does it cost to fix an iPhone with a black screen?
It depends on which method you take to solve this problem and also how serious your iPhone X problem is. If you use a tool like UltFone iOS System Repair, it will cost you a little money and get your phone repaired efficiently. If you call Apple to seek help, the technician will confirm the total costs for repair or replacement.
3. How do I back up my iPhone when the screen is black?
If the device has been synchronized with iTunes before, then you can back up your phone with iTunes. If not, iTunes won't recognize your phone, and thus you can't back it up. However, you can try to use UltFone iOS System Repair to stop the iPhone X/XS/XR/XS Max spinning wheel black screen problem with totally no data lost.