How to Fix iPhone Won't Send Pictures to Android (iPhone 13 Supported)
Why can't i send pictures to android users from my iphone ??
Well. now everyone owns an iPhone these days. Android's never bad in competition. But what if you own one and it happened to occur that your iPhone 13/12/11/X/... can't send pictures to Android based phones? Don't worry, there are a few ways available to fix the issue iPhone not sending pictures and get your iPhone to send pictures.
Part 1: iPhone Won't Send Pictures via MMS
If you cannot send pictures from iPhone to Android users via MMS, this section will help you out. As you may know,SMS is the original form of text messaging that only supports to send text messages, whiereas MMS, which was developed later, is able to send pictures.
To solve iPhone not sending pictures, the first thing you will need to do is ensure the MMS feature is enabled on your iPhone. Then, there are a few other solutions you can look at to resolve the issue.
Tip 1. Make Sure MMS Messaging is Turned On
1. Open the Settings menu on your iPhone and tap on Messages. On the following screen, make sure the option that says MMS Messaging is enabled. The toggle for the option should be turned on and be green.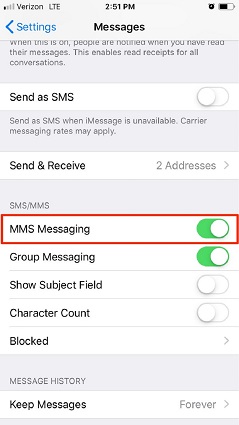 Tip 2. Contact Your Carrier
Ensure that your current carrier allows MMS messages to be sent. It could be that your carrier restricts MMS messages from being sent. Get in touch with your carrier and you'll have an answer.
Tip 3. Retart Your iPhone
3. Restart your iPhone. Turn off iPhone for a while and then turn back on will also be a way to fix this issue. You can press the power button for seconds until you see the "Slide to power off" screen. Slide the screen off and then turn it on after seconds. For iPhone X or newer, please press and hold the Side button and either Volume up/down button until the slider appears.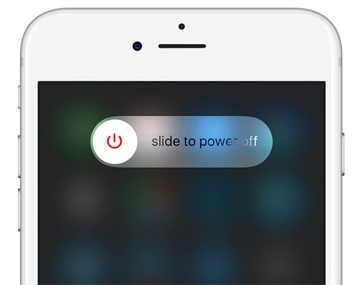 Reset Network Settings
4. If the above solutions do not work for you, you may want to reset the network settings on your iPhone. This can be done by going to Settings > General > Reset. Then, tap on the Reset Network Settings option to reset the network settings on your iPhone.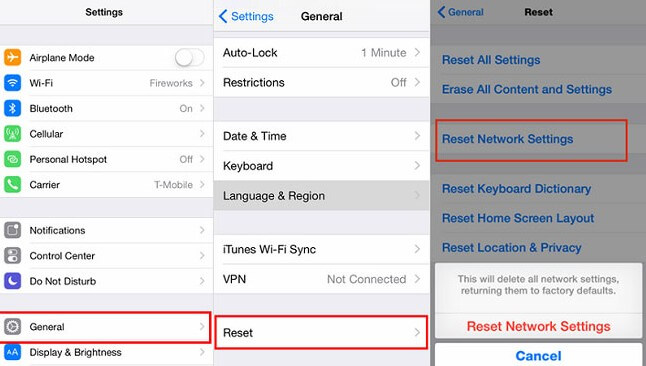 After the settings have been reset, you should be able to send pictures via MMS to any of your friends. The issue is no longer present on your device.
Part 2: iPhone Won't Send Photos via iMessage
iMessage is Apple's very own messaging system and if your iPhone cannot send pictures to Android phones, this guide should help you out.
There are a few solutions for the issue and they are listed below. Make sure you follow each solution carefully and you should be able to resolve the issue on your iPhone.
Tip 1. Make Sure iMessage is Turn On
1. Make sure that the iMessage feature is enabled on the device you are trying to send your photos to. You can enable it by going to Settings > Messages and then turning on the iMessage toggle as shown below.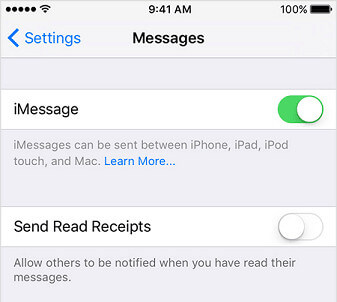 Tip 2. Update Carrier Settings
2. Update carrier settings. There's large chance that iPhone cannot send message is due to network connection. Thus you can check carrier settings update and update it if a new one is available.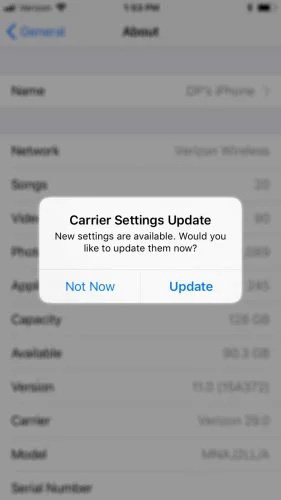 Tip 3. Reset Network Settings
3. If you still can't get your iPhone to send photos via iMessage, you can try resetting your network settings which resolves the issue in most cases. To do that, head to Settings > General > Reset and tap on Reset Network Settings.Resetting the network settings should do the trick for you and you should be able to send photos from your iPhone to Android via iMessage.
Part 3: Ultimate Solution to Fix iPhone Won't Send Pictures to Android (SMS & iMessage)
However, another important issue for iPhone not sending photos to Samsung phone is there some software glitches on the device. In that case, the above methods may failed to help. Luckily, with UltFone iOS System Repair, you can easily fix the system related issues without much efforts. Download and install the software on your PC or Mac and then follow the steps below to start the troubleshooting process:
Step 1 Run the program on your computer and then connect your iOS device. Click "Start" on the main interface.

Step 2 Then follow the onscreen direction to download the firmware package online or import it manually.

Step 3 Once the firmware package is downloaded successfully, click "Start Standard Repair" to repair operating system.
Wrapping It Up
Hope the tips above help to fix iPhone won't send pictures using MMS or iMessage. If it is an iOS related problem, then iOS System Repair aims to fix it definitely. If the problem persists, it could be that the issue is with your Android phone. In that case, you'll need to format your Android device to make sure it's error-free.