How to Fix Apple Music Not Working on iPhone 13/12/11
There is no doubt that Apple Music service is liked by all Apple users as it satisfies all the music needs. However, even Apple Music has its own issues. Many users ask Apple support- why is my Apple Music not working on my iPhone? Whether you are facing unknown errors, syncing errors, login issues, unsupported media, or any other problem, we are here to fix them all.
Today, in this guide, we will look into why Apple Music is not working. We will go through the problems reported by the users in iPhone 13/12/11 and other models as well. Then all the plausible solutions are listed to make sure that the problem disappears for good from your iPhone.
Part 1. Recently Reported Apple Music Problems on iPhone 13/12/11
Apple Music Search Not Working
Apple Music Keeps Crashing
Apple Music Freezing on iPhone 11/12
Apple Music App Not Working
Apple Music Keeps Skipping songs on iPhone 11/12
Unable to Login
My Music Does Not Load Any Songs
Part 2. How to Fix Apple Music Is Not Working on iPhone
Now that we know the common problems, here are some solutions that are worth trying to fix the problem. Let's start with the easy one.
Solution 1. Confirm Your Apple Music Subscription
1. Open Settings and click on your Apple ID. There you will see the iTunes and App Store option. Click on it, and you will see the Apple ID.

Open iTunes & app stores settings on iphone

2. Tap on the Apple ID and view it. If prompted, you might even have to enter a passcode. Then tap on the Subscription option and see the status of your Apple Music subscription.

View apple music subscription
If the status is active, this means that you need to try something else. And if the status isn't active, that means you need to verify and sign-in with your ID again for re-authentication.
Solution 2. Force Quit Apple Music App and Open It Again
Mostly when Apple Music keeps crashing, the reason behind this is a minor software glitch. To fix that, you can force quitting the application and re-launching it.
1. Open the App Switcher by sliding from the bottom to the midpoint of the screen. This gesture is used in the iPhone 11 (Pro) to open the App Switcher.

2. There, you will see the app that is running in the background. Swipe left or right to find the Music App and swipe up to close it.

Force quit music app

3. Now exit the App Switcher and open the Apple Music app once again. Now try playing songs and doing something else to make sure that the app is working fine.
Solution 3. Enable iCloud Music Library then Restart Your iPhone
When you are unable to play music on Apple Music, make sure that you have enabled iCloud Music Library. It assures that you have access to all the music files in the library.
1. Open Settings and go to the Music option. You will see the "iCloud Music Library" option on the screen. Toggle the bar to turn it on and exit the Settings app.

Enable iCloud music library

2. Now, hold the Power button and wait for the slider to appear on the screen. Drag the slider to the right side and turn your device off. Wait for a minute and then restart your iPhone by pressing the Power button until the Apple logo appears on the screen.

Restart iPhone
After the restart, check your iCloud library and see if you play the songs or not.
Solution 4. Sign Out of iCloud Account and Then Sign in Again
Like we mentioned above, you need to make sure that you are signed in the iCloud account. Re-authentication is one of the most common fixes when there is something wrong with your account. So, whether it is the Apple Music student not working or the Individual Subscription, this method will fix everything.
1. Open Settings> Music and disable the "Show Apple Music" option.

Disable show apple music

2. Now, head to the main Settings menu and tap on iCloud. Select your iCloud account and sign out. Then exit the app and shut down your iPhone.

Sign out of Apple ID

3. After the restart, again, go to the iCloud Account settings and sign in with your account. Once you are logged in, open the Apple Music app and check if the problem still persists.
Solution 5. Update iTunes and Your iPhone
There is a slight chance that you are using an outdated iTunes version or iOS version on your iPhone. This is causing the "Apple Music app not working" issue. Hence, it can be resolved with a simple update.
Here's how to install the latest version of iTunes on Mac:
Open the "App Store" on your Mac.
Click the "Updates" tab at the top of the window.
If any updates related to iTunes are available, then download and install them right away.
Here's how to install the latest version of iTunes on Windows:
Open iTunes.
From the menu bar, select "Help">" Check for Updates".

Follow the instructions to install the iTunes latest version.

update itunes on windows
To Update iPhone:
Open the Settings app and go to General settings. Select the Software Update option and check if there is an update available. If there is, click on the Download & Install option and install the updates right away.
Once both iPhone and iTunes are updated to the latest version, try using Apple Music again and see if the method works out.
Solution 6. Reset Network Settings
When Apple Music won't play songs, there is a possibility that the problem is caused by the network instead of the application. And this can be fixed by resetting the network settings. Whether it is the Wi-Fi connection interruption or other problems, all network connectivity issues can be fixed with reset.
Launch the Settings app and open General > Reset > Reset Network Settings. Enter the passcode when prompted and confirm the reset.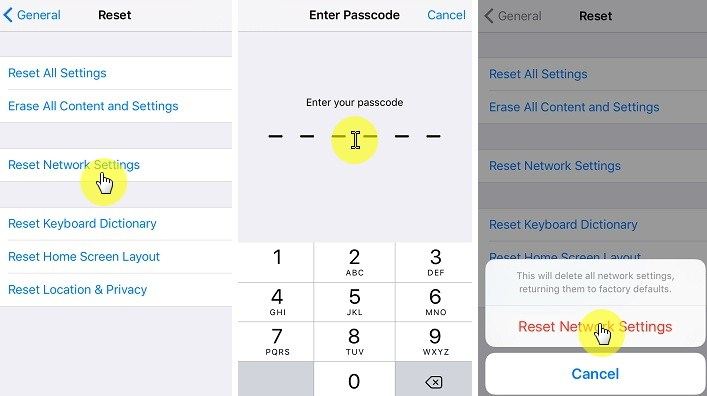 Your iPhone will restart after the reset finishes, and you'll have to reconnect with the Wi-Fi. Then try playing songs or downloading new ones from Apple Music.
Solution 7. Repair iOS System without Data Loss
If you suddenly realize that Apple Music keeps skipping songs on iPhone and you can't figure out the reason behind this, it means that your device software is misbehaving. When you don't see any other method working out for you, consider using UltFone iOS System Repair tool. This software is specifically designed to resolve all software related problems in iOS devices.
So, whether Apple Music freezing on iPhone 11 or 12, crashing, or it's any other app that is causing troubles, UltFone iOS System Repair will fix the problem. You just download the tool and run it. The software will prompt you to get a suitable firmware package for your device. And using that firmware file package, the tool will repair your device software without causing data loss.
Solution 8. Restore Your iPhone to Factory Settings
If you don't have that much data stored on your device and in that situation, the Apple Music search not working, you can consider Factory Reset. Still, this method is recommended when no other method is helpful.
Open Settings > General > Reset > Erase All Content & Settings. Enter the device passcode if any to confirm the reset.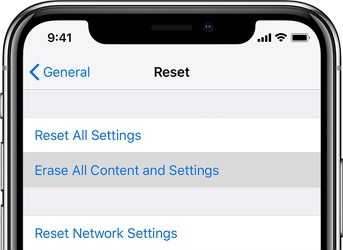 Wait as the device reboots after reset, and you will be directed to the setup page. Restore your data and settings using iCloud or iTunes backup.
A Last Word
In this guide, we learned what we could do when Apple Music is not working. Hopefully, one of these fixes will resolve the problem. And if they don't, then UltFone iOS System Repair tool is always here to take over. The software is capable of fixing over 150 kinds of issues on all iOS devices including iPhone 13/12/11. So, you never have to worry about software-related problems or losing your data.