How to Fix Last Line No Longer Available on iPhone 14/13/11?
Last Line No Longer Available on iPhone
When I try call a number on Iphone Xs, it says "Last line no longer available. Do you want to use your remaining line?"
I have restored the phone to factory settings but this error remains.
When you try to call your default phone number from your iPhone 14, you keep getting the "Last Line No Longer Available" message. Relax because you are not alone in dealing with this recurring problem. Several iPhone 14 owners have reported this problem in iOS 16. While the issue appears widespread on the iPhone 14 series, it also affects older iPhone devices running iOS 16. As always, we've put together a tutorial to assist you in resolving the 'Last Line No Longer Available' error on iPhone 14/13/11 and other iPhone series. So, let's go into troubleshooting mode and look at some potential remedies to the problem!
Part 1: What does Last Line no Longer Available on iPhone Mean?
The problem appears when you attempt to make a phone call. What does last line no longer available mean? It is most likely related to e-SIM/SIM on iPhones. Dual SIM functionality is available on newer handsets, beginning with the iPhone XR. Furthermore, iPhone only throws an error when calling from the default line.
Fixed Line No Longer Available is a typical iPhone problem. It could happen for one of the following reasons:
Part 2: How to Fix Last Line no Longer Available on iPhone 13/14/11? [11 Ways]
Way 1: Switch Phone Lines
When you tap the Call option on the "last line no longer available after switching carriers" pop-up, the call is routed through the other line on your iPhone. If that doesn't work, try manually switching numbers.
1. Tap the current line at the top of the screen and select the other line while dialing a new number.
2. Whiledialing a number from the "Favorites" or "Recents" lists, hit the Info button and enter the desired number.
Continue with the potential fixes below if you do not wish to use the alternative line on your iPhone.
Way 2: Turn On and Turn Off Airplane Mode
Enabling and disabling Airplane Mode on the iPhone is a quick cure for most cellular connectivity concerns. Open the Control Center (swipe down from the top-right corner of the screen or double-click the Home button) and select Airplane Mode. Wait 10 seconds before tapping the icon again.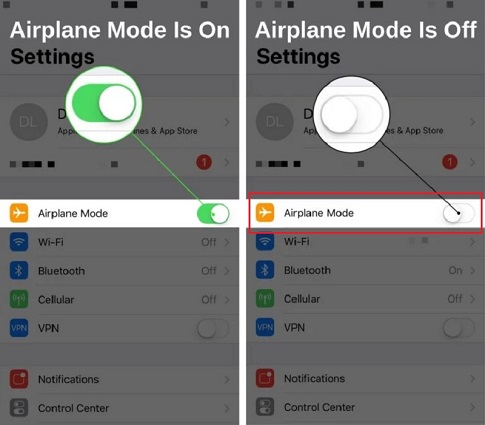 Way 3: Restart iPhone
What does last line no longer available mean? Another fast cure for the "Last Line Not Available" bug is to restart your iPhone.
To do so, launch the Settings app and navigate to General > Shut Down.
Then, swipe the Power symbol to the right, wait until the screen turns completely dark, then hold the Side button until the Apple logo appears.
Way 4: Delete Recent Call History
Several iPhone users who encountered the "Last Line Not Available" issue stated that erasing the recent call history solved their problems. While it may sound strange, we have experienced several unusual methods that have helped us solve challenges in the past. So don't pass this one up, either.
1. Launch the Phone app on your iPhone, scroll down to the Recents menu, and then tap "Edit" in the top right corner of the screen.
2. Then, in the top left corner of the screen, touch "Clear". Then, pick the "Clear All" option to finalise the deletion. Restart your iPhone now.

3. Try making a call from the default line once your device has rebooted. If the pop-up does not display, you have solved the problem.
Way 5: Update Carrier Settings
Another option for troubleshooting the "last line no longer available on a single SIM" issue on your iOS device is to change the carrier settings. The problem could be due to a carrier network, which you can remedy by upgrading the carrier configuration on your device. The good news is that carriers frequently deploy upgrades to improve general network performance and eliminate sporadic glitches.
Navigate to General -> About in the Settings app on your iPhone. You may now receive a notification prompting you to change the carrier settings.

Then, on the pop-up window, click "Update", and you're done!
Way 6: Disable WiFi Calling
WiFi calling is a handy function, particularly for persons who frequently find themselves in regions with poor cellphone signals but excellent WiFi reception. However, WiFi calling might occasionally result in issues such as the last line no longer available error message. Disabling WiFi calling can resolve the issue.
Navigate to Settings > Phone > WiFi Calling.
To disable the feature on your iPhone, turn off the toggle next to WiFi Calling.
Way 7: Disable Automatic Network Selection
Automatic Network Selection is another cause of the "last line no longer available do you want to call using your remaining line" iPhone issue. It prompts your iPhone to select the best network to connect to but presents problems for Dual-SIM iPhones.
1. To turn off Automatic Network Selection, go to Settings > Cellular > Network Selection.

2. Then, deactivate the option next to Automatic Network Selection and select a carrier network.
Way 8: Remove & Reinsert SIM
Have none of the previous ideas worked to solve your problem? So, please take out the SIM card and replace it. This age-old method has helped many people get rid of cellular troubles. Turn off your iPhone and remove the SIM tray using a SIM ejector tool. Wait a few seconds before reinserting the actual SIM card.
Then, press and hold the power button to turn on your device. Next, place a call on your iPhone's default line and see whether you still get the "Last Line No Longer Available" problem prompt.
Way 9: Reset Network Settings
When you have a network problem, the one hack you always try is resetting the network settings to factory default. However, because the "Last Line No Longer Available" issue appears to be related to the e-SIM, we recommend you try this trick.
1. Go to the Settings app, General, Transfer or Reset iPhone, Reset, and then Reset Network Settings.

2. Enter your device's passcode again and pick the "Reset Network Settings" option in the pop-up to confirm your choice.
Way 10: Update iOS Version to iOS 16
Most iOS versions these days contain a slew of issues. While some are corrected in later versions, others persist for an extended period of time, particularly the less reported ones. Though it may appear to be a criticism of Apple's mobile operating system, it is an unpleasant reality.
A bug is most likely to blame if you are still experiencing the error when calling from the default line. As a result, updating the software could cure the problem. Download and install the latest version of iOS by going to the Settings app on your iPhone -> General -> Software Update.
Way 11: Turn off Find Contacts
Some Apple Community members reported that turning off Find Contacts solved the problem. Go to Settings > Contacts > Siri and Search > Siri and Search > Disable Find Contacts in Other Apps.
Part 3: Three-Click Way: Fix iOS Issues No Data Loss
If you tried the primary ways and they didn't work, the problem isn't that they don't work but your iPhone has system problems. Repair your iPhone without data loss with UltFone iOS System Repair and try the previous procedures again. Last line no longer available on iPhone 13 issue can be resolved.
Features of UltFone iOS System Repair:
1-Click to enter and exit recovery mode on your iPhone/iPad/iPod.
Repair 150+ iOS system issues without losing data, such as the Apple logo, iCloud Mail Not Working on iPhone, and dark screen.
Reset your iPhone/iPad/iPod Touch without using iTunes or the Finder.
You can downgrade from iOS 16 without using iTunes.
All iOS versions and iPhone models, including the current iPhone 14 series and iOS 16/iPadOS 16, are supported.
Steps of UltFone iOS System Repair:
Step 1 After downloading and launching this program on your PC/Mac, connect your iPhone/iPad/iPod touch to the computer. Click "Start" to open the iOS system repair module.

Step 2 To proceed, on the following screen, select "Standard Repair".

Step 3 Before proceeding with the system repair, select the "Download" option to receive your device's automatically matched firmware package. If you previously downloaded the firmware, please import it by selecting "local import firmware".

Step 4 Please click "Start Standard Repair" after successfully downloading the firmware package to address the iOS issues on your smartphone. Then, allow a few minutes for the iOS system to fix itself.

Step 5 When the iOS system recovery is finished, your iOS device will reboot, and everything will be normal again.
Part 4: More about SIM on iPhone
1. What Exactly is A Dual-SIM Phone?
A dual-SIM phone can use two SIM cards on two different calling plans. You can swap between those SIM cards to make calls on each number, such as if you use the same phone for work and personal purposes.
2. What Exactly is An eSIM?
An eSIM, or embedded SIM, allows you to connect to your carrier's network without needing a traditional SIM card. Instead, an eSIM is configured using the software.
3. Can An eSIM be Used with A Dual-SIM Phone?
The phone's model determines it. However, most modern dual-SIM phones support both physical SIM cards and eSIMs.
Conclusion
Turning on and off Airplane Mode, restarting your iPhone, or deleting your "Recents" list nearly always resolves the "Last Line No Longer Available" problem. If not, go through the other remedies listed above, and it should go away eventually. If the situation persists, your only choice is to contact your carrier or Apple Support for assistance. But don't worry, UltFone iOS System Repair can assist you in resolving all iOS difficulties.