5 Ways to fix iPhone Photos Not Showing Up on Mac
People using Mac must have known that there is an app on Mac named iPhoto through which they can access the photos in their iPhone. The iPhoto is only available in Mac OS X Yosemite 10.10.3 and below Mac OS X. With the latest update, the name of the iPhoto app has been changed now to Photos. So if you are looking to upgrade your Mac OS, don't worry if you don't see iPhoto and rather Photos. But what if your iPhone photos are not showing up on Mac? This is a common problem which occurs sometimes. There can be many reasons to it. Today, in this article, we will discuss about 5 ways on how to fix the problem when your iPhone photos not showing up on your Mac. Follow the steps below and find out the best method to import photos from your iPhone to Mac.
Method 1: Fix iPhone Photos Not Showing Up on Mac Using UltFone iOS Data Manager
First and the most easy method if your photos not showing up in iPhoto library. Ultfone iOS Data Manager is a saviour when it comes to tackle with iOS problems. Whether it be managing all your files at a single place or to backing up and restoring your iOS devices, UltFone iOS Data Manager is one of the best tools out there in the market. If you talk about photos not showing up on iPhoto/Photos, this method will let you export photos from your iPhone or iPad to your Mac or even a windows PC without any limitations. Follow the guide below to transfer photos from iPhone to Mac using UltFone iOS Data Manager.
Step 1Launch UltFone iOS Data Manager on your Mac, and make sure that your device is connected to MAC via a USB cable.

Step 2 From the main interface, click One-Click to Export Photos to PC.
Congratulations! Now you're done with syncing your iPhone photos to Mac. Bonus? You will get a lot more features in the same iOS Data Manager to perform other tasks too. Other features of this tool include:
Manage multiple file types on your iPhone very efficiently.
Support to readily transfer files between iPhone and PC/Mac.
Support to free preview backed up files.
No storage space limitations.
No network required during the backup process.
Method 2: Fix iPhone Photos Not Showing Up on Mac by Checking the USB Connection
Sometimes, we plug our device into PC but still the cable does not work so to make a connection and transfer media over it. Unplug your iPhone and restart both the devices. Now plug the iPhone again to the USB port of the Mac and see if the photos show up or not. If the Mac still does not recognize your iPhone, you may have to get a new USB cable for sure. We would recommend you to use the original Apple lightning cable.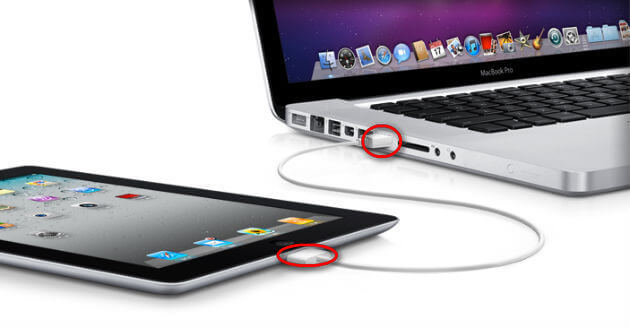 Method 3: Fix iPhone Photos Not Showing Up on Mac by Updating Your iPhone and Mac
It may be possible that the reason behind your device's photos not showing on Mac is that your Mac and iPhone are not updated to their respective latest versions. Try to update both of your devices to the latest OS version and then check whether you can see your iPhone photos on iPhoto. Your iPhoto will also be updated to the Photos app.
Method 4: Fix iPhone Photos Not Showing Up on Mac by Rebuilding Thumbnails
If your devices are connected with the same iCloud account, your photos will automatically update on your Mac. If your photo stream has already been imported in the iPhoto library, it must be visible to you. But still, if you cannot see them, follow the below steps:
Step 1: First and the most important part is to have a backup of your iPhone photos in case of any data failure.
Step 2: Close any open tab and then go to Finder > Application. Now select the iPhoto option but make sure not to open it.
Step 3: Press command + option keys until a Photo Library First Aid window will open.

Step 4: Select rebuild thumbnails from the available options, and click enter. You may have to wait for some time if you have a huge iPhoto library.
Now, relaunch iPhoto/Photos and the find the pictures that were not showing up earlier.
Method 5: Fix iPhone Photos Not Showing Up on Mac by Checking iCloud Photo Library
Don't go mad if your iPhoto Library disappeared. There can be many reasons as to why iPhone photos are not showing up on iPhoto/Photos. As discussed above, iCloud will sync your files from one device to all of your devices over internet. Chances are, if your iCloud settings for Photos are turned on already on your Mac and iPhone, the camera roll in your phone may already have been imported to the computer. Then why iPhoto does not show photos from iPhone? Follow the steps below to get your device photos on your computer.
Step 1: Open iPhoto/Photos in your Mac and the click on Preferences from the menu bar.
Step 2: Click General > iCloud. This way, you can see your iCloud Photo Library options.

Step 3: You can check this on your iPhone too. Just Go to Settings and search for iCloud settings and click on Photos.
You have to sign in with the same Apple ID on both of your devices i.e. iPhone and Mac. Now, you can see the photos in your Photos app on the Mac.
If iCloud is disabled on your Mac and you don't want to enable it, then you can access your iCloud photos directly from the iCloud website too. Just visit icloud.com and log in with the same Apple ID. You will see all of your uploaded photos when you click on the Photos icon there.
Which Method Do You Prefer to Export Photos from iPhone to Mac
We mentioned five ways in this article to fix iPhone photos not showing up on Mac iPhoto/Photos. This problem may not look massive but when you accumulate a lot of pictures on your iPhone, you will get short of storage space one day and then you will look for an easy solution on how to transfer your iPhone photos to your Mac or Windows PC. UltFone iOS Data Manager is the best out of all the methods as it works for both Mac and Windows too. Extra benefit of using UltFone iOS Data Manager is that it has many more features which comes handy when you are a hard-core iPhone user. Download it now and transfer your photos from iPhone to Mac or windows PC without any extra efforts. Hope this article will help you and if you have any difficulty while using this software, feel free to comment. Our team will be thrilled to assist you :)