How to Fix com.apple.mobilephone error 1035 on iPhone?
Many users complain about the voicemail error they face after updating their devices. The iOS device doesn't let them use the visual voicemail feature after the update. They continuously receive com.apple.mobilephone error 1035 on iPhone. Are you also facing error 1035? Are you confused about its causes and reasons to fix it? Here, we have come up with the answer to your question - how to fix error com apple mobilephone error 1035. Keep reading till the end to know about error 1035 in detail.
Part 1: What does com.apple.mobilephone error 1035 Mean?
Before moving forward to the causes and solution to error 1035 on iPhone, it is necessary to know what com.apple.mobilephone error 1035 means. It appears as a pop-up on the screen of your iPhone when you try using the voicemail feature. Visual voicemail greeting allows you to record a customized message for your caller and listen to your voice messages. Now, this error makes the feature visual voicemail greetings inaccessible on your iPhone and doesn't even allow you to listen to your voicemails. Moreover, it suggests that there is a reset in the voicemail settings of your iPhone after the update.
Part 2: What Causes "com.apple.mobilephone error 1035"?
Going forward, let's read about the various reasons that cause com.apple.mobilephone error 1035 att on iPhone. We have mentioned some of these causes below for your reference:
Improper network settings always restrict the functioning of the visual voicemail feature. You need to check your network settings to access the voicemail feature on your iPhone.
You need to follow the correct procedure to set up the voicemail feature on your iPhone, failing to do so causes error 1035.
Another reason for the cause of error 1035 is the connection error of your network carrier. Although, this is a rare case and can be resolved by turning your Airplane mode on and off.
Sometimes Wi-Fi connection also restricts the visual voicemail feature on your iPhone, and error 1035 appears. You need to switch to cellular data to access the benefits of this feature.
Part 3: How to Fix "com.apple.mobilephone error 1035" on iPhone?
Way 1: Restart Your iPhone
Restarting your device is one of the most common and basic methods of resolving any error. Hence, first of all, restart your device to resolve com.apple.mobilephone error 1035 voicemail. It will stop all the background apps and glitches restricting the voicemail feature. It also clears the useless cache files from your device.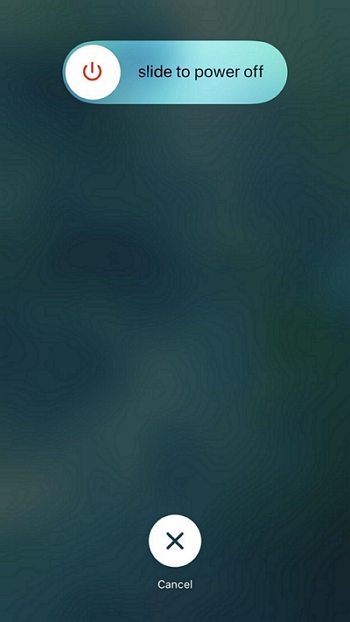 Way 2: Turn On and Turn Off Airplane Mode
Enabling airplane mode for a few seconds can resolve minor and rare carrier connectivity glitches. It disconnects the network connectivity. So, turning it on after a few seconds will make the carrier network work again normally. For this, you need to enable the airplane mode button available on the control panel of your device and then disable it after a few seconds.
Way 3: Change Network Connection
Wi-Fi connectivity is a major problem for visual voicemail greetings. Sometimes Wi-Fi disables and restricts this feature. You can easily switch from Wi-Fi to a cellular data connection to resolve the error. In this case, cellular data from the carrier will allow you to set up visual voicemail greetings.
For this, you need to turn off the Wi-Fi and turn on the mobile data from the control panel on your device.
Way 4: Reset Network Settings
Sometimes network settings change after an update and cause the appearance of error 1035. So, resetting network settings is another way to resolve this error. We have mentioned the simple steps that will help you reset your device's network settings below:
Step 1: Open the "Settings" menu on your device and find the "General" option.
Step 2: Under this section, you will see the "Transfer or Reset iPhone" option.

Step 3: Tap on "Reset" > "Reset Network Settings" and enter the passcode to accomplish the procedure.
Way 5: Setup Visual Voicemail
Are you unable to set up the visual voicemail feature on your device? The setting up of voicemail depends on your carrier. We have mentioned some common steps that you need to follow to set up the visual voicemail feature on your device below:
Step 1: Turn off the Wi-Fi and switch to mobile data to start.
Step 2: Open the "Phone" tab of your device.
Step 3: Now, long-press the number "1" on your keypad until the voicemail settings of your device open.
Step 4: Enter the required password and set your voicemail settings.
Step 5: Lastly, restart your device to check whether the error has disappeared.
Way 6: Update and Fix Your iOS System
Many times, the error 1035 occurs due to the presence of glitches in your iPhone. These glitches might be system-related and can't be resolved by restarting the device. For this reason, many software companies are working to create a third-party DIY tool to resolve the issue by repairing the iOS system.
UltFone iOS System Repair is one such third-party recovery tool that is beneficial for you to resolve all your iOS system-related issues effectively and efficiently. It works deeply on your device to solve any system-related problem irrespective of its cause. It is a simple tool with a handy and easy-to-use interface that you can operate yourself without any technical knowledge. Moreover, it is a trustable tool that doesn't cause any data loss or corruption and repairs your device safely.
Features:
It allows you to perform iOS system repairs without causing any harm to your important data.
It can easily work efficiently with all iOS versions.
It resolves various iOS touchscreen issues like black/white screen, frozen screen, battery drainage, iPhone disabled, etc.
It can downgrade from iOS 16 without the use of iTunes.
Steps to Repair iOS System without Data Loss :
You need to follow the instructions and steps given below to perform iOS system repair using UltFone iOS System Repair without any data loss and get rid of system glitches issues of your iPhone:
Step 1 Initially, download UltFone iOS System Repair to install it on your PC. Make sure to establish a valid connection between your iOS device and your PC using a USB cable to start the procedure.

After this, UltFone will automatically detect the connected iOS device on your PC. Now, click on the "Start" button available on the homepage of the software on your PC screen.

Step 2 Next, you will be redirected to a new page where you need to select any one of the two options namely – Standard Repair and Deep Repair. Select the "Standard Repair" button to proceed without any data loss. The deep repair will vanish your important data stored on the device.

Step 3 Downloading the latest firmware is the basic step required to accomplish the system repair. So, select the location where you want to save the downloaded file. Moreover, it also allows you to use an already installed firmware. Tap on the "Import local firmware" option, which is available at the bottom of the screen to use the previously installed firmware.

Step 4 Finally, wait until your firmware is ready to work. Now, select the "Start Standard Repair" button to complete the procedure.

Step 5 Now, UltFone iOS system repair will take some time to complete the standard repair. After completing the procedure click on the "Done" button and remove your iPhone.
Conclusion
Voicemail is a useful feature to get important updates when you are unable to take calls. We hope that all the iPhone users asking how do I fix com.apple.mobilephone error 1035 must have found this article useful. We discussed many trending and common ways of resolving error 1035. If you are facing any iOS system-related issues, UltFone iOS System Repair helps in resolving all major and minor system-related issues without causing any data corruption and data loss. It is equipped with all the premium features to provide a hassle-free solution to all your problems. So, why not give it a try?