How to Fix iPhone Activation Stuck on Confirm Your Phone Number
I couldn't resist myself from leaving all my work and setting up the just arrived iPhone 12 for use. The setup process started as usual with a hello screen, then I carried out all the processes as instructed, and everything looked smooth; but it wasn't as simple as it appeared at first. As soon as I got to "confirm your phone number" screen, my phone got stuck. Neither the next button would work, nor would my screen move forward.
Are you facing a similar situation as the above shows and are looking for an easy solution? Well, you don't need to search any longer because we have the most satisfying answers to your queries. The detailed guide below caters all the issues relating to iPhone 13/12 stuck on "confirm your phone number" so that you can ease your stress.
Method 1. Check Apple System Status
Setting up your phone is a process that takes place between two parties: one acts as the receiver while the other acts as a sender. While you enter your information, the data is sent to the Apple servers to have a record of your device. Sometimes your phone might hang during the setup, such as the stuck on "confirm your phone number screen" at iPhone 12 Pro transfer. This problem occurs because of the slowing or breaking down of Apple servers that prolongs the data transmission process and causes your phone to be stuck during the setup.
If your iPhone 12 activation has stuck on "confirm phone number", then you must have a look at Apple servers performance. If any of the servers has broken down or is under repair, try the activation process sometime later or wait with patience for the data to be transmitted completely.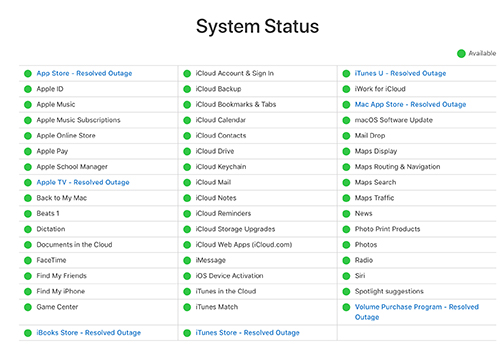 Method 2: Check Your Network Connection
Have you checked the Apple system status and found them all right? Well, there is a fair chance that the cause of the problem might be at your end and not because of the malfunctioning of the servers. As the data transfer process takes place over the Internet, a slow or weak Internet connection might cause the information transfer to be longer than usual. This might lead you into thinking that the phone has got stuck. If your device isn't connected to a strong Internet connection, make sure that you connect it to a swift Internet source for smooth set up of your iPhone.
Method 3. Restart Your iPhone
If you didn't find either of the problems stated above in your case, you should try the simple but effective method of fixing the iPhone 12 stuck on verifying phone number-restart your iPhone 12(Pro). Restarting the device shall help you get rid of any unsaved malware that was preventing efficient functioning of your device. The restart shall refresh all of your device's processes and assist you in getting rid of the problem.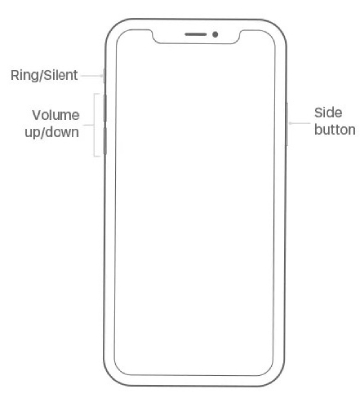 Hold the side button of your device for a moment.
A screen shall appear with a power icon in a slider.
Slide the slider towards the right to power off your phone.
Give the device a small break, i.e. for 30 seconds and then restart your device again. The above steps shall fix the iPhone 12 pro stuck.
Method 4: Activate iPhone via iTunes
The iPhone can also be activated with the help of iTunes. The activation process is straightforward and easy to follow. Here is the procedure to activate the iPhone via iTunes:
Step 1. Launch iTunes on your computer and then connect your iPhone to the computer via the Apple Lightning cable.
Step 2. After the iPhone is recognized by the computer, the Phone Activation wizard will begin.
Step 3. Now, provide the required information to the iPhone Phone Activation Wizard. While providing the requested information, make sure that you have your social security number and billing address handy to type in. 
Step 4. Complete the wizard and allow your iPhone around 15 minutes to be activated on your wireless network.
Method 5. Charge Your iPhone
Some iPhone users have posted on Apple support forum that they fixed iPhone stuck on confirm your phone number screen by charging their phones, which helped to start the iPhone 12. However, this method has only worked for a small numbers of iPhone users, but you should give it a try as you might be amongst the lucky few users.
Method 6. Repair iPhone Operation System
If you are looking for a reliable and straightforward solution to fix iPhone stuck on "Confirm Your Phone Number" screen, then give a try to UltFone iOS System Repair. UltFone iOS System Repair is a third-party software that can fix more than a ton of iPhone errors, including the iPhone frozen screen or iPhone stuck on confirm your phone number. It is easy to use and comes packed with the following features:
Fully Compatible with the latest iPhone 12 series.
Fix 150+ iOS errors without erasing any data from your device.
Bypass iTunes errors without iTunes.
Factory reset the iOS devices without password.
Follow the stepwise guide to fix iPhone 12 confirm your phone number stuck screen.
Step 1 Download and install UltFone iOS System Repair on your computer. Run UltFone iOS System Repair and connect your iPhone to the computer via Apple lightning cable. Click "Start" button.

       

Step 2 On the next screen, click on the "Standard Repair" button.

       

Step 3 Now click on the "Download" button and choose a location to download the "Firmware Package".

        

Step 4 After the firmware package is downloaded, click on "Start Standard Repair" option to begin the repairing process.

        
Wait for a few minutes, once the operating system is repaired, click on "Done". Now set up your iPhone 12 again without any hassle.
Conclusion
Getting your iPhone stuck on confirm your phone number screen is a undeniable annoyance, but thanks to UltFone iOS System Repair the problem can be wiped out easily. It is the most effective solution to help you resolve the problem by repairing your iOS system. Along with it, UltFone iOS System Repair is acknowledged and trusted by famous websites, including TechRadar and Macworld. So, don't wait now. Get UltFone iOS System Repair to get rid of all iOS errors and unleash the true potential of your iPhone 13/2/11/X.