How to Fix iPhone No Service Problem
If you are one of the users who are asking- my iPhone keeps losing service, then today we will answer all your questions. Besides, you must know what steps to take if the problem arises again in the near future. So, in this guide, we will break down every aspect of the problem you are facing and come up with fixes. Let's begin.
Firstly, iPhone 7 No Service
One critical thing to keep in mind if you have iPhone 7 and facing the No Service problem is that it can be the manufacturing fault. When people started to report iPhone 7 keeps loasing service problem, Apple Inc. paid special attention to it and found out that there was a fault in the models assembled between September 2016 and February 2018. You can get more info here about iPhone 7 Repair Program for "No Service" Issues.
You can go to any Apple Retail Store or Apple Authorized Service Provider and get your device repaired free of charge.
Then, Use These Ways to Fix iPhone No Service Problem
Now, let's move on the ways that can help you get rid of the problem easily.
Way 1. Check Your Coverage Area
When an iPhone keeps searching for service, it doesn't necessarily mean that there is a major underlying reason. It is possible that you are not in the area where cellular network coverage is available.
If there is no coverage and the signal strength is zero, try going out or moving to some other corner to see if the signal strength changes.
Way 2. Toggle Airplane Mode On and Off
Start by toggling the Airplane Mode on to resolve this issue. Using this method is more like a tweak that has 50-50% chances of working.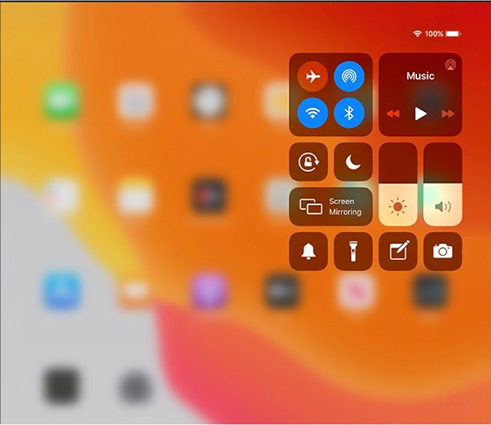 You can turn on the mode from setting as well as from the control center. Swipe up from the bottom, and the control center will appear. Tap on the Airplane icon and to turn it on and wait for one minute before you turn it off.
Way 3. Restart Your iPhone
If the iPhone keeps losing service, again and again, the next ideal move is to restart your iPhone.
If you have an iPhone 11/X/8 series, press and quickly release the Volume Up button and then the Volume Down button. And then press and hold the Side button until you see the Apple logo.
If you have an iPhone 7, you need to press and hold both the Side (or Top) button and the Volume Down button until you see the Apple logo.
For iPhone 6 and earlier, just press and hold both the Side (or Top) button and the Home button until you see the Apple logo.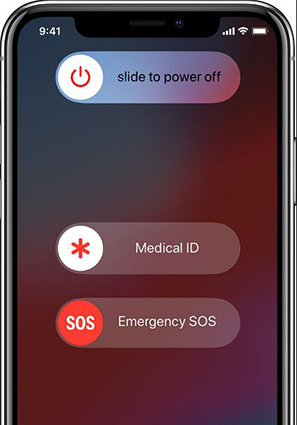 After a few minutes, restart the device and see if you get a service or not.
Way 4. Check for Carrier Update
If your iPhone keeps saying no service or searching, don't stop, it can be the sign that there is a carrier update available. When a user inserts a new SIM card, they often have to install them manually. To do this, the steps are given below:
1. Connect to a stable Wi-Fi network and open Settings. Click on General > About, and you will get a notification that Carrier Settings Update is available.
Install the updates right away, and you will get service.
Way 5. Update Your iPhone Software
Usually, the iPhone keeps losing service and restarting when there is a bug corrupting the system. Fortunately, a software update can fix such bugs and restore the service. That's why it is often recommended to update iOS from time to time.
1. Stay connected to a strong Wi-Fi network and open the Settings app. Go to General > Software Update > check for update.

2. Download the available update and install it right away. When the update is installed, your device will reboot automatically, and you will also have service.
Way 6. Check Cellular Data
Even after all these methods, if your iPhone keeps saying no service, verify your cellular settings. In case there is any setting that got changed accidentally, it could lead to this problem. Make sure that you know the actual settings to diagnose if the cause of the problem lies with cellular settings.
1. Start by opening the Settings app and choosing Cellular option. Make sure that it is on and try turning it off and on again.
2. Click on the Cellular Data Options > Roaming and ensure that Voice Roaming is enabled.

3. The last thing to check in Carrier Settings is Automatic Carrier Selection. Manually choose the carrier and connect your iPhone with that network.
Hopefully, your device will stop saying No Service.
Way 7. Reset Network Settings
Restoring the network settings is another way to fix the problem when iPhone XS Max keeps losing service. The reset will fix all sorts of cellular and Wi-Fi related problems so that the "No Service" problem will disappear.
1. Settings > General > Scroll down to Reset > Select Reset Network Settings option. Enter the passcode and confirm the reset.
It will erase the network settings completely, and you will be able to set the cellular settings again.
Way 8. Take The SIM Card Out
The next step to fix the iPhone that keeps losing service sprint is taking the SIM card out. After all, it is the SIM card that links the iPhone to the carrier's cellular network. The ideal solution for this is to take out the SIM card and make sure that it is inserted properly. Put back the SIM card the right way and restart your device if this works.
Way 9. Contact Your Carrier
In some cases, when the iPhone keeps saying no service, the problem might be caused because of some fault with your carrier network providers.
Verify that the account is active
Ask if there is an outage in your area
Ensure that your device isn't blocked and you have chosen the right data plan
They also have special activation codes that can help resolve the No Service problem. These codes are changed frequently. Hence, the right line of action will be contacting your carrier provider. They will provide you the code over the phone, and if that doesn't help, getting your iPhone diagnosed by a technician is suggested.
Way 10. Repair iOS System
But don't give up yet; there is another way to fix the problem where the iPhone keeps losing service and restarting. You can rely on professional iPhone iOS System Repair tool to resolve the conflict with the service. Most often, it is the corrupted software that results in such issues. And whether you are facing No Service, iPhone stuck at recovery mode, blue/white/black screen, or any other issue, it can be fixed with just a few clicks.
Setup the software on your system, and once it is ready to use, follow the guide given below:
Step 1 Start by connecting your iPhone with the system and launching the software. Choose the Repair Operating System mode and click on the Fix Now button.

Step 2 In the next step, the software will prompt you to download a firmware package that is automatically provided. Click on the "Download" button and wait for it to finish.

Step 3 After the file is ready for use, hit the Repair Now button, and keep your iPhone connected with the device.
The repair will finish within a while, and your device data will also be kept safe during the process. Your iPhone will reboot, and the No Service problem will cease to exist permanently.
Way 11. Contact Apple
The final thing to do when nothing seems to work is to get in touch with an authorized Apple Store and look for repair options. After the carrier confirms that there is no problem at their end, Apple Support is your last resort to get rid of the problem.
The Bottom Line
After all this, you will be able to fix the iPhone that keeps losing service. Usually, one of the tips will work, and if they don't, you still have iOS System Repair tool at your rescue. The software will not only help you with this issue but also help fix more than 50 software related issues.