How to Solve iPhone Hang Issue
Apple users frequently complain about the iPhone hang issue. Users are getting frustrated since their iPhone has started hanging every now and then. While facing this issue, users' iPhone hangs every now and then, making them go nuts. Here are some solutions for such users to solve this issue. But before we move forward, let us have a look on some reasons as to why users' iPhone hangs up during calls.
Why my iPhone Hang?
Before we have a glance on some solutions to solve iPhone 6 hang issue, let us have a look at the possible factors that causes this issue.
Low Internal Storage: Lack of storage is one of the most important reasons for your iPhone 7 hang issue. If you are running low of storage, odds are elevated for your iPhone to get hang.
Software Issue: In many cases, it is the OS that causes such hanging issues. A glitch or an error in the iOS may be accountable for this.
Battery Issue: If your iPhone's battery is undergoing some issue, then chances are high for you to face this issue.
Running Plethora Of Apps: Running numerous apps on your device simultaneously might use a lot of resources and lead to hanging of the iPhone.
Hardware Issues: Besides all the above mentioned factors, hardware problem is the palpable reason that can lead to this issue. Hence, verify if any hardware component is damaged or not.
What to do when iPhone Hangs?
Now that you had a look on the reasons that cause this issue, here are some solutions that can help you solve it.
Solution 1: Force Restart your iPhone
If your iPhone hangs every now and then, perhaps a force restart may shed some light and solve this issue. Here are the steps that you need to follow.
Step 1: For iPhone 6s or earlier model, long click the home button and the sleep button till the device restarts.
Step 2: For iPhone 7/7 Plus, long press the volume down and side button till the device restarts.
Step 3: For iPhone Xs/Xs Max/Xr/8/8 Plus/X, you will need to press the volume up and down button. Then, long press the side button till the device restarts.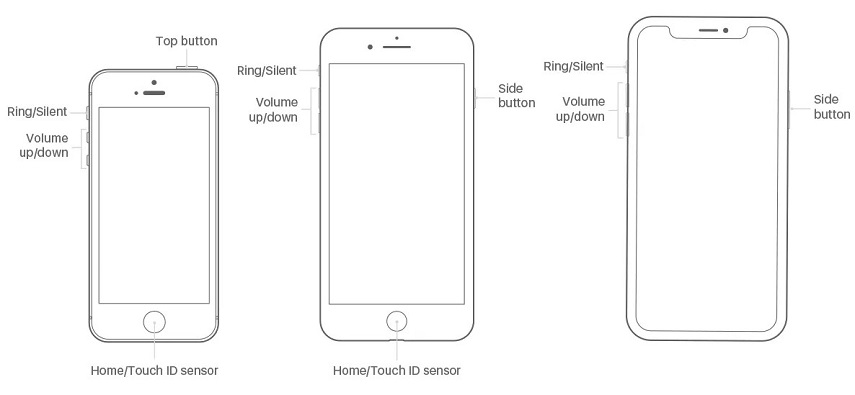 Solution 2: Delete Heavy App
Apps are one of the main reasons that can cause such issue. Hence it necessary to delete those apps those are heavy and are of no use. In addition to this, if you think that a particular heavy app is necessary for you, look out for the Lite version of the app. This might suffice your need. Also, see if any app is causing issues and is present with a bug. You need to delete that app as soon as possible.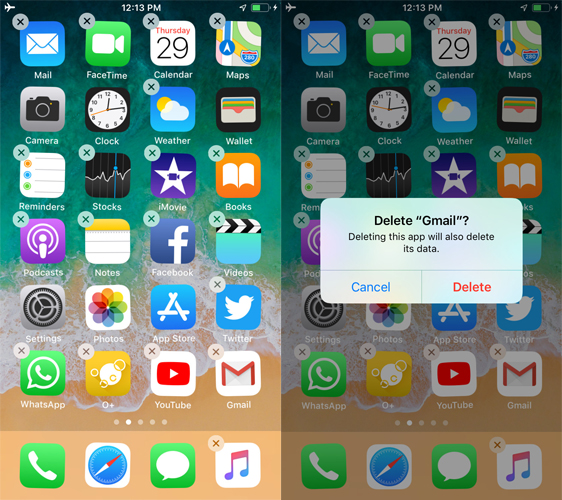 Solution 3: Reset All Settings
Resetting all settings does not delete your data. Instead, it resets the settings in your device to default that you have modified. Sometimes, modifying certain settings may lead to iPhone hang issue. Here are the steps that need to be followed if you face the issue.
Step 1: Go to Settings app and head to General.
Step 2: In General, you need to look for Reset option.
Step 3: In Reset, click the Reset All Settings options. Your job is done.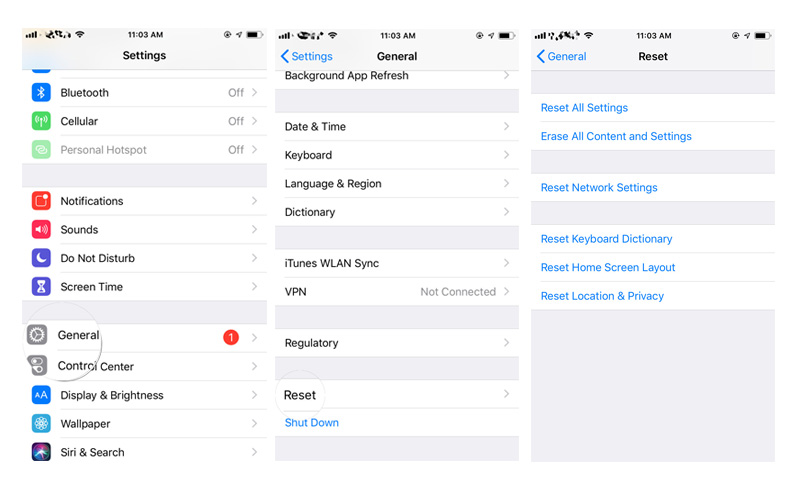 Solution 4: Updating iOS using iTunes
If your iPhone hangs due to an error in the operating system, then it is better to update the OS. The new update for the OS may have the solution for that error, thereby solving your issue. Here are the steps to update the operating system to the latest iOS using iTunes.
Step 1: Run the iTunes and also connect your iPhone to the PC. Make sure you have the latest version of iTunes installed on your PC.
Step 2: Now, select your device name in iTunes. Once you have selected the device, click on the Summary and then tap "Check for Updates."
Step 3: Tap "Download and Update" option and wait for the process to end.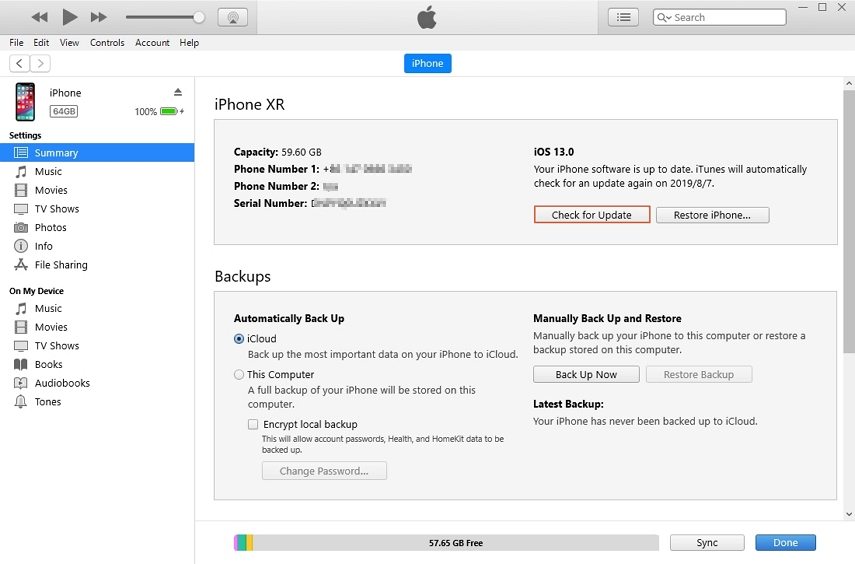 Solution 5: Use UltFone iOS System Repair (ReiBoot) for iPhone Hang Issue
Most of the times, while performing these solutions, users may suffer from loss of data. At such time, it is recommended to use UltFone iOS System Repair. This tool is the ultimate weapon that can solve any issue related to iPhone and any Apple device. All you need to do is follow the given below steps to solve iPhone automatic hang-up issue.
Step 1: Run the software once you have connected your device to the computer and click on "Repair Operating system" option. Next, click "Start Repair" option.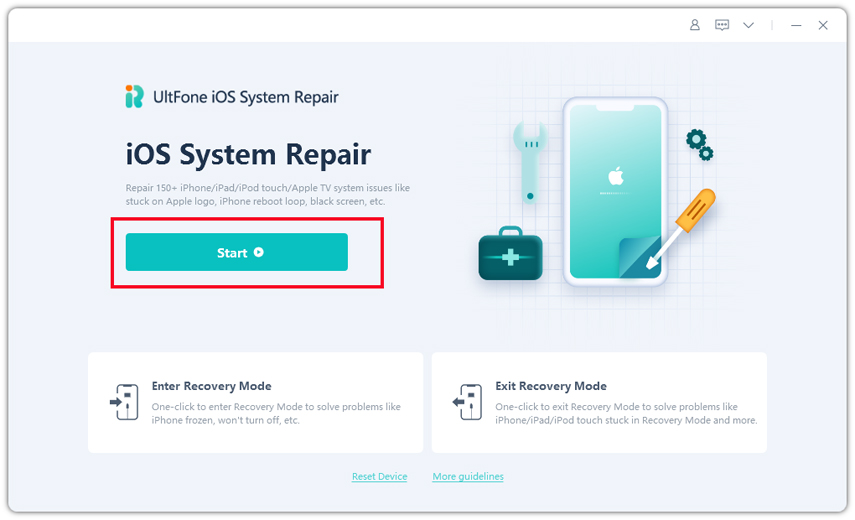 Step 2: Click Download to install the latest firmware package online.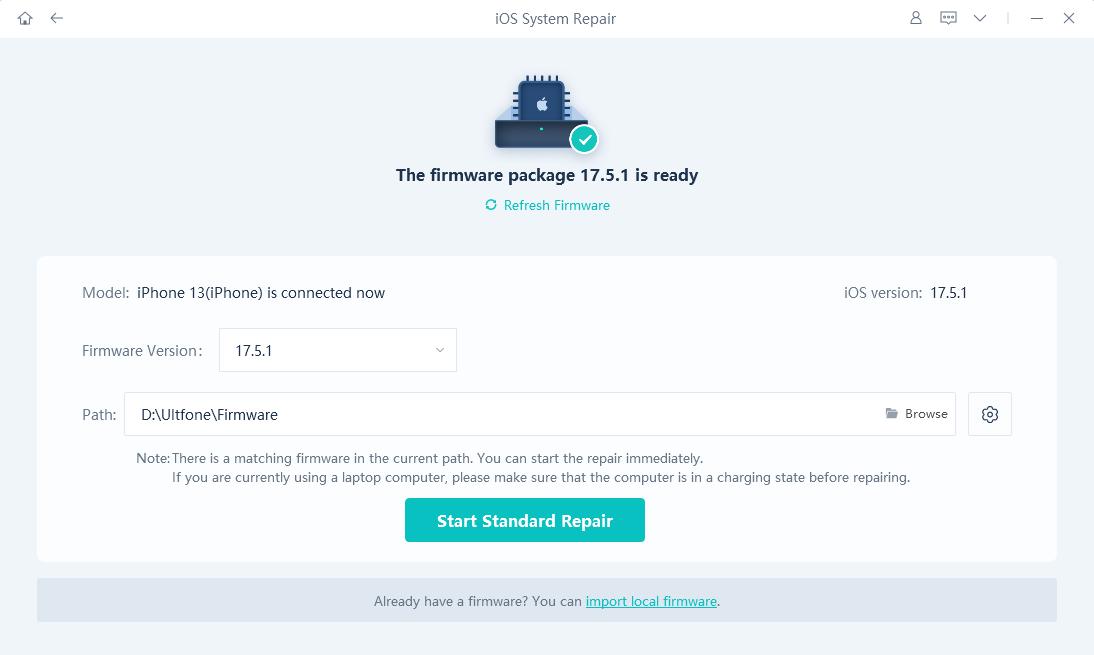 Step 3: Next, select "Repair Now" to start the recovery of your device. After the procedure ends, your device will reboot and the issue will be resolved.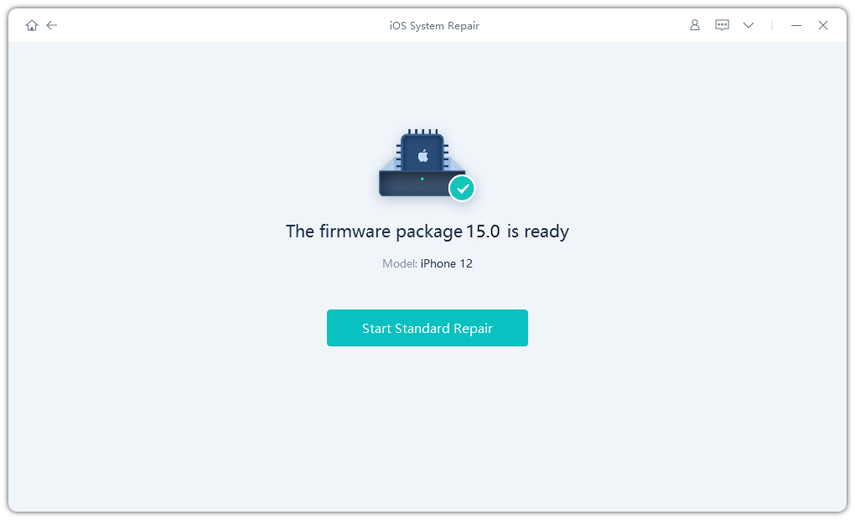 Solution 6: Restore iPhone
The last option to make your iPhone run smooth is to restore it. This will remove all your data and will make your iPhone run smoothly similar to new one. Here are the steps that need to be followed.
Step 1: Connect your iPhone to the computer and run the latest version of iTunes.
Step 2: Choose your device when it appears in iTunes. Click on "Restore iPhone" option.
You just had look on best 6 methods that can help you if your iPhone hang with Apple logo. Out of these solutions, we suggest you to use UltFone iOS System Repair (ReiBoot) that will help solve your issue with no data loss.