iPhone Screen Zoomed in Stuck? Here's How to Zoom it Out!
There are more than 1000 quarries on the Apple forum alone about the iPhone screen zoomed in stuck problem. This can be really frustrating as nothing seems to work on that, not even the power button. So, if you also faced this problem, here we have this guide to answer all your questions regarding iPhone stuck in zoom mode and how to get rid of it.
Part 1. Why Does My iPhone Get Stuck on Zoom?
This is a common problem or glitch. Most of the time new users who switch from Android to iOS can face this problem that their iPhone gets stuck in zoom mode. This can be annoying and you probably wonder why it happens. So, here are some of the main reasons why this might be happening to you.
Zoomed Mode Turned On

Of course, the first reason in the list is that your zoom mode might be turned on due to which all your icons are zoomed in.

Software Issue

Another reason can be that your software might be facing some issues due to which you can see this problem.

Glitch

Glitches happen all the time, even for high-end phones. So, that can also be the reason why your phone is stuck on a zoomed-in screen.

Frozen

Sometimes when you are pushing the iPhone to its maximum, many background processes are also going on, which can exhaust the available RAM, so that iPhone gets frozen or stuck in a zoomed-in mode.
Part 2. How Do I Get My iPhone Off of Zoom?
Now let's come to the million-dollar question, what is the possible solutions for the problem and how can you turn off iPhone magnifier? Here are the possible solutions that you can use to solve the iPhone stuck on zoom screen problem.
Double-Tap on the Zoomed Screen with Three Fingers
This is the easiest and by default the main method to get off the zoom mode on your iPhone 5,6,7 and later versions.
Double-tap the iPhone screen with three fingers. If your iPhone is still responsive, the screen should immediately go back to normal. You can enter the zoom mode with the same method on any iOS running device. If your problem is still not solved, you should try double-tapping with 3 fingers a couple more times just to be sure.
Restart Your iPhone
If double-tapping cannot solve the problem, the next method is to restart your iPhone. If your iPhone is responsive and you can reboot it, that should solve your iPhone stuck in zoomed in mode on lock screen problem. And after the restart, don't forget to disable the zoom mode.
Of course, you can also go for a hard reboot option by pressing the home and power button simultaneously on older iPhone models. For new models, press volume up then volume down, and then press and hold the power button until you see the Apple logo on the screen.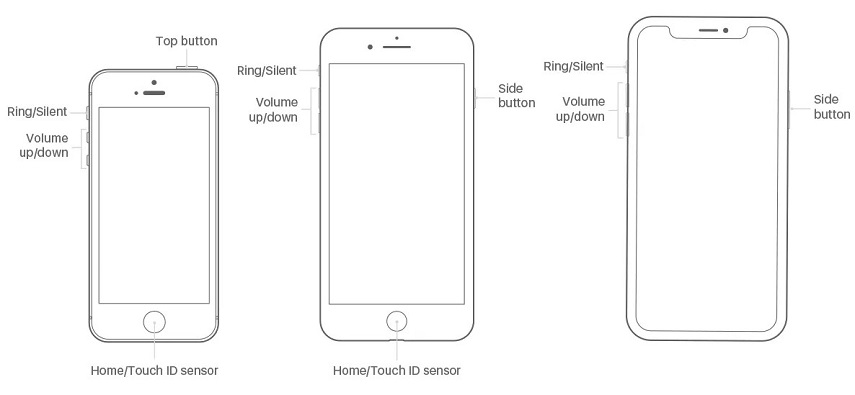 Triple Press Home Button
The next method you can use is to press the home button three times. This method will also work on other iOS devices such as your iPad. And if it goes well, this should turn off the zoom feature of your iOS device.
Turn Off Zoom Feature in Settings
If the above-mentioned methods do not work for you, but your iPhone is responsive, you can try to turn off the Zoom feature manually from the Settings. Here is the method on how to access it from the Settings.
For iOS version 12 and earlier:
Go to Settings > General > Accessibility > Zoom, from there you can turn off the zoom.
For iOS 13 and later:
Go to Settings > General > Accessibility > Zoom, from there you can turn off the zoom.
Turn Off Zoom Feature in Finder or iTunes
Another method to turn off the Zoom feature on your iPhone is through iTunes. This method can be most useful when your iPhone is completely stuck in zoom mode and not responding.
Here's how to do that:
Connect your iOS device to the computer.
Open Finder/iTunes depending on whether you're using Mac or Windows.

Select your device and then Configure Accessibility.

Deselect Zoom and click OK to finish.
After this, your iPhone should go back to normal. This method can also work on other iOS devices including iPad, etc.
Reset All Settings on Your iPhone
This can be your last resort when nothing else is working for you. You can reset your iPhone's settings to default. You should keep in mind that it will remove all the settings of your iPhone and not just the zoom problem.
Here's how to do:go to Settings > General > Reset > Reset All Settings.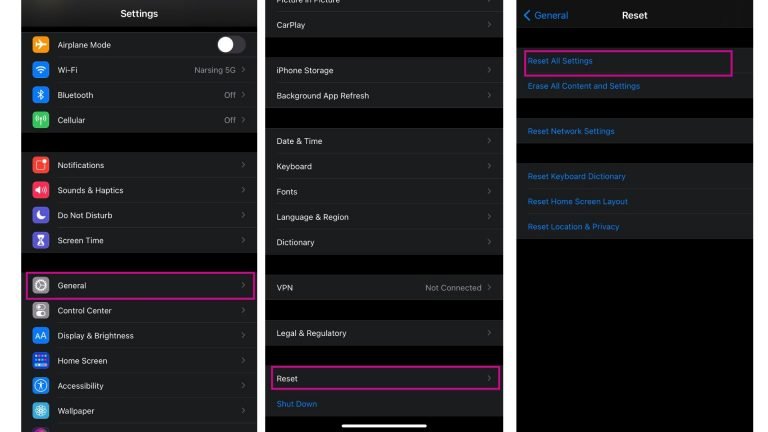 Part 3: How to Fix iPhone 12/11/X/XS/8 Zoomed in Stuck on Lock Screen
My iPhone 7 is stuck zoomed in on my lock screen! I have tried to hold down the power button and the home button to reset it but it either doesn't do anything or it takes screenshots!! I went to go onto iTunes to reset it won't do anything with it!! I'm at a loss and really need some help!!
There are more than 800 people on the Apple forum with the same question looking for a possible solution. Sometimes it happens that you are unable to do anything, let alone turning off the zoom option from Settings. But don't worry we have an ultimate tool for this problem. You can download and install UltFone iOS System Repair. It will allow you to solve the iPhone 8 screen zoomed in stuck problem. It is loaded with hundreds of solutions for almost every iOS related problem. And you can do all of that by yourself in only one click.
Features:
Fix 150+ iOS and iTunes related glitches without data loss.
Reset iPhone/iPad/iPod Touch without password/iTunes/Finder.
Downgrade from iOS 15 beta without iTunes.
All iPhone models and iOS versions are supported, including the latest iPhone 12 series.
Here to Use:
Step 1

Connect your phone to your PC using a lightning cable and launch UltFone iOS System Repair.

Step 2 Click Start button to proceed.

Step 3 Now select Standard Repair.

Step 4 Download the automatically matched firmware for your device.

Step 5 After the download, click on Start Standard Repair to start.

Step 6 After some time, it will show you a message saying Standard Repair Completed. Now click Done to finish.
Conclusion
So, this was all about how you can easily solve your iPhone screen zoomed in stuck problem. If the normal ways cannot fix it, just download and install UltFone iOS System Repair, which can 100% fix the problem.
If you still face any problems regarding iPhone screen enlarged stuck, feel free to comment below, we'll be thrilled to help you. Have a great day and stay blessed.