How to Fix iPhone 13/12/7 iPad Mini Stuck in Guided Access?
My iPad Pro 2023 is stuck in Guided Access. Can anyone give me some tips on how to fix an iPad Pro that's on the latest iOS, it's stuck in Guided Access. For some reason when the password option pops up the number box is glitched and it just shows the top left corner of the keyboard and nothing else. I can't put the passcode in. I've tried holding in the power button. And also holding in the volume up and power button but the thing won't even turn off. Second worst thing is that it's stuck on a completely white screen so I hope doesn't damage the screen. What a stupid bug!
Have your iPhone or iPad ever kept pinging while working on something crucial? Or perhaps you have a short attention span like many others. Regardless, supervised access functions flawlessly. You can disable specific applications and features that can distract you. But what if your iPhone/iPad get stuck in Guided Access mode?
Using your phone regularly can be very challenging if your iPad or iPhone is stuck in Guided Access. You can quickly fix the problem and start scrolling again. How? Read on.
Part 1: What is Guided Access Mode?
The useful Guided Access feature allows you to restrict the device's functionality to a single app on iPhone, iPod, and iPad devices. You can even limit which app functionalities are made available. It is helpful when utilizing programs like Compass, TD Snap, etc.
In a nutshell, the features of iPhone Guided Access are as follows:
Keep your iPhone's functionality to just one app.
Turn off the hardware buttons (Ex: Home Button).
Limit touch and gestures to a certain area of the screen.
Part 2: TOP 5 Ways to Fix iPhone/iPad Stuck in Guided Access Mode
Way 1: Triple-click Home/Side Button If Remember Guided Access Mode Passcode
You should try Apple's accessibility shortcut if your iPhone is stuck in the Guided Access mode. Either the bottom or the side should contain it. Then take the following actions:
Step 1: The Home button should be pressed three times, one after another. Press the Side button three times if you're using a new device, such as an iPhone 12 or 13.
Step 2: You will now be prompted to enter the Guided Access mode passcode.

Step 3: After you enter the digit, the system should return to normal operation.
Way 2: Use iCloud Lost Mode If You Remember the Passcode
Don't worry if the approach mentioned earlier didn't work. There are numerous additional techniques to recover the activity on your iPhone. You might not be aware of this. However, the Guided Access session can be turned off using the lost mode setting in iCloud.
Step 1: Grab a computer and visit iCloud.com to sign into your iCloud account.
Step 2: Once you've logged in, select Find iPhone from the menu and activate Lost Mode.
Step 3: The optional dialogues that display you a number and a message can be skipped. You'll be taken back to your lock screen after doing this.

Step 4: When you return to your lock screen, type your password in the usual way and turn off assisted access.
Way 3: Force Restart iPhone/iPad If Forget Passcode [May Failed]
So, the next thing you can do to fix iPhone 13 stuck in Guided Access is to restart the device if the above technique doesn't work. However, given that Guided Access only offers a few functions, it's probable that you won't succeed. Thus, restarting the gadget forcibly is your only option. The steps are as follows:
iPad and earlier iPhone models
iPad and earlier iPhone models:
Hold the power and Home buttons at the same time.
Hold them in place until the screen displays the Apple logo.
iPhone 7 Plus and 7:
The Power and Volume Down keys should be pressed and held simultaneously.
Just wait for the Apple logo to display at this point.
The new iPhone models including iPhone 8 (iPhone 13 included):
Press the Volume Up and Volume Down buttons quickly.
Next, press and hold the Power button until the Apple Logo appears.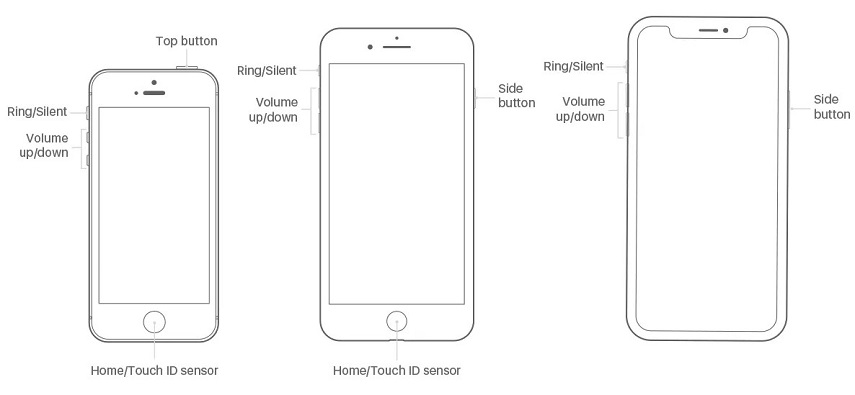 Here are the methods for forcing an iOS device to restart. Following its completion, you must take the following actions to turn off Guided Access:
Step 1: Go to Settings on the iOS device (iPhone or iPad) after opening it.
Step 2: Toggle off Guided Access by tapping "General" then "Accessibility".
Way 4: Factory Reset iPhone/iPad with iTunes [with Data Loss]
Restoring your device using iTunes is another option if you still have problems with your iPad stuck in Guided Access no passcode. It takes a little longer than the methods outlined above, but in desperate situations, everything is possible!
Do a complete data backup! Your smartphone will be reset to factory settings if you use this approach. All your data is erased when your device is reset to factory settings and returned to its original operating system. What took the most time was backing up your files. Once you've finished with that, the rest is fairly easy.
Step 1: Next, if you haven't already, start iTunes on your computer. To receive the most recent version, you can upgrade the iTunes software.
Step 2: Allow iTunes to recognize your iPhone or iPad by connecting it to your computer.

Step 3: An option with the text Summary > Restore iPhone/iPad will be visible. Click the button to reset stuck in Guided Access and restore all of your files to your phone.
Way 5: Use UltFone iOS System Repair If you Forget Passcode [No Data Loss]
All the methods described above are excellent, but they are not always guaranteed success. It means that even after spending several hours trying to fix your iPhone stuck in Guided Access, you are still not nearly successful. Use UltFone iOS System as a surefire solution to save yourself the headache.
UltFone iOS System Repair is a powerful iOS repair solution that works with all iOS devices and versions, including iPhone 13 and iOS 16 beta/15. It can fix any iOS stuck difficulties, glitches crashes, etc. It has been proven useful in its Standard Mode to remove the Guided Access passcode and exit this protection mode. The entire procedure is seamless and won't result in negative outcomes like data loss.
Features of UltFone iOS System Repair:
Simply click once to enter and leave recovery mode on an iPhone, iPad, or iPod.
Fix 150+ iOS system issues without losing any data, including the Apple logo, iPad stuck in Guided Access, reboot loop, and blank screen.
Reset iPhone, iPad, and iPod Touch without the iTunes or Finder passwords.
From iOS 16 beta, downgrade without iTunes.
All iPhone models and iOS versions are supported, including the newest iPhone 13 series and iOS 16 betas.
Steps to Use UltFone iOS System Repair:
Next, let's discuss the iOS System Repair module. With the help of this module, you can quickly and easily fix almost any iOS firmware-related problem with an iDevice, such as iPhone stuck on Guided Access forgot password or DFU mode during an iOS update or jailbreak, an iPhone that won't turn on or charge, an iPhone with a screen that is unresponsive after an update, etc. Most of these iOS issues may be resolved with a factory reset or laborious iTunes restoration, but doing so means you'll lose every file on your device. The methods can be quite difficult for beginners.
With UltFone iOS System Repair, you can quickly and easily fix these iOS system issues without erasing any data. Let's find out how it functions right now!
Step 1 Connect your iPhone/iPad/iPod touch to the computer after downloading and running this program on your PC/Mac. To access the iOS system repair module, click "Start".

Step 2 Click "Standard Repair" on the following screen.

Step 3 Before beginning the system repair, click the "Download" option to obtain your device"s automatically matched firmware package. You can alter the saved path by selecting "Browse" and choosing a different location to save the firmware package.

Step 4Once the firmware package has been successfully downloaded, please select "Start Standard Repair" to resolve the iOS issues on your smartphone. Wait a few minutes for the iOS system to be repaired.

Step 5 Once the iOS system recovery is complete, your iOS device will reboot, and everything will return to normal.
Part 3: People Also Ask about Guided Access Mode
1. Does Guided Access Mode Drain The Battery?
Yes, Guided Access significantly reduces battery life. Even if auto-lock is enabled, it will run in the background and drain the phone's battery.
2. How to Set a New Passcode of Guided Access
Setting a new Guided Access passcode is not difficult. You can change the Passcode by selecting Settings > Accessibility > Passcode> Set Guided Access Passcode.
3. Will Guided Access Get Out of If The Phone Dies?
When your iPhone dies, it should ideally exit the Guided Access feature. To ensure the feature is turned off automatically, you should use Force Restart on your iPhone. If using a third-party program like UltFone iOS System Repair doesn't help your iPad stuck in Guided Access on home screen, this may not assist.
Conclusion
Your iPhone's Guided Access will assist you in concentrating on the work you want. But occasionally, because of its limits, it may run into problems. All the outlined solutions are incredibly simple and effective for unlocking iPhone Guided Access. Select one of these, then start working on the problem right immediately! UltFone iOS System Repair has been shown to be the most successful in enabling you to exit iPhone stuck in Guided Access even if you forget the Passcode.