iPhone Bricked? Here's How to Unbrick an iPhone
A bricked iPhone is one of the most common issues that disturb an iOS user. When the iPhone is bricked, it gets stuck on the black screen. It is a sign that your device software is corrupted now, and the system isn't responding to any action. Fortunately, it is impossible to brick an iPhone permanently. So, all we need is a guide on how to unbrick an iPhone to eradicate this problem. And in this article, we are going to learn that.
What Is a Bricked iPhone?
Before we get in-depth on how to fix a bricked iPhone, let's understand the meaning of the term. It is a situation when the device refuses to switch on and doesn't work at all. The most common scenario is that your device will get stuck on the "Connect to iTunes" logo.
Bricking often happens when the software update process is interrupted, i.e., the update starts but halted in midway. It is the primary reason why the device doesn't turn on and get bricked. We understand that updating an iPhone for the first time can be a challenging task for some users. And if you are stuck in a situation like this, we'll rescue you.
How to Fix a Bricked iPhone without Restoring
Most users whose iPhone is bricked want to unbrick iPhone without iTunes as using iTunes will erase their device data. So, here are two methods that will save you from all the hassle.
Way 1. Force Restart Your iPhone
The foremost thing to try in order to learn how to unbrick the iPhone without iTunes is forced restart. It is the most appropriate method to try when the iPhone isn't responding at all. As the device is not starting in a regular way, forcing it to restart is the ideal way.
If you have an iPhone 8 or later, start by pressing and quickly releasing the Volume Up button. Then do the same with the Volume Down button. After that, press the Side button until the screen goes black and wait for the Apple logo to pop up.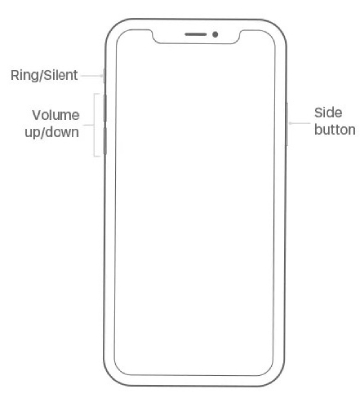 As the Apple icon appears on the screen, it means that your iPhone can respond to commands now. Then you should try restarting it to check if it's unbricked.
Way 2. How to Unbrick iPhone without Data Loss
The best way to learn how to fix a bricked iPhone without restoring or data loss is using UltFone iOS System Repair Tool. Whenever your iOS device starts to act up, you can rely on this software to repair the software. It can help the devices to enter and exit recovery mode at will, perform system repair, and can even perform a factory reset.
Here is the systematic guide that you can follow for system repair to unbrick iPhone.
Step 1 Download and launch this iOS system recovery on your system and connect your iPhone with it. From home interface, choose the Repair Operating System Mode and tap on the Fix Now button to move forward with the standard repair procedure.

Step 2 Prior repair, the software will prompt you to download a firmware package file that is provided after detecting your device firmware version.

In case you already have the firmware, import it manually into the software and use it right away after verification.

Step 3 When the firmware is ready for use, hit the "Repair Now" button to initiate the repair sequence. The process will take some time and meanwhile ensure that your iPhone stays connected with the system.
You will be notified when the process finishes, and the iPhone will reboot to implement the changes made to system software. Now, the device will not only turn on but also perform better than before.
Here is a video guide of how to repair iOS to fix brikced iPhone.
Part 3. How to Fix Bricked iPhone with iTunes
If you are not so worried about your device data, then you can also consider restoring your device with iTunes. Most users don't prefer this method as they don't usually have backup and don't want to lose data.
This is how to unbrick your iPhone using iTunes:
1. Get the latest version of iTunes on your system and connect your iPhone with it. If you have already synced your device with iTunes, then the device will be detected, and a small iPhone icon will appear at the top.

2. Go to the Summary tab and click on the Restore iPhone button. It will restore the device to factory settings and erase all data as well. Later on, you can use the previous backup to get the data back.

If you haven't synced your device with iTunes before, then you'll have to put it in recovery mode. Perform forced restart while the device is connected with iTunes, and it will be detected by iTunes automatically.
Then iTunes will prompt you that a device in recovery mode is detected, and you'll have to "Restore" it to get access to the device. Click on ok, and your device will turn on.
Wrap It Up
Now you know three effective ways on how to fix bricked iPhone. All the methods we have explained are easy to perform. However, we recommend the users to try out UltFone- iPhone System Repair to fix all software related issues on your device. Tell your friends and family about the software and help them out in fixing all kinds of software bugs and errors.