How to Find Disappeared Contacts on iPhone (iOS 16/15 Support)
I cannot find my contacts. My contacts disappeared on my iPhone, and it's really frustrating have stuck in such a messed up situation. Please help!
A lot of you have been asking why did my contacts disappeared on my iPhone. Well, here in this article, you'll have answers to all your queries. Contacts on iPhone disappeared could be a really serious issue if you aren't having any recent backup of your contacts. So, in this article, we are talking about the ways to bring your disappeared contacts back. If you are facing the same problem, just go through the article. We have given every possible solution to bring your contacts back.
Part 1. Why my contacts disappeared on iPhone after update to iOS 16?
If contacts on your iPhone disappeared, there can be several reasons behind it. Some of them are listed below:
Software Upgrade: After the iOS update, the user willingly or unwillingly opted to sync their contacts of the iPhone with iCloud, then there is a strong possibility that the contacts would disappear momentarily. This usually happens when the user has never synced their data with iCloud before upgrading.
iPhone Jailbreak: If you have jailbroken your iPhone to tweak your iOS device or to make use of certain services, your chances of losing data or disappearing contacts rises significantly.
Cold Start: Force restarting your iPhone does help retrieve your device back in normal state when it is not responding at all. By doing it continuously can affect the data of your iPhone and therefore, should be the last option you should try.
Random Restart Problem: There are times, when your iPhone reboots randomly. It can happen while you're saving a contact or data or while it is in idle mode. This, sometimes, does lead to a situation of data loss.
Part 2. Where did my contacts go on my iPhone?
A lot of people have been asking this question but actually the contacts are still in your device, in the hidden state. Basically whenever you store the data on your iOS device, the path address to the file is stored in the File Allocation Table of the SQL Database. So, whenever your contacts or any other data is disappeared or deleted (willingly or not), the address to that file is deleted from the File Allocation Table instead of deleting actual file in the first place, thereby leaving a chance to get them back. In other words, your deleted contacts are still hidden in your iPhone and recoverable until the new data overwrites it.
Also, you should understand that making use of your device after a data loss scenario may overwrite your lost data permanently. Hence you need to stop making use of your device and seek help of a professional data recovery tool on immediate basis.
Part 3. Quick ways to recover some part of disappeard iPhone contacts
Now, let's take a look at how to install the latest iOS 16 updates on your iDevice.
1. Re-sync Contacts from iCloud to iPhone
If your contacts on iPhone disappeared all of sudden this is what you should do:
Step 1: Go to Settings.
Step 2: Tap your Apple ID and select iCloud.

Step 3: Find Contacts and toggle it off and then turn it on again.
This is how you will re-sync the contacts from iCloud to iPhone.
2. Get iPhone Contacts Back Using iMessage
If no method is working for your right now, or you urgently want to text or call someone before applying any of the solutions. You can apply this trick to get back at least some of your contacts back. In this way, you can call or text the person you wanted to. But the condition is you must remember, the name of the contact saved in your device, and you must have sent or receive any text from them.
Follow the steps given below to find out how to get your contacts back if contacts on iPhone disappeared:
Step 1: Go to the iPhone message application, and type the name of the person you are looking for.

Step 2: Now if you have previously received or sent a message to that contact. It will pop up right there. Tap on it and hit on Audio icon to view the phone number of this contact.

Step 3: And then you can save that contact again in your contact list.
3. Change your Contact's Default Account
There might be the possibility that you wrongly have selected the default account as Gmail before. If you have done this, change back to iCloud to get your contacts back.
Step 1: Open the Settings app on your iPhone.
Step 2: Find the Mail, Contacts, Calendars option, tap on it. Now tap on the Default Account under the contacts.

Step 3: Now select iCloud in the Default Account.
Note: This method is for iOS 11 and below versions as Apple changed the Settings in iOS 12 and above.
If you are using iOS 12 or above, here are the steps to be followed:
Step 1: Open the Settings app on your iPhone. Tap on Contacts.

Step 2: Now, go to Accounts and select or add the account that you think you have contacts stored in.
Part 4. What to do when all your contacts disappeared on iPhone
1. Restore disappeared/missing Contacts from iPhone Directly without Backup
If nothing given above worked for you, here is the sniper method for you to get your contacts back if your contacts on your iPhone disappeared.
This method is going to be very simple, and in just a few steps you will get back your contacts. You will bring all your contact back by using a tool called UltFone iOS Data Recovery. This tool can recover any type of data that has been lost from your iPhone. You're also entitled to several other awesome features as well. Let's find out what other features it has:
Recover your data from any iOS device even if you do not have the backup of your data.
Recover more than 35 types of data. For example photos, videos, WhatsApp.
Backup & Restore data from WhatsApp, LINE, Kik, Viber, WeChat.
If you are having any iOS system problem you can fix it before the iOS data recovery.
This tool is compatible with iOS/iPadOS 14/15 and iPhone 12 Mini/12/12 Pro (Max).
Now let's find out how we are going to get our contacts back using UltFone iOS Data Recovery if your iPhone contacts missing:
Step 1 First you need to download and install this application on your computer. Once it is installed, open this application. Select the Recover Data from iOS Devices on the main screen.

Step 2 Now you have to connect your iOS device with your computer using the USB cable. Once your device is detected, you can see a screen wherein you have to choose the type of data you want to recover. Tick the data you want to recover (in our case, it's contact). Then click on the Scan button to start the process.

Step 3 After the scanning is done, choose the data you want to recover. After that, click on the Recover to PC button to finish. You can choose the location where you want to save the data.
2. Restore iPhone from iCloud Backup
If you have the habit of backup up data in iCloud, there is a great chance to find the contacts from your iCloud backup. All you need to do is follow the steps given below:
Step 1: Go to the Settings app on your iPhone followed by General and Reset.

Step 2: Now select Erase All Content and Settings. To confirm, select Erase Now.

Step 3: Once you've done everything mentioned above, your iPhone will restart. You now need to setup your device. While doing it, you will reach screen saying Apps & Data. Here, select Restore from iCloud backup from it.
Note: By following Erase All Content and Settings method, your device will be restored to factory settings. And by Restore from iCloud Backup, all your current data will overwritten to he backup version. However, with UltFone iOS Data Recovery, you can restore contacts separately without losing and overwriting any data.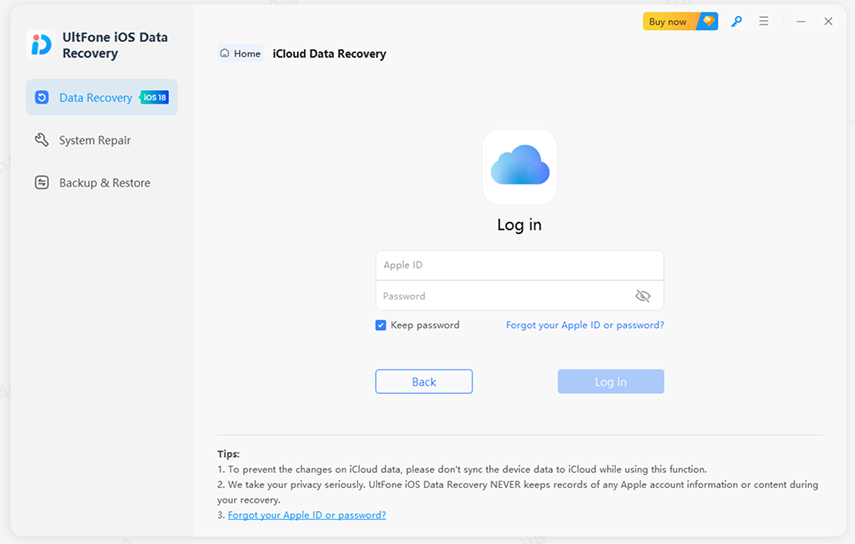 3. Restore iPhone from iTunes Backup
Step 1: Firstly, you need to run iTunes and then connect the device to your computer.
Step 2: Once iTunes detects your iPhone, click on the iPhone icon at the top. Now, from the left side of the window, click on Summary.

Step 3: After that, you can see an option Restore Backup…, click on it.

Step 4: Now, you are done with the process. All your data will be restored to your iPhone including the contacts.
Note that by doing this process all your backed up iPhone data will get restored back to your device via iTunes. So we'd recommend you to use the Recover Data from iTunes Backup feature of UltFone iOS Data Recovery, which supports to restore data separately from iTunes backup.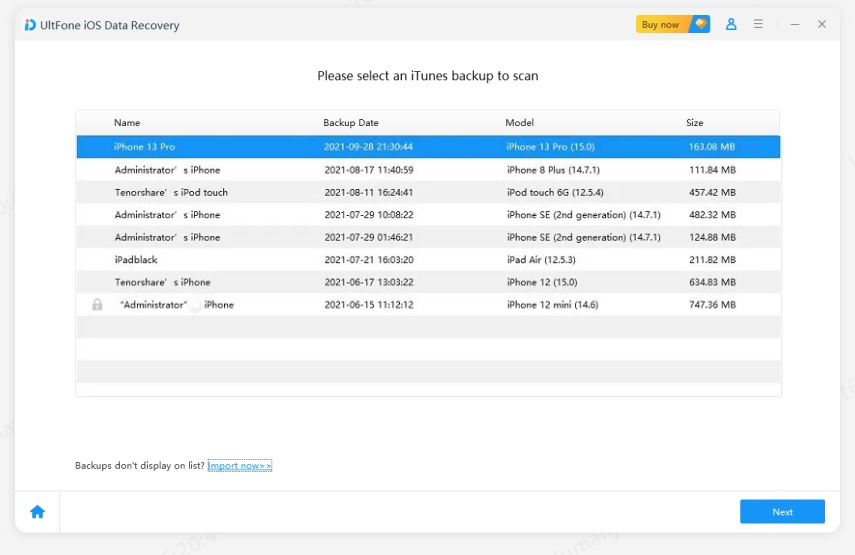 Part 5: How to avoid missing contacts on iPhone
If you don't understand the too-much-technical processes of backing up, restoring, transferring, managing all your data on iOS devices. Then here is an awesome tool called UltFone iOS Data Manager for you that will do your job in few clicks. Trust me this is way simpler than the default process.
Let's find out how we back up the data from the computer to your iPhone.
Step 1: Download and install the tool on your PC. Launch it now and connect your iOS device with the computer. From the tabs that can be seen on the top, choose Backup & Restore option.

Step 2: Now, you will notice all the files selected automatically. Here, you can select and deselect what you want to backup. Once done with the selections, click on the Backup button at the bottom.

Step 3: Once done, you can view your backup data and backup list by clicking the corresponding buttons given at the bottom.
Conclusion
To be honest, losing any of your data can be really distressing. But you never know what could happen in a world full of technologies. In this article, we have given you every possible solution to get your contacts back if your contacts disappeared on the iphone. Also, we have shared with you why this happens and how can you undo it. In the final section of the article, there is the sniper method for you, which can really aim at the head of the problem and get your data back to you. So, try that and cheers!!