Tips on How to Recover Deleted Bookmarks on iPhone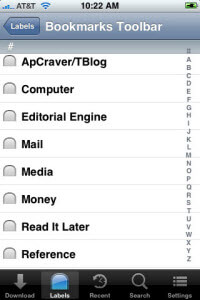 Is it Possible to Recover Bookmarks on iPhone that I Mistakenly Deleted?
Like most of my friends, I kept my frequently visited and favorite websites in Safari bookmarks, and then I could quickly return to them at any time without having to type the address. However, the other day when I was about to add another webpage to my bookmark, I pressed the wrong button and deleted my iPhone bookmark instead. Is it possible to recover iPhone bookmarks? How to recover iPhone 5S bookmark?
After a long time searching related information on the Internet, I finally find some solutions. I took a big breath. When I recover my Safari bookmarks with the solution I find, I was so happy. The story then spreads quickly, and my friends all ask me to share my ways. Thus I summarized all the information I know in this article. It can helps you guys to restore iPhone boomarks after iOS 7 update, iOS 8 upgrade, after jailbreak, etc.
3 Ways to Retrieve Safari Bookmarks on iPhone
Take it easy when you lost iPhone bookmark. In general, there are 2 ways to recover deleted bookmarks on iPhone: recover iPhone bookmarks from backup and recover bookmarks on iPhone directly from iPhone. Choose the first method when we have a recent iPhone backup. The other method is mostly chosen by people who have no recent backup. iPhone Data Recovery is a data recovery tool that offers you both the methods by providing 3 recovery mode: Recover Data from iOS Devices, Recover Data from iTunes Backup Files, and Restore Data from iCloud Backup File.
iPhone Data Recovery for Mac is designed to recover iPhone bookmarks on Mac. Steps to use it are exactly the same as the Windows version. Here we take Windows version for example.
How to Recover iPhone Bookmarks from iTunes Backup
As most people have iPhone backup on their computer, we will first come to how to recover iPhone bookmarks from iTunes backup using iPhone Data Recovery.
1. Launch iPhone Data Recovery and choose "Recover Data from iTunes Backup Files". When you find your iPhone backup on the interface of the program, choose it and click "Start Scan" to proceed.

Note: iPhone Data Recovery could automatically find all backups as long as you have synched or backed up your iOS devices on your computer with iTunes.

2. After scanning, we could preview all backup contents. The program makes it possible to preview before we restore iPhone bookmarks.
Finally we need to click "Recover" and save the recovered photos on our computer.
In addition, iTunes Data Recovery could help you recover iPhone bookmarks from backup as well.
How to directly Recover Bookmarks from iPhone
If you do not have iPhone backup, recover iPhone bookmarks is easy as well. See the steps below. We just need to choose another recover mode of iPhone Data Recovery. Launch iPhone Data Recovery and then choose "Recover data from iOS Devices" option.
1. Click "Start Scan" and scan iPhone direclty. iPhone Data Recovery allows us to preview photos before recover iPhone bookmarks. When we find the ones we need, we need choose a path for the recovered photos and then save them to our PC. All done, you've recovered bookmarks on iPhone without iTunes.
How to Restore iPhone Safari Bookmarks from iCloud Backup?
If you have ever backed up your iPhone with iCloud before, fortunately you can use this software to restore bookmarks on iPhone from iCloud backup. Here's how.
1. Login in iCloud Account.
2. Select and download iCloud backup.
3. Preview and recover deleted bookmarks on iPhone.
Tips for Editing a Bookmark or Bookmark Folder after iPhone Bookmark Recovery
Tap
, choose the folder that has the bookmark or folder you want to edit, and tap Edit. Then do one of the following:
To make a new folder, tap New Folder.
To delete a bookmark or folder, tap next to the bookmark or folder.
To reposition a bookmark or folder, drag next to the item you want to move.
To edit a bookmark's or folder's name or address, or to put it in a different folder, tap the bookmark or folder.
When you finish all these steps, tap Done.
You can also recover iPad deleted bookmarks from iPad 4, iPad mini, iPad 3, iPad 2 and iPad 1.