Easy Ways to Restore Contacts from iCloud
"I recently reset my iPhone, but unfortunately all my contacts have been lost. How do I restore my contacts from iCloud?"
iPhone contacts disappeared may be a very common issue especially after you reset and update your iPhone. Or, you accidentally delete a particular contact. Fortunately, there are still some effective ways that can help you get your iPhone contacts back.
How to Restore Contacts from iCloud
Way 1: Selectively Restore Contacts from iCloud Backup with UltFone iOS Data Recovery
How do I restore contacts from icloud selectively? The easiest and the most efficient way to selective restore contacts from iCloud backup is with the help of UltFone iOS Data Recovery. It not only restore contacts but also avoid all of the data on your iPhone being covered. Just follow the steps below to get the detailed steps.
Step 1: Download and Install UltFone iOS Data Recovery
Step 2: Launch and Select
Launch the program, then select "Recover Data from iCloud Backup File" at the top of the home page. Enter your iCloud account and password to log in.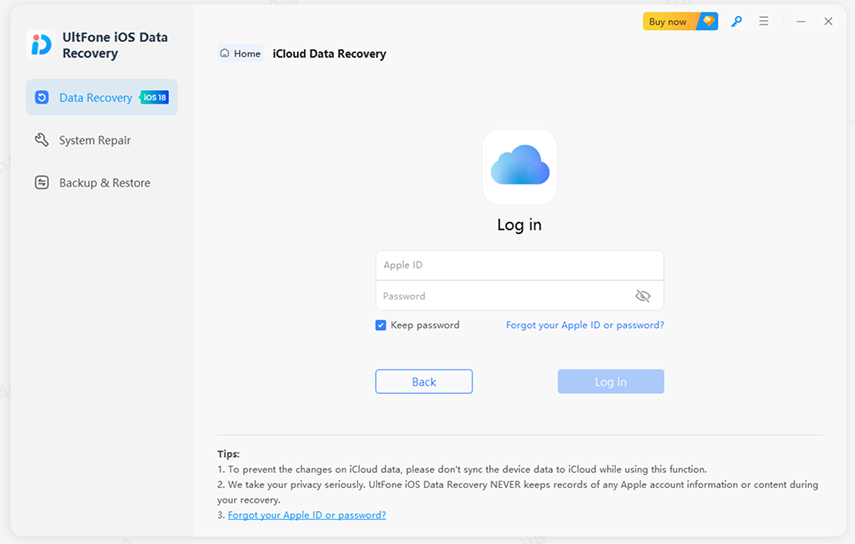 Step 3: Select and Download iCloud Backup File
After successful login, you can select an iCloud backup file that you need. Then a window will pop up asking you to select the file type you would like to download, such as contacts. You can choose to restore only contacts from iCloud backup.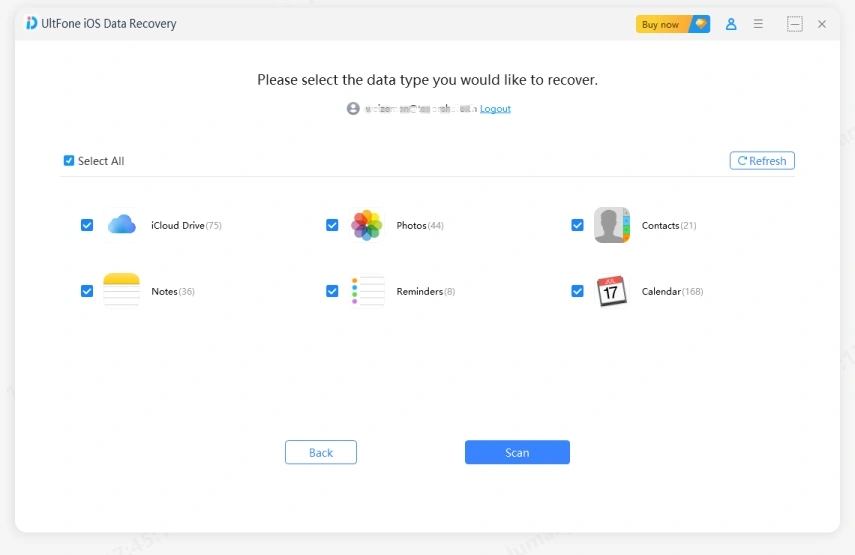 Step 4: Preview and Recover Contacts from iCloud Backup
After download, you can preview and choose the contacts you want. Then click "Recover" button to recover contacts from icloud to computer/Mac or your iPhone/iPad directly.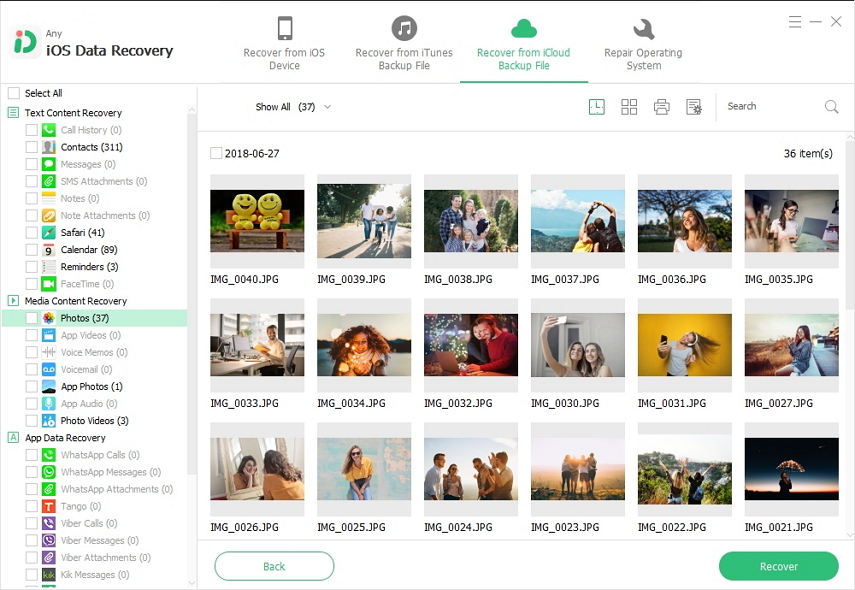 Way 2: Directly Restore Contacts from iCloud on iPhone XS/XR/8/7/6
You can directly restore contacts from iCloud by setting on your iPhone. One way is to turn on "Contacts" button on the iPhone settings as long as you have synced contacts with iCloud before. Another way is to erase all content and settings. Follow the concrete steps below:
Option 1. Make sure if contacts are in sync with iCloud
It will be very easy to restore contacts from iCloud if you used to synchronize your contacts to iCloud. Just set it up on your iPhone. How to make sure whether you have opened the sync contacts options before? Here, you can follow these steps to verify:
(Note: This option require you have synced the contacts with iCloud before, otherwise you can't restore contacts from iCloud by using this method.)
Step 1: On your iPhone, go to settings > your name> iCloud
Please make sure that you have logged in to your Apple ID.
Step 2: If the contacts option is On but your contacts are not showing up on your iPhone. At this point you need to turn the option switch off and then Turn on.
Step 3: When turn off the contacts switch, a confirmation message will popup asking if you want to keep contacts on the iPhone. Select "Keep on my iPhone".
Step 4: Turn on Contacts button again. Then tap "Merge" on the pop-up window on the screen, which will merge existing contacts with those stored in iCloud.
Step 5: After the above steps, you can go back the address book on the iPhone to check if all contacts information are come back.
Option 2. Erase all content and setting
If option 1 doesn't work, then you can try this method. Follow the step below.
(Note: This method may cause more data loss because it will overwrite your current data. If you don't hope to lose anything, please refer to Way 1.)
Step 1: Go to settings> General>Reset, then select "Erase All Content and Settings"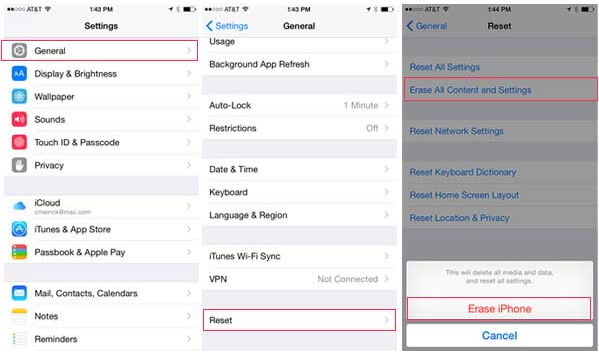 Step 2: After the iPhone restarts, follow the on-screen instruction to set up the iPhone again.
You will see "Apps & Data" screen later, select " Restore from iCloud Backup" > log in your iCloud, then your iPhone will start restoring all the data including contacts, music, apps and more.
Way 3: Recover Contacts from iCloud.com on PC/Mac
Step 1: Open the website https://www.icloud.com Sign in your iCloud ID and Password , once signed in tap the Setting icon, alternatively, you can directly click "iCloud Settings" at the top of right corner
Step 2: Find Advanced section at the bottom of the homepage, then Select "Restore Contacts" option.
Step 3: All iCloud backup archives will be listed based on the backup time, choose the version you need and click "Restore".
Bonus tips: How to Backup Contacts on iPhone XS/XR/8/7/6
This article has been solved the problem on how to restore contacts from iCloud backup. Some people are also interested in how to back up all data on iPhone XS/XR/8/7/6 without any limitations . So here, we strongly recommend you a wonderful tool- Any iOS Data Manage. It allows you to free back up all data on iPhone included the contacts and it doesn't have any storage space limitation. Apart from backup function, this tool can also transfer WhatsApp Data from iPhone to PC.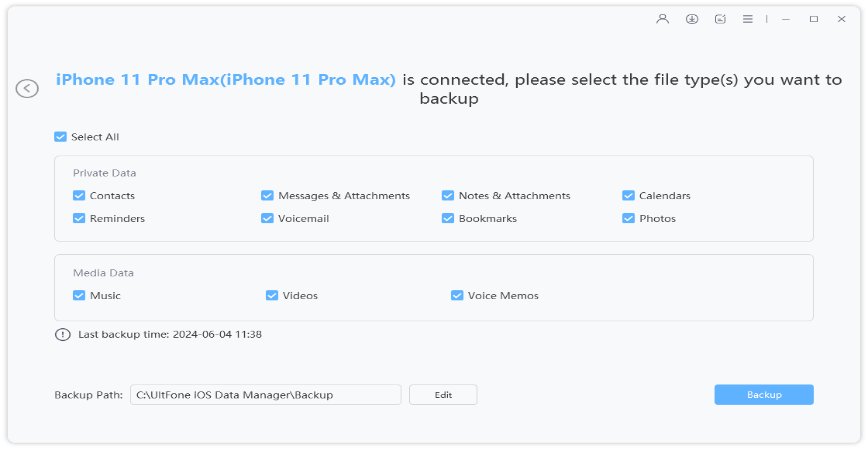 Conclusion:
How to restore contacts from icloud backup? Which way should you choose? In fact, common ways like the way 2 and the way 3 are not good enough. Because the second method is based on the fact that you have already synced your iPhone with iTunes, and the third method is based on whether you have a backup or archive. In addition, resetting iPhone will overwrite your current data, which means you will lose some data.
However, UltFone iOS Data Recovery provides the fastest and most secure contacts recovery service. This is the best way to restore contacts from icloud on iPhone X/XR/XS/8/7/6s/6 because it enables you restore contacts only instead of all of the data. It can also recover different types of deleted files. If you need a powerful and flexible software, then this is the best choice!