iPhone Email Recovery: How to Retrieve Deleted Email on iPhone
Accidentally tap the delete or archive button using the iPhone Mail app? Need to retrieve deleted email on iPhone from trash? Don't know how to get archived mail back to the inbox on iPhone? This article will show you the details steps about how to retrieve deleted Email from iPhone.
First, you should know that you can set up your mail account(s) to either delete or archive e-mails in the Settings. Deleted messages go to the Trash; archived messages go to the All Mail folder. Either way, you can learn how to get email on iPhone 7 free with an easy way.
How to Retrieve Deleted Email on iPhone
Method 1: Recover Mistakenly Archived iPhone E-mails from "Archived" Folder
The Mail application on the iPhone allows its users to archive important email messages after they have been read. First check your Archive settings to see if you have turned on Archives on your iPhone. If you have turn it on, follow steps below to restore archived mail on iPhone; if you haven't, go to Method 2 to perform iPhone Email trash recovery.
Step 1: Go to iPhone Setting >; Mail, Contacts, Calendars >; Gmail Account to see if Archive Message is turned on.
Step 2: If you already turned on the Archive Message, then go to iPhone Email apps, go to accounts in Mailboxes.
Step 3: Select the email account that your want to recover deleted email. Select All Email.
Step 4: Now you can see all your archived message over there. Select your wanted email from the list and put it back to the desired location.
Method 2: Restore Deleted iPhone Emails from Trash Bin
If you didn't turn on your Archive Message option, then your deleted email messages went to the Trash Folder. These emails are kept until they are deleted by the owner of the account, or for another 30 days of time period. In this case, you have two ways to retrieve deleted emails on iPhone.
Recover deleted emails from iPhone trash. Simply follow the same steps above, and in step 3 go to the Trash folder, here you can look for your lost iPhone mails and put it back to the desired location.
2. Login your Email account in a browser, then find Trash and you can recover email from the trash. Take retrieve Gmail email deleted on iPhone for example:
Step 1: Sign in to Gmail in a browser.
Step 2: Click Trash along the left side of any Gmail page. (If you don't see Trash along the left side of your Gmail page, go to the Labels tab in Settings, then click the show link next to the Trash label.)
Step 3: Locate the message you'd like to move to your inbox, and check the box next to the sender's name.
Step 4: Click Move to Inbox.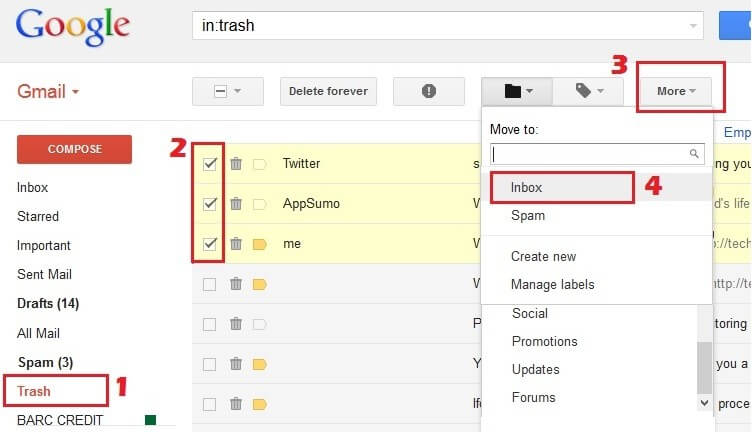 For more details about how to recover deleted Emails, read about How to Recover Lost Gmail, Yahoo, Outlook, Hotmail Emails.
That's for how to retrieve lost emails on iPhone. It is really easy, right? And if you have other data loss on iPhone, you can use iPhone Lost Data Recovery to get them back within 1 click.