How to Fix iPhone 7 Battery Draining Fast after Upgrade to iOS 16/15
iOS 10.3.1 has drawn a mixed response from the public. One typical issue we have found through Apple Support Communities, Twitter, Mac Forum, and other social media stage, is that a certain number of users are complaining iPhone 7 battery draining fast after upgrade. It seems like poor battery life has accompanied with Apple each time when new iOS update is released, and this is the same with the release of iOS 16. Here we are providing your with 9 tips to fix bad battery life.
Tip 1. Check Battery Usage and Remove Applications If Necessary
Before exploring the underlying reasons behind poor iPhone 7 battery issue after update, you are good to check whether the installed applications on iPhone 7/7+ are hogging up the battery life firstly. Go to Settings > Battery to see the breakdown of battery condition in the past 24 hours or 7 days.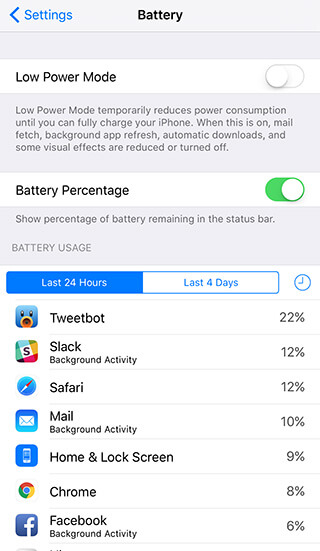 Find out if there are seldom-used apps draining your iPhone battery abnormally. If yes, uninstall it to extend iPhone battery life. Should the listed apps are used frequently, updating or reinstalling them will help more or less.
You can rely on iOS Data Manager to uninstall unused apps, or transfer big media files to computer and then delete them from iPhone 7 to release more storage. Sometimes it is because of lack of space that iOS performance slows down.
Related Read:
Tip 2. Disable App Background Refresh
Background App Refresh will always allow apps to refresh the latest content when on WLAN or cellular data in the background. Obviously this will consume the battery life even if you are not using your iPhone. Turn off the feature may help solve poor battery after iOS 16 update. Head for Settings > General > Background App Refresh to stop all or partial apps from active in the back stage.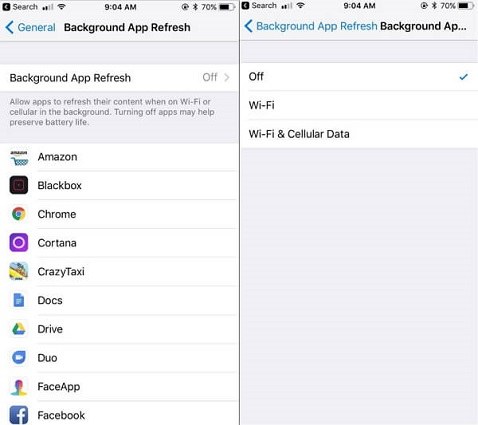 Tip 3. Turn Off Location Service on iPhone 7/7+
In fact, you don't have to always turn on location service since it will keep using GPS and Bluetooth to determine where your device is. As a result, your battery life will be run out quickly. Tap Settings > Privacy > Location Services, you can decide to allow location access Never or While Using for each application to improve iPhone 7 battery life.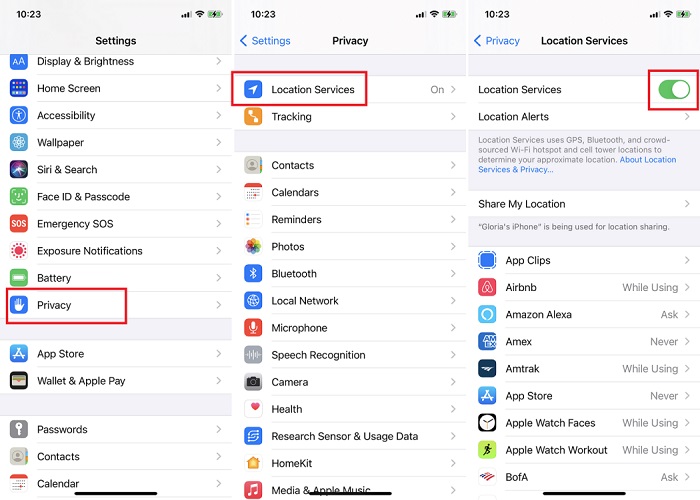 Tip 4. Use Low Power Mode
Coming with iOS 9 and later, Low Power Mode is useful to temporarily reduce the amount of power consumption when your iPhone is running low on battery. By reducing or affecting other features, like Email fetch, "Hey Siri", automatic downloads, auto lock and more, it can basically extend battery life on your iPhone 7/7 Plus by an additional 2-3 hours. You can go to Settings > Battery to turn on Low Power Mode.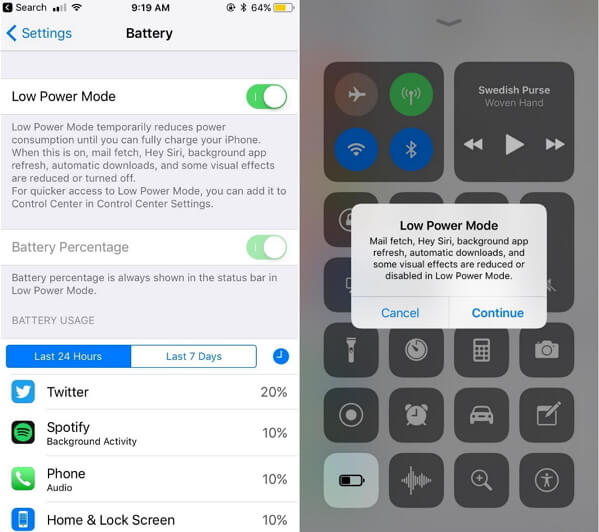 Tip 5. Reduce the Screen Brightness or Turn on Auto-Brightness
Dimming the screen helps to increase the battery life as LCD screen is a power hog. You can either lower the screen brightness on Control Center easily with iOS 16/15 or shut down the default Auto-Brightness in Settings > Display & Brightness. It's also preferred to turn off Raise to Wake feature to preserve iPhone 7/7+ battery.
Tip 6. Enable Airplane Mode to Save iPhone Battery Life
I bet every iPhone user understands what Airplane Mode is now especially now. When you are in a bad service area, it's better to turn on Airplane Mode to stop your iOS 16/15 device from working hard to search signals. Just tap Airplane Mode on Control Center.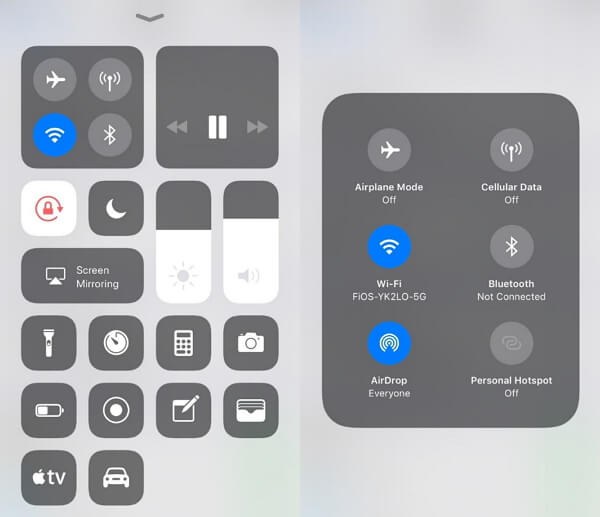 Tip 7. Restart Your iOS Device or Enter Recovery Mode
A quick fix to the problem iPhone 7 battery drain fast is to reboot your device. Sometimes it works to settle poor battery issues. If failed, you can try a hard reset by pressing the volume down and power button on an iPhone 7/7+ for more than 10 seconds till the device restart itself. Or you can use free iOS reboot tool to enter and exit recovery mode within one-click.
Here're the detailed using steps:
Step 1 Download this freeware and install it on PC or Mac. Connect your iPhone 7 to computer with Apple original cable, and click "Enter Recovery Mode" to put iPhone 7 in recovery mode immediately.

Step 2 Next, click "Exit Recovery Mode" to force reboot your iPhone.
Tip 8. Use iPhone 7 Smart Battery Case or A Battery Bank
If none of the above methods helps, maybe you should consider preparing a smart battery case or a portable battery bank in case the power drains insanely on your iPhone 7/7 Plus before you can find a source to charge. Both will physically give even longer battery life. Now the official price of a battery case is 99$ and the battery bank varies. If you don't mind costing a few dollars, you are good to give it a try.
Tip 9. Reset Your iPhone 7/7 Plus As New
This is not an ideal solution but the last resort, and some users told us that they did a full factory reset on their iPhone 7 when battery drained fast after iOS upgrade and everything went back to normal. To do this, navigate to Settings > General > Reset > Erase All Content And Settings. Bear in mind that you should backup your iPhone before erasing all data and settings.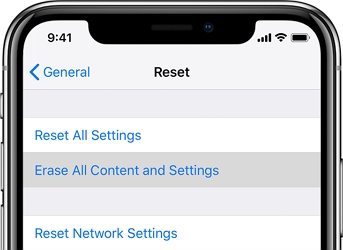 Tip 10. Reinstall iOS System to Improve Battary Life
The method of resetting iPhone will erase all data and settings in your iPhone. If you don't have a backup beforehand, it is not recommended to do so. Instead, you can use a third-party tool iOS System Repair to reinstall iOS without data loss.
Step 1. Launch UltFone iOS System Repair and connect your device to the computer.Then select the "Repairing Operating System" from the interface.

Step 2. Click Fix Now to enter and next interface and then download the firmware package that is automatically matched according to your device.

Step 3. After the download finishes, click Repair Now to complete the reinstallation.
The Bottom Line
Hope these iPhone 7 battery saving tips can effectively optimize your iPhone 7 battery life. If you have any better solutions, we will appreciate you leaving a comment below.