[Solved] How to Update iPhone without iTunes on Windows or Mac
Apple releases new updates for iOS once every year and will introduce several new features, bug improvements, and other fixes for technical issues with every update. Ideally, there are two ways in which you can update the operating system of your iPhone, i.e., either with the help of iTunes or with Wi-Fi.
However, if you are unable to update and install iOS with iTunes or Wi-Fi on Windows or Mac due to some technical glitch, there's still no need to worry. This post will walk you through different ways that will help you update iPhone without iTunes.
Part 1. Is it better to update iOS on iTunes?
iPhone iOS update refers to updating the current operating system version of your iPhone. So, if you have a new iOS update available for your iPhone, it means you can expect it to resolve all the problems that you have been facing while using the previous operating system version.
Although iTunes is one of the official ways to update the iPhone, you may still encounter several problems while updating and installing iOS 15 beta/14/13/12/11.3 using iTunes in your iPhone. With iTunes automatic updates, you are most likely to come across the following issues:
iTunes is unable to recognize and install the latest update.
While downloading the new iOS on your iPhone, iTunes may time out.
You may face unknown errors like iTunes error 4013, iTunes error 1617 when try to update your iPhone.
iTunes failed to download the iOS update.
Thus, iTunes is certainly not the best way to update your iPhone. So, if you are also dealing with any other or similar issues that are stated above, it doesn't mean you can't update iPhone using iTunes on your iPhone. Instead, you can simply use other ways to update iOS without hassle.
Part 2. How to update iPhone without iTunes? [2 Ways]
Updating your iPhone can seem like a chore, especially when you have to update iPhone without iTunes on Mac. But now it's not anymore. In the coming part of the article, you will read about two sure-shot ways that will make "iOS software to update iPhone without iTunes" a hassle-free task. There are two straightforward methods to download and install the new iOS 15 beta or 14 version on your iPhone without using iTunes. Let's discuss them one by one.
Way 1. Update iPhone/iPad without iTunes or Wi-Fi on both Windows and Mac
The first and effective way to solve the issue of "how to update iPhone on computer without iTunes" is by using a professional third-party tool. In such a case, all you need is reliable software like UltFone iOS System Repair. It can easily help you update your iPhone to the latest version of iOS without using iTunes and even downgrade iOS 15 beta back to iOS 14 without data loss.
UltFone iOS System Repair can work on both Win and Mac, and most importantly, the software doesn't require you to have any technical knowledge to be able to use it. It means you can repair or update the iOS system of your iPhone by yourself like a pro. Here are some of the top-notch features of UltFone iOS System Repair, which makes it the most trusted way to update iPhone without iTunes:
Top-notch features of UltFone iOS System Repair:
Support all iPhone models and iOS versions including iPhone 12 series and iOS 14/iPadOS 14/tvOS 14.
Repair more than 150 iOS system issues like reboot loop, Apple logo, black screen without data loss.
1-click to enter and exit recovery mode on iPhone/iPad/iPod.
Fix more than 200 iTunes errors like error 9, error 3600, error 3194, error 4005, etc.
To begin using UltFone iOS System Repair to update iPhone without iTunes on PC, you will be required to download the software on your Windows or Mac computer. Once downloaded, follow the below-listed steps:
Step 1 Launch and run UltFone iOS System Repair program on your PC and connect your iPhone to the PC. Click on the Start option to enter the iOS system repair module.

Step 2 On the following screen, click and select the Standard Repair option to proceed.

Step 3 Click on the Download option to download the matched firmware package for your iPhone.

Step 4 After the download, click on the Start Standard Repair option and wait for it to update your iPhone iOS.
Way 2. Update iPhone without a computer - Use Wi-Fi
Another easy way to update iPhone without iTunes and computer is by updating iOS over the air. It is a simple method, but you need to make sure that your iPhone is fully charged if you want to go with this way of updating. If not, put your mobile on charging and then begin using this method.
Step 1: Go to Settings > General > Software Update.

Step 2: If your iPhone finds any new updates, it will display on the screen. Select the update and tap on the Download and Install option.

Step 3: Your device will ask for permission to download the update over Wi-Fi. Confirm it and then click on the Agree button. A blue progress bar will be displayed on the screen once the downloading initiates. After the downloading process, your device will ask you if you want to update the device now or later. Here, choose the Install option. Once done, your iPhone will restart automatically and will be ready to use.

Note: Ensure that the update installation process is not terminated or disturbed abnormally. Otherwise, it can lead to some unexpected bugs.
Part 3. How to install an older version of iOS without iTunes
You can try to install an older version of Apple's operating system by downloading the firmware file for your iPhone model. These firmware files are available for download on the Apple server.
However, keep in mind that IPSW files can be large in size, thus, downloads may take quite a long time to complete. And if you find this process a bit tedious, then all you need is UltFone iOS System Repair.
With this tool, you will not find "how to install older version of iOS without iTunes" challenging anymore. To begin the download, you can follow the steps as shown in the previous part of this article.
The only change you need to make is select import local firmware in the download interface. Then you can successfully install an older version of iOS without iTunes.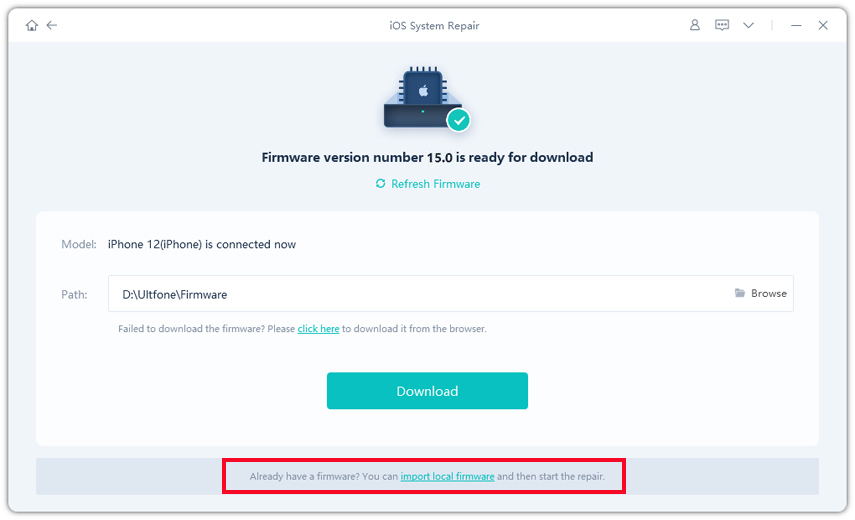 Extra Tip: Back Up Your Phone First Before Updating to A New iOS Version
Before to update iPhone iOS, it will be beneficial for you to take a backup of your device in case of any data loss. For this, you can rely on the backup feature of UltFone iOS Data Manager.
Since it is a professional tool that works perfectly as an all-in-one iOS file manager, you will be able to backup and restore all the data of your iPhone whenever needed even without network. UltFone iOS Data Manager is compatible with the new iPhone 12 series and iOS14/iPadOS 14. And you are not required to use iTunes or iCloud to back up any kind of iPhone, iPad, and iPod data.
People Also Ask about iOS Update on iPhone
1. How do I download and install Apple Software Update for Windows?
You can either download and install the Apple software update for windows 10 by using iTunes or using some other third-party software like UltFone iOS System Repair.
2. How can I update my iPhone 4 to iOS 9 without iTunes?
You can update your iPhone 4 to iOS 9 without using iTunes by plugging the device into power and connecting it to the Wi-Fi. From the Software Update option in Settings, you can check if the download is available. Click on the "Download and Install" button to complete the process.
3. How do I update my iOS without a computer?
Update iOS over the air will not require a computer or iTunes, and you can simply do it with a sound Wi-Fi connection. As long as you are running iOS 5.0 or higher, you should be able to perform the software update in the Settings app.
4. How can I restore my iPhone without iTunes or computer?
If you want to restore your iPhone without iTunes or a computer, the situation is slightly more complicated. For this, you will need to use reliable third-party software like UltFone iOS System Repair tool. Once downloaded, within a few clicks and minutes, you will be able to restore the device. You can turn to such professional tools as they deliver effective results without causing any threat to the data of the iPhone.
Conclusion
With this article, updating iOS without iTunes will be a hassle-free task. You can download the new version of iOS on your device by following any of the ways stated above. However, if you are looking for an effective and reliable way, then we highly recommend you to try UltFone iOS System Repair tool, which is a one-stop solution for almost all your iOS-related issues.