How to Run a Diagnostic Test on iPhone for Free in A Few Seconds?
Running an iPhone diagnostic test is a reliable way to know about the state of an iPhone. This helps you keep tabs on your iPhone's performance and inform you about the well-being of the device. In other instances, you can use such tests to determine if an iPhone is worth buying or not. But, even as simple as this test is, some users are unaware of how it is done. If you belong in that category of iPhone users, then this post is meant for you. Carefully read the content from start to finish to learn all you need to know about iPhone tests.
Part 1: Why Do You Need to Run A Diagnostic Test on iPhone?
This section will be helping us explain why it is necessary to run an iPhone hardware diagnostic test every once in a while. There are several reasons iPhone test is important. Those reasons will be outlined below.
To be able to distinguish a genuine iPhone from fake ones
To confirm the functional status of all the components in an iPhone.
To confirm if an iPhone has been worked on before
To confirm if any component(s) has been replaced in an iPhone
To verify if an iPhone is in its best-performing state
Part 2: How to Run a Diagnostic Test on iPhone? [4 Tools]
Explained below are several tools that can enable you to run a diagnostic test on your iPhone. Let's begin with the first tool.
Tool 1: UltFone iOS Data Manager [Free]
The UltFone iOS Data Manager is one sure solution for addressing most of the problems experienced by iPhone users. UltFone iOS Data Manager Key features include the following.
Export photos from an iOS device to a PC in just one click.
Backup/restore/manage/transfer iOS data with no iTunes sync.
Transfer as many media files as possible between iTunes and iDevice.
Run a diagnostic test and disable/enable Device Accessibility and activate screenshots without using home button.
Allows you to set up a virtual USB drive where you can manage iOS data.
It works excellently well with the latest iPhone 13 series & iOS/iPad 15.
Steps to run a test report for iPhone:
Step 1 Open UltFone iOS Data Manager on your PC and have your iPhone connected to it with a USB. Choose Test Report from the major screen.

Step 2 Your iPhone's test report will be immediately displayed. Information like hard disk capacity, device name, charging times, front camera, and some other basic information will be seen on the page. It will also help you figure out if your iPhone has been tampered with or not.
Tool 2: Phone Doctor Plus
Using this app to carry out your iPhone diagnostic iOS 14/15 is as easy as you can guess. Commencing the test only requires that you press a single button. After that, the app will run through several tests, indicating the state of the iPhone.
You can use this app to do a comprehensive check on your iPhone to be sure of every part of the device. From the screen' multi-touch capability and microphones and earphones to the volume control, home button, and others, you can check just about everything you can think of.
When the app is done, a list of test results will be displayed for you to see. Some of the information you can expect to see include the remaining battery life, storage space, available memory, CPU load, and others.
Tool 3: Test M
Test M is another great tool when it comes to running an Apple iPhone diagnostic test. This iOS and Android application can be downloaded directly onto your smart mobile device from the respective app store.
Upon successfully downloading and installing the app, you can use it to conduct a comprehensive test on your iPhone, where several results will be shown to you. The outputted results will depend on the hardware you are testing.
Tool 4: Phone Diagnostics
The Phone Diagnostics presents iPhone users with a variety of tests they can easily carry out on their devices. For instance, the app can run a test on your camera, speaker, flash, multi-touch capabilities, screen, sensors, cellular access, Wi-Fi, and others. You can either run separate tests by clicking on the particular one you want, or you can tap on the Play button for the app to run all the tests one after the other.
Unlike the other tools, Phone Diagnostics does not show you a detailed report. You can only tell the status of all the items by looking at the color of the circle. A green color indicates that the test was okay. But a red color tells you the test didn't come out as expected.
Part 3: How to Run a Diagnostic Test on iPhone? [2 Ways]
Way 1: Ask Customer Service
If you are still struggling with how to run diagnostics on iPhone 13 for whatever reason, you can speak with customer service and have them tell you what to do. Here is what you can do.
Step 1: Contact Apple customer service. However, if you're using iOS 10, you need to visit Apple store for your phone to be tested. Users of iOS 10 need to open diagnostics.apple.com and also solicit the help of tech support.
Step 2: On your iPhone' Safari, input diagnostics://
Step 3: You would be given a service ticket no you need to input into the necessary space
Way 2: Using IMEI
It is also possible to remotely run an iPhone diagnostic test online for an iDevice. In that case, you don't need the phone in your hands before you can do this. Remote testing will enable you to discover everything you need to know about an iPhone' functional status before buying it. The IMEI number of the device is all you need. With that number, you would get to discover sensitive information about the iPhone. For instance, you would know if it was stolen or not.
Below is how to find IMEI on iPhone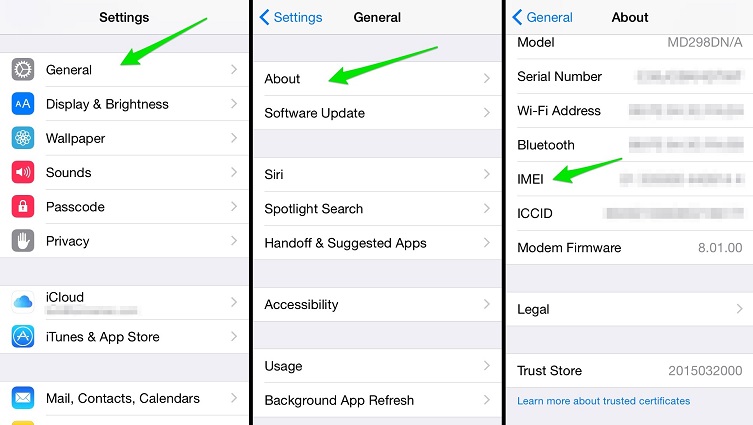 Conclusion
UltFone iOS Data Manager, as well as the other tools mentioned in this post, offers a simple way to conduct an iPhone hardware diagnostic test. As stated in this post, such a test will intimate you with basic information about your iDevice.