iPhone 6 Locked Up? Here's The Fixes
Getting locked out of your iPhone is always a terrible situation as it prevents you from accessing your device's features. Sometimes, this happens just because you forgot your passcode. There are times when your device has become momentarily unresponsive or disabled, which indicates a minor software glitch or hardware issue. But, we have good news for you. Even if your iPhone 6 is locked up due to any reason, it is still possible to regain control.
Here is everything you need to know when your iPhone is locked up. In other words, we've covered all possible methods you can try to fix an iPhone that is locked up.
How to Fix an iPhone 6 That is Locked Up
The internet is full of solutions to help you get into your locked iPhone. Rather than becoming overwhelmed with so many solutions, give a try to following recommended ones.
Way 1: Force Restart iPhone 6
If your iPhone 6 has become momentarily unresponsive and locked up, then try to force restart your device. This is even Apple's first troubleshooting tip to fix iPhone 6 Plus locked up.
Here's how to force restart iPhone 6/iPhone 6 Plus:
Press and hold down the Home button and Sleep/Wake button.
Release both buttons when you see the Apple logo on your device's screen.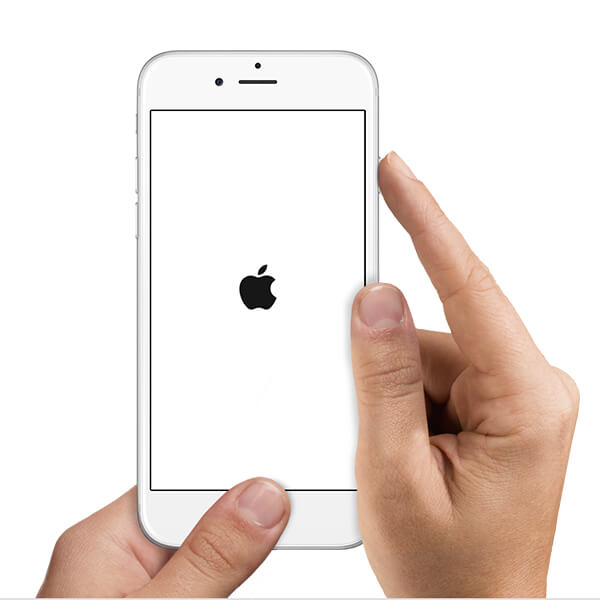 Way 2: Fix iPhone 6 Locked Up without iTunes
It might be possible that your iPhone 6 screen locked up due to an unknown system problem. If that's the case, then UltFone iOS System Repair. You can take advantage of its "Repair Operating System" feature to resolve your iPhone locked up a problem without data loss. This is a solution especially recommended for users who want to fix the problem without iTunes.
If you're locked out of your iPhone because you forgot passcode and it is disabled, you can use the "Factory Reset iPhone" feature of the software. This feature will factory reset your iPhone 6 without a password. However, it will result in a data loss, but you will get inside into your locked device.
Thus, you can either use the "repair operating system" or "factory reset iPhone" feature in the software depending on your unique situation.
Here's the quick guide to learn how to fix iPhone 6s locked up issue if it is system problem.
Step 1: Once downloading UltFone iOS System Repair, install and run it on your computer. Next, select the "Repair Operating System" feature from the main window.

Repair iOS

Step 2: After you click the "Start Repair", the software will recommend you download the firmware package suitable for your device.

Download firmware package

Step 3: Once the firmware package is downloading, click the "Repair Now" button. In a while, the software will repair your device system and fixed the problem too.

iOS repair successfully
Here's a quick guide on how to factory reset iPhone 6 without password.
Step 1: Run UltFone iOS System Repair and select the "Factory Reset iPhone" feature from the upper-right corner as shown in the below figure.

Factory reset iPhone

Step 2: Once you click the "Fix Now" button, the software will suggest you download the appropriate firmware package to set up your device as new.

Download iOS firwmare

Step 3: Finally, the software will start resetting and removing data from locked up iPhone 6 plus. In a while, you will be able to set up your iPhone 6 as new.

Reset locked iPhone 6
Way 3: Recovery Mode Restore Locked/Disabled iPhone 6 with iTunes
For the users who complained about iPhone 6 locked up how do i fix it with iTunes, they need to first put their iPhone in recovery mode and then, restore the device in iTunes.
To help you to do the job rightly, follow the below steps.
Step 1: Run the latest version of iTunes on your computer and connect your iPhone to the computer with the help of a digital cable.
Step 2: Now, you need to put your iPhone 6 in recovery mode. Press and hold down the Top/Side button and Home button at the same time until the recovery mode screen appears on your device.

Step 3: Once the iTunes detects your device in recovery mode, you get two options - Restore or Update. And choose "Restore".

Recovery mode restore locked iPhone 6
After restoring the device, simply perform an iPhone 6 locked set up new process by following the instructions on your device.
Way 4: Reset iPhone 6 When Locked Using iCloud(Find My iPhone is Enabled)
The last method is to use iCloud to reset your locked up iPhone. This method comes quite in handy when you can't get inside your device. But it requires that Find My iPhone is turned on in your device before it is locked out.
When locked out of iPhone 6 after an update, try the below steps.
Step 1: Go to www.icloud.com website and log into the website using your Apple ID and passcode.

Step 2: After that, go to the "Find Device">"All Devices" tab and select your device that is locked up from the list.

All devices in icloud

Step 3: Here, you will get three options - Erase iPhone, Lost Mode, and Play Sound. You need to select the "Erase iPhone" option to reset your locked iPhone.

Erase device from iCloud
This method will also wipe out everything from the device and resets it. And you can set up your device as new and start using your device's features.
Conclusion
If you have come across this far, then you should now probably able to get inside your locked iPhone without passcode. Among all solutions, it is only UltFone iOS System Repair that offers an easy and quick solution to your iPhone 6 locked up black screen problem. Therefore, we highly recommended you to try the software for the best results.