How to Use Ultrasn0w for Unlocking iPhone 6
"I have recently bought iPhone 6 and want to unlock it getting freedom to choose SIM services of any carrier. If someone out here has done the same with their iPhone, kindly share the steps required to unlock iPhone 6 with Ultrasn0w." Ultrasn0w is an iPhone unlock payload which remove the particular carrier SIM restriction on your iPhone. The unlocking is achieved by overriding the carrier lock code. However, the downside of software unlocking using Ultrasn0w is it only works with relatively old device like iPhone 3GS, iPhone 4. Thus, in this article, we will share how to use Ultrasn0w as well as how to unlock iPhone 6 SIM lock by hardware or IMEI unlocking.
Part 1: How to Use Ultrasn0w for iPhone Unlocking
It is easy to get Ultrasn0w download link if searched online. Note that you must have the device jailbroken and Cydia installed first. Underneath are the simple steps that can be followed to unlock the iPhone using Ultrasn0w : Step1: Tap on the Cydia icon and open Cydia. Step2: Go to Manage>Settings>Sources and click on "Edit". Step3: Tap on "Add" button and a pop up window will appear asking you for Cydia/APT URL. Enter "http://repo666.ultrasn0w.com" in the box.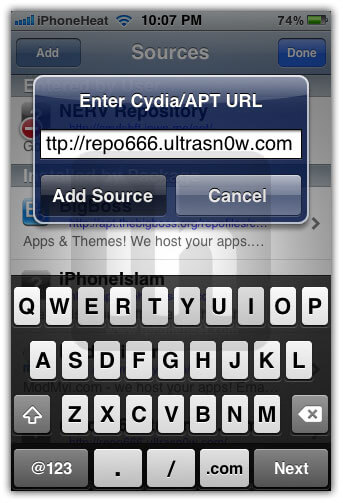 Step4: Now go to Cydia and click on Ultrasn0w repo. Tap on it.
Step5: You will see "Install" button on top right. Tap on it and then tap "Confirm".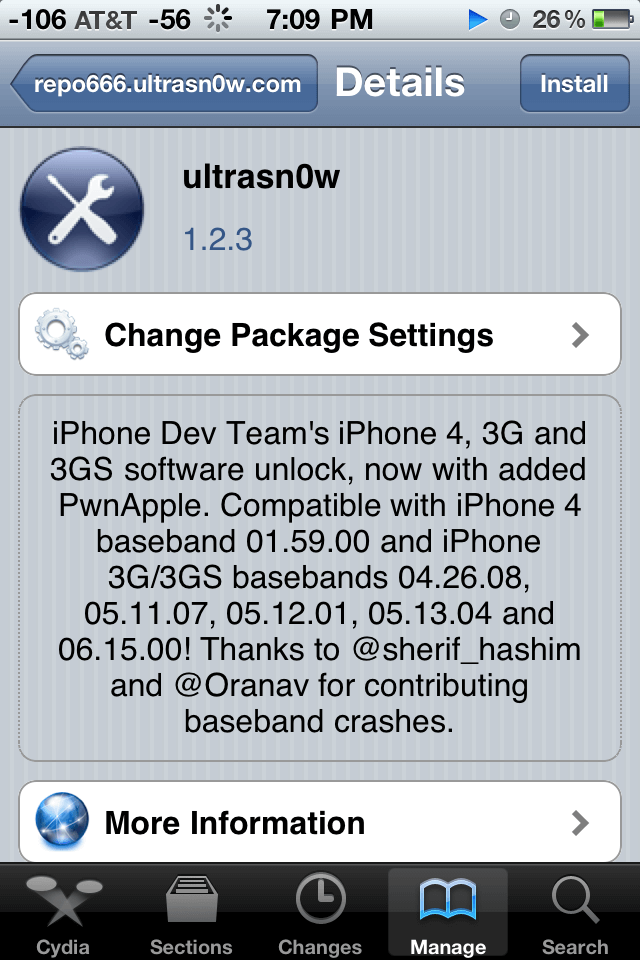 After completing this phone your iPhone will get unlocked and you are now free to use SIM card of any carrier.
Part 2: Other Ways to Unlock an iPhone 6
As mention above, it's less likely to download Ultrasn0w for iPhone 6. However, there are other possible ways to unlock iPhone 6/6s.
Hardware Unlocking
It involves altering the physical hardware of your iPhone to redirect calls through an alternate path in your device allowing you to use any SIM card. It is the least recommended method. In this method, we need to basically need to replace three components: hard disk (flash memory), baseband and chip. If you are not iPhone expert, you can resort to local repair shop.
IMEI Network Unlocking
IMEI (short form of International Mobile Equipment Identifier) is unique for every iPhone and is stored on Apple's database, along with other details of your device. Through IMEI unlocking access to IMEI database changes can be achieved through which device statues can be set to unlocked from locked. It's the recommended method for unlocking iPhone 6 and other new models as the hardware method has many risks and the software unlocking is available only for the older versions.
For easy unlocking visit iphoneimei.net and do the following.
Step 1: Click on "Unlock iPhone".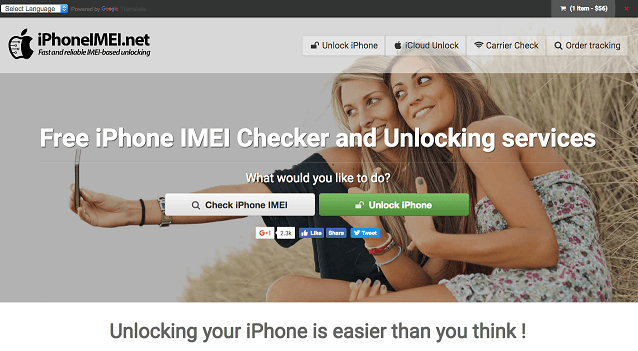 Step 2: Enter IMEI of your phone.
Step 3: Select your phone model and click on "Unlock Now".
Wait for few minutes and your phone will get unlocked.
That's how to unlock an iPhone to use another carrier without any restriction. If you also need to unlock iPhone iCloud activation lock, UltFone Activation Unlocker is definitely recommended to remove activation lock for almost iOS device from iPhone X/8/8 Plus to iPhone 6/6s/5.