How to Fix iPad Won't Rotate
Many people prefer iPad over iPhone because of its large screen size. Watching movies on iPad is more delightful experience and moreover, one can make the experience more wonderful by rotating an iPad portrait screen to landscape mode. However, recently, many iPad users have reported that "my iPad screen won't rotate" and how to fix this annoying problem.
That's why we come up with several solutions to help users in resolving the iPad rotating screen issue so that they can enjoy landscape mode on their device.
Make Sure that Portrait Orientation Lock is Turned Off
Your iPad screen is not rotating and it might be because you have turned on the Portrait Orientation Lock or Device Orientation Lock is enabled. Thus, before moving forward towards solutions and it is better to check is Orientation Lock is turned on or not. If it is enabled then you need to turn off. Don't know how to rotate screen on iPad?
You can do it via from your iPad settings or control center. So, better and easy way is the second one. Open the control center and locate Portrait Orientation Lock to make sure it is turned off.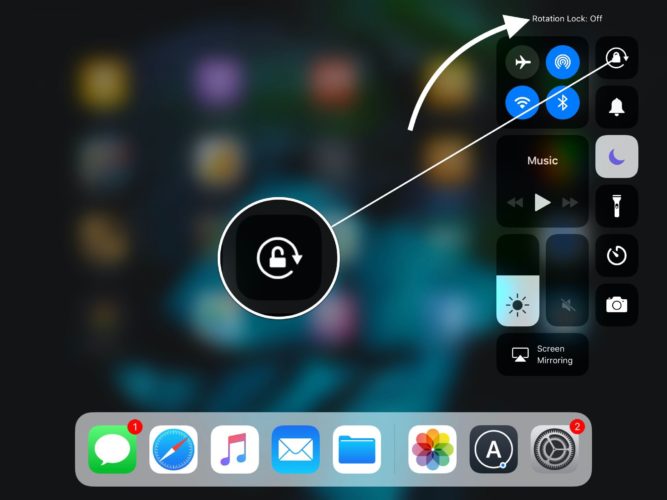 Still, iPad Won't Rotate? Try Below Methods to Fix It
If Portrait Orientation Lock is disabled and still, you are not able to rotate your iPad screen, then, go for the below-mentioned solutions to resolve this problem.
Solution 1: Restart or Force Restart your iPad
It might be possible that because of a software issue on your iPad, you are going through this problem. In this scenario, the best solution is rebooting your iPad forcibly. It will restart your device from scratch and it can also fix various minor bugs on your iPad which can be the reason for the problem.
To restart or force restart on iPad, you need to press and hold down the sleep/wake and home button together until the Apple logo does not appear on your iPad screen. Once it is done, again try to rotate your iPad screen and hopefully, the problem gets fixed.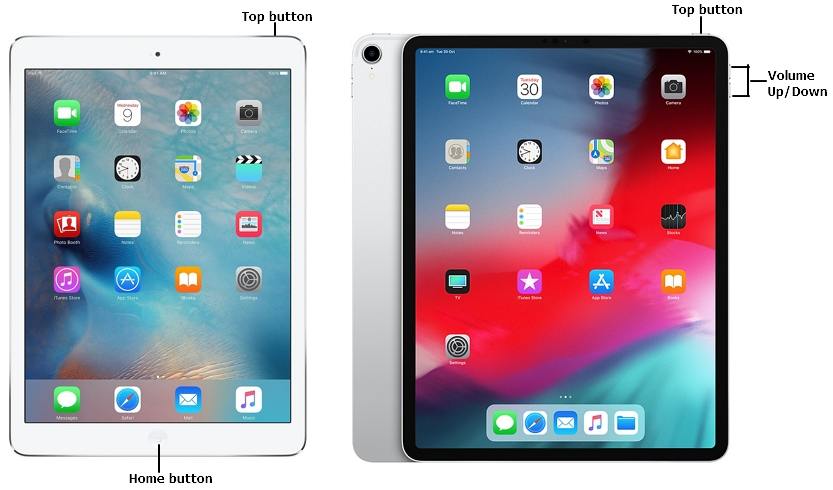 Solution 2: Try a different App
Remember that not all apps that you have installed on iPad or default apps support both portrait and landscape mode. Some can support only portrait and some only landscape. Thus, in this case, you need to open another app and try to rotate your iPad screen. If it gets rotated then it means the problem is with the app not with orientation settings.
Solution 3: Repair iPad System to Fix iPad Rotate Not Working without Data Loss
Tried all the above methods and still, not able to resolve iPad not rotating problem? Try UltFone iOS System Repair, it is an effective solution to fix various iOS problems. It has a Repair Operating System feature that you can use to fix iPad rotating problem, iPad screen frozen, iPad black screen, etc. without data loss. It is free to use and thus, must try it to come out of a problem you are currently going through.
Here is the simple guide on how to repair iOS system to fix iPad screen won't rotate issue:
Step 1: Download and install the software on your PC and then, run it. Connect your iPad to the computer using a cable.
Step 2: After that, click on the "Fix all iOS Stuck" option and then, again click on the "Start Repair".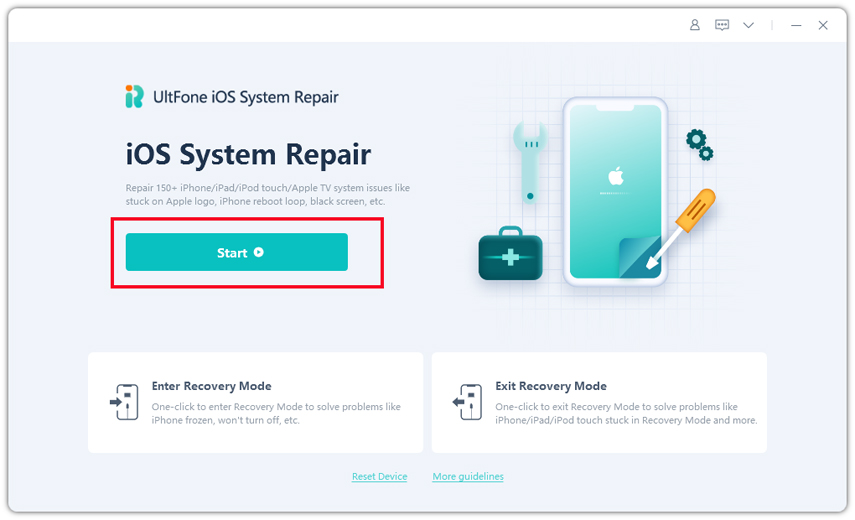 Step 3: Now, it will tell you to download the firmware for your iPad iOS version. Thus, download it to begin the process.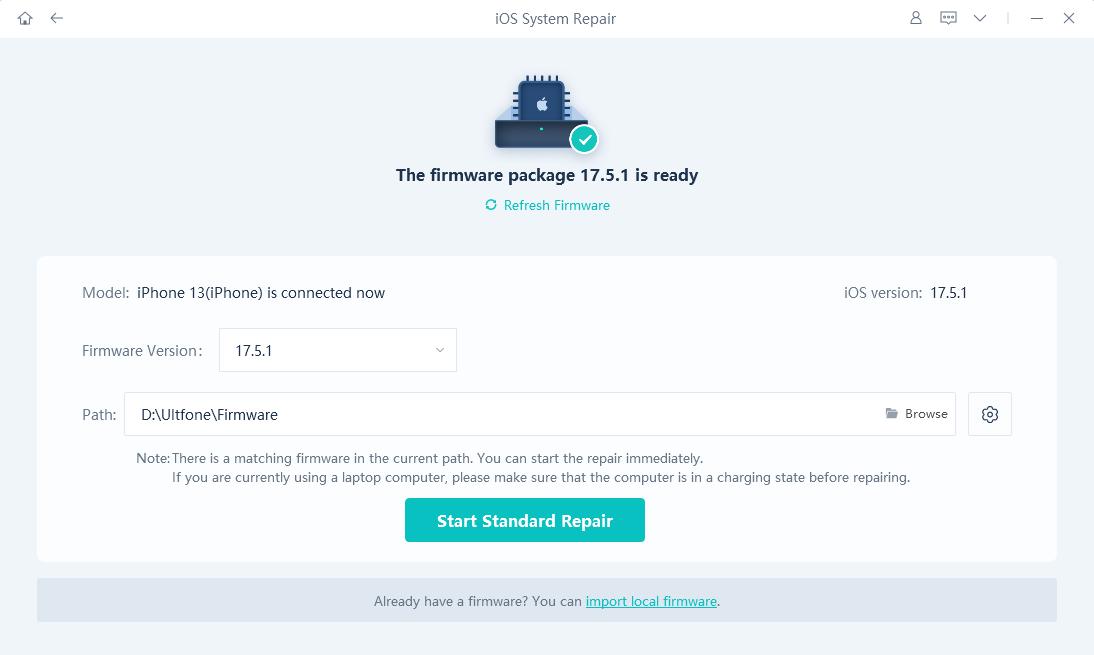 Step 4: After downloading it, again click on the "Start Repair" and within a few minutes, the repair process will be completed.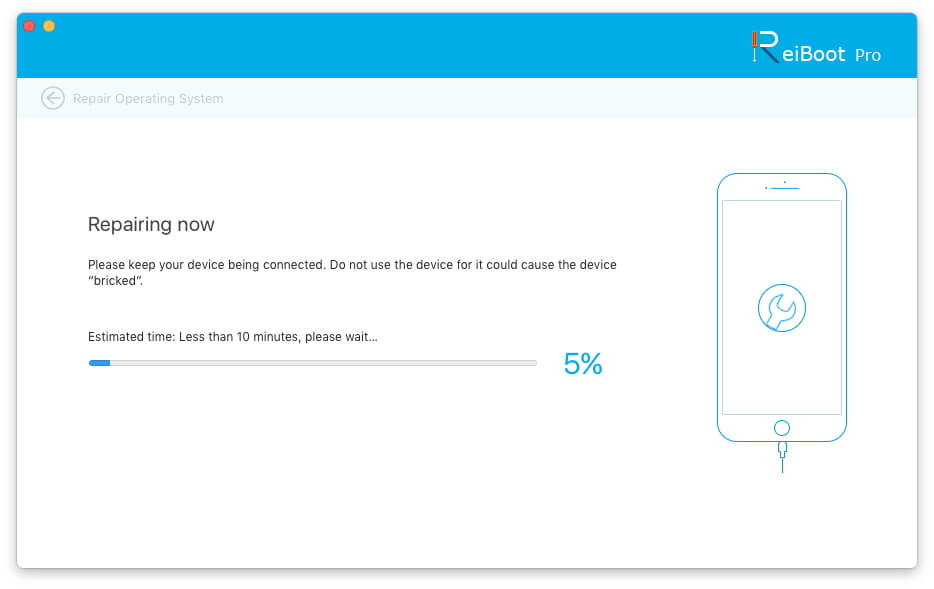 Solution 4: Reset iPad Settings/Reset all Settings and Contents
Don't want to rely on software? Then, you can reset iPad settings and it will reset each and every setting of your iPad such as Wi-Fi settings and even the exited data on iPad will get deleted. So, before moving with the method, it is suggested to take back up of your iPad data with iCloud. As it will do a factory reset and when performing a factory reset, data also get erased.
To reset settings and contents on iPad, follow the below simple steps:
Step 1: On your iPad, open the "Settings" app and then, navigate to the "General" section.
Step 2: After that, click on the "Reset" option and then, click on the "Erase All Content and Settings".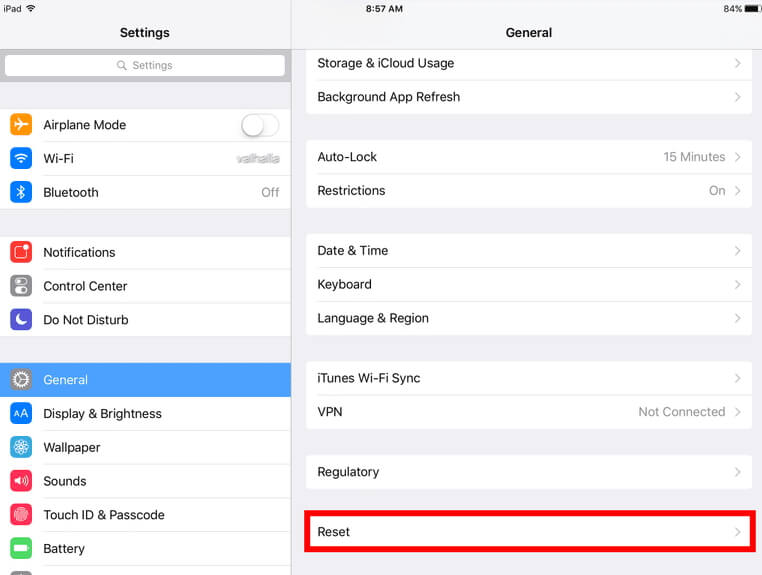 Note: If your device is protected with a passcode then here you will need to enter your iPad passcode to imitate reset process.
Solution 5: Restore iPad via iTunes (Data Loss)
If resetting all settings and contents on iPad does not fix the problem for you then restore your iPad with iTunes. In this case, also, data will be lost and so, better to back up your iPad data before restoring it. However, this method works for several users. Therefore, maybe it works for you also.
To fix iPad screen won't rotate issue, follow the below steps:
Step 1: Launch the latest iTunes version on your PC and after that; connect your iPad to computer with the help of a digital cable.
Step 2: Once iTunes detects your iPad, tap on the device icon and then, move to the "Summary" tab. Here, click on the "Restore iPad".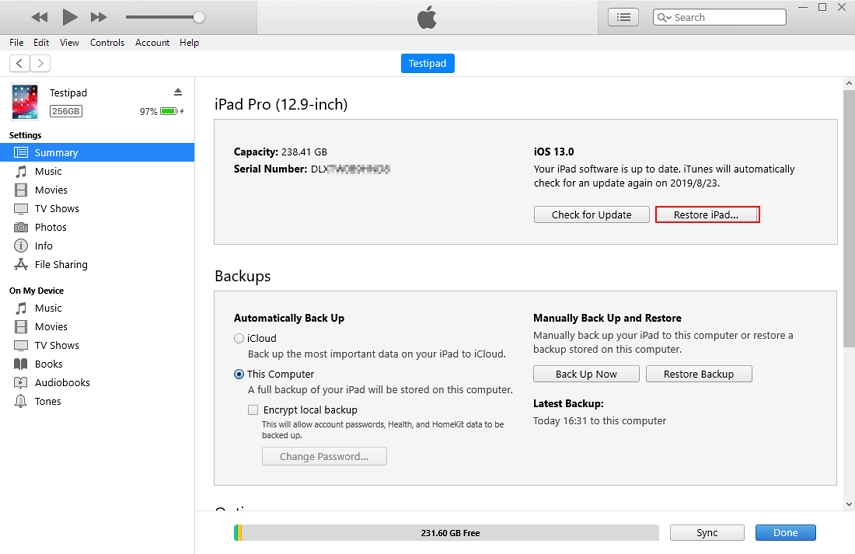 Step 3: The dialog box will appear to confirm the restore process. So, again click on the "Restore" option and it will install the latest version on your iPad.
Once the restore process is done, you can set up your iPad as new.
Summary
That's all for those users who have reported that my iPad screen won't rotate and we have provided all possible solutions to fix it. UltFone iOS System Repair is the most powerful solution to fix various kinds of iOS problems in instant.