iPad Won't Charge after iOS 16 Update? Here is The Fix
Why my iPad won't charge after iOS 16 update? Why my iPad showing charging issues? How to fix iPad does not charge?
The Internet is filled with such kind of question and still, it seems that users don't have the right answer. And since the users were unable to find a solution, in this article we will provide them with some of the most reliable and easy methods that can fix the iPad won't charge problem.
How to Fix iPad Won't Charge in iOS 16
Part 1. Basic Checkups
Before going deeper, we will first run a check on the basic problem that might be causing the iPad not charging problem. Some most common methods that can be tried out include:
Checking the Charging cable
Check USB Adapter
Use an appropriate Power Outlet
Remove Dust and Debris from the charging port
Switch to a new outlet or port
Try changing the Charging cable
If none of the above fixes works out for you, then follow the section below to learn some other methods.
Part 2: Force Restart iPad
The other method that is very traditional yet effective to fix many issues that arise in iPad devices. It is to force restart your iPad. The force restart has a maximum probability that is will resolve the issues of the users who are trying to find why my iPad won't charge. Some users will think that may be the method of force restart is different in different models of iPad, but it is the same.
Follow the steps below to Force Restart your iPad:
Force restart iPad with Face ID such as iPad 2018 iPad Pro, you need to:
Press and quickly release the Volume Up button.
Press and quickly release the Volume Down button.
Press and hold the Top button until your iPad restarts.
Force restart an iPad with Home button such as iPad Air, you need to press and hold both the Home and Side (or Top) buttons for at least 10 seconds, untile you see the Apple logo.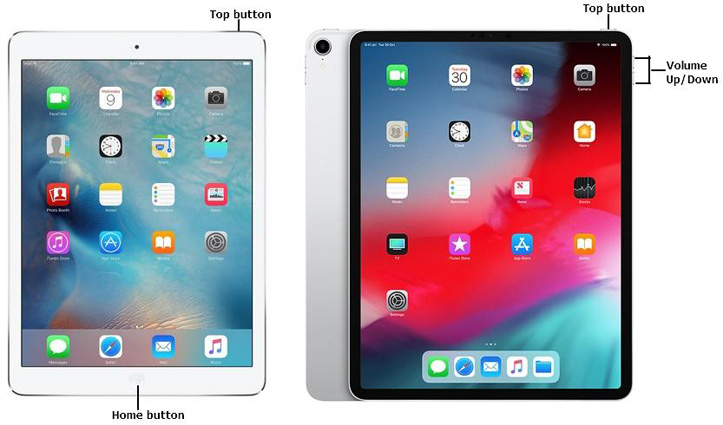 This will force restart your iPad and by the time it turns on, the chances are your iPad won't charge after update will be solved.
Part 3: Repair Operating System to Fix iPad Won't Charge Problem (No data loss)
Other than the above-listed methods, you can also take help of reliable third-party software that is specially developed to resolve issues in iOS devices. It is the UltFone iPad System Repair, which is the perfect choice for this. The software has three tools that serve different purposes and used to resolve different kinds of issues. It is the "Repair Operating System" function that would help the users in the charging problem. It can easily fix issues like iPad charging slow, iPad wont charge, iPad stuck on Apple logo , or iPad blank screen and much more.
To fix the problem, follow the steps below:
Step 1 Get UltFone iOS System Repair software for your system and launch it as soon as it is installed. Now connect your iPad with the computer and from the main interface, select the Fix All iOS Stuck option.

Step 2 Now choose whether you want to perform a simple repair on your iPad or Deep repair then tap on the Start Repair option.

Step 3 In the next screen, the software will ask you to download firmware package for your device. The software will automatically detect the device's OS and will download an appropriate firmware package.

Step 4 Wait for the Firmware package downloading to be finished, and then tap on the Repair Now option. You will be able to see the ongoing repair process on your computer.
Once the software has done repairing of your iPad, it will display a message that the process is complete.
With this method, you won't even have to worry about data loss. The software will preserve all your iPad data and fix the issue in your device in a while. As you can see, the method is quite easy and there are 100% chances that your iPad will charge from now on.
Part 4: Restore in iTunes (Data loss)
Another method of fixing iPad Pro/Mini/Air is not charging is to restore in iTunes. There are 50-50% chances that this will be fixed, but at first, ensure that you made a backup of your iPad data otherwise it will be lost. As the iTunes will restore the settings and data, you will be able to restore the data from iTunes backup file. If you'd like to have a try, here are the steps:
Step 1. Launch iTunes on your computer and ensure that you have the latest version.
Step 2. Now connect your iPad with your computer and iTunes will automatically detect its presence.
Step 3. Now go to the Summary tab and click on the Restore option.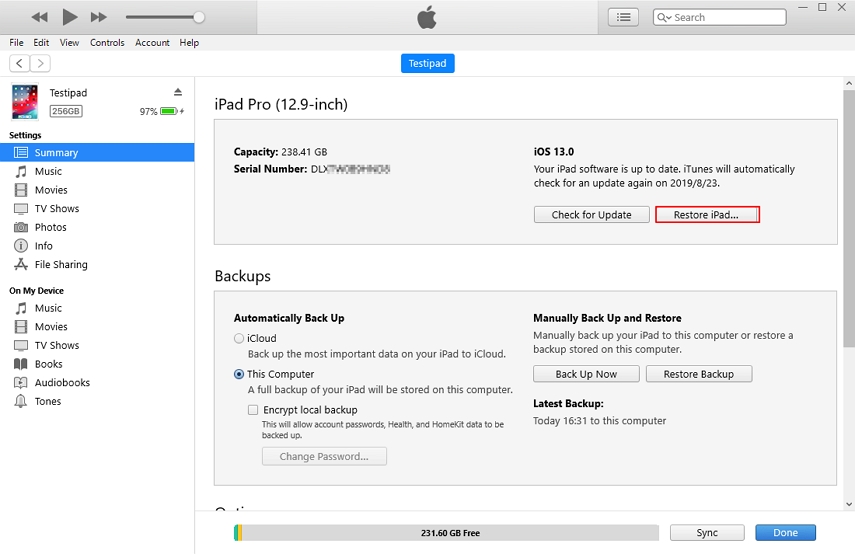 Part 5: Contact Apple
If none of the methods works out to resolve the "iPad won't charge" situation, then it is time that you contact the official Apple Support. They will provide a better solution to the problem or better they can also provide you a replacement of your iPad if it is still in the warranty period.
The Bottom Line
Hope these tips in this article help you fix iPad Pr/Mini/Air won't charge in iPadOS 16. While the common steps do not work, you can use iPad system repair tool to fix the problem thoroughly.